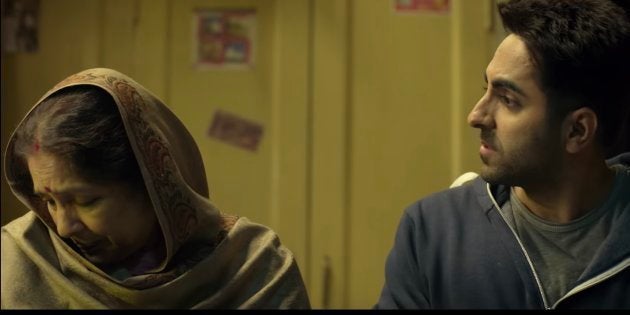 An average Indian's response to young, urban women having sex: *eye-roll* *is she married/who will marry her* *ugh, too much independence*
An average Indian's response to a 50-something mother-of-two having sex: *Runs to take a dip in the Ganges or whatever else helps purify the soul*
In Badhaai Ho, it's not just the woke, tech-savvy girls in their twenties, enabled by education and social media to exercise their agency, who are having sex. The protagonist of the film is Priyamvada, a middle-class, Hindi-speaking Indian woman in her 50s with two grown sons, who discovers she is pregnant.
Though it is nowhere close to the unabashed manner in which Alankrita Srivastav's Lipstick Under My Burkha dealt with an older woman's desire, Badhaai Ho does manage to question several mothballed stereotypes associated with sex and older women.
Priyamvada, essayed by a brilliant Neena Gupta, hardly fits the popular social stereotype of a woman with an active sexual life. Her hair is unkempt, she wears loose kurtas and boxy nighties, plays Tambola with other older women in the neighbourhood, prays fervently at jagratas and ticks none of the boxes that Bollywood's new, sexually liberated woman characters do.
The 'comedy' in the film, doubtless, hinges on an average Indian viewer's response to the idea of a couple nearing retirement expecting a baby. The trailer provided a glimpse of the hilarity that ensues when acquaintances and the couple's children find out about the pregnancy. In fact, everything comical in the film seems so because as a society, we find the notion of people, especially women, of a certain age having sex to be ridiculous. Curiously, while the film manages to get the laughs, the script never sides with the people mocking the pregnancy. The film's gaze, especially on Priyamvada, is unfaltering in its empathy.
The plot of the film couldn't be thinner: a woman in her 50s becomes pregnant and she and everyone around her try to come to terms with it. Yet, Badhaai Ho's director Amit Sharma manages to weave in some clever commentary on class and biases in it.
For starters, the film makes it evident that discomfort about a woman's sex life is not restricted to a certain class and isn't always alleviated by education. Priyamvada is a housewife who speaks chaste Hindi and no English. Her relatives are mostly from small-town Uttar Pradesh. The shock with which they react to her pregnancy is similar to the way in which her son's girlfriend's mother—a wine-sipping, English speaking, super rich South Delhi woman—does.
While everyone from Priyamvada's in-laws to her son (played by Ayushmann Khurrana) seem to be horrified by her pregnancy, she herself is mildly surprised but not aghast by it. When she is upset, it is by people's reactions, not by the pregnancy itself or the implication that she has an active sex life with her husband. Though the character's decision to not abort the foetus is unscientific—she says it is 'paap' or 'sin'—Priyamvada doesn't agonise over her decision to keep the child, even when she knows the social challenges that lie ahead. The ease with which Priyamvada embraces her pregnancy serves as a contrast to the shame, shock and betrayal people around her feel. The latter is a reminder of how ridiculous it is that society gets morally offended at women, seemingly on behalf of women.
The film also provides some sharp commentary on the vast difference in how older men and women are treated for having sex lives. After the news of Priyamvada's pregnancy, men rush to congratulate her husband and express wide-eyed admiration for his apparent sexual prowess. However, the women whisper and taunt Priyamvada for not having enough 'shame' or 'morals'. Initially, Priyamvada's mother-in-law also chastises her for wearing lipstick and thereby being 'sexual', even though she is the mother of two grown-up sons.
In the film's conclusion, people unwilling to accept that Priyamvada has a sex life finally confront their own stupidity. The ones who don't get chastised the way they deserve. Now that's what we call a modern-day fairy-tale.