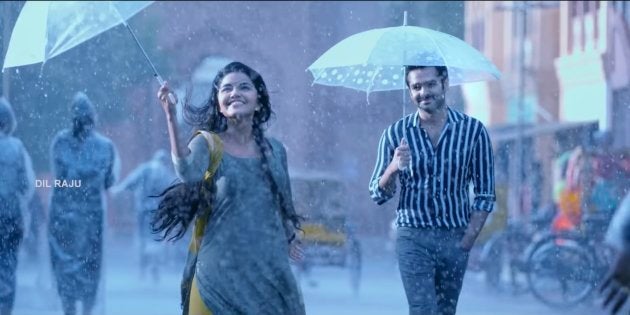 Boy meets girl. Boy wants to impress girl, but not until her father approves first. That's Trinadha Rao Nakkina's Hello Guru Prema Kosame in a nutshell.
Sounds familiar? Of course it does.
Tollywood's big Dussehra release starring Ram Pothineni, Anupama Parameswaran, Pranitha Subhash and Prakash Raj is an entertaining film that can be enjoyed with the family. Just know that there is nothing new in the movie—it has elements of several Telugu dramas from the past, especially ones from the Dil Raju banner.
When the movie begins, Pothineni's Sanju is racing to beat up a bunch of boys. But thankfully, Nakkina doesn't subject his viewers to the brutal violence seen in many mainstream Telugu movies. When Sanju, who swears by his native Kakinada, accepts a job in Hyderabad, he meets Anu (Parameswaran) on a train. The hero plays a "prank" on her by acting like a creepy stalker in a frankly problematic sequence, but the makers soon move on.
Anu, as expected, lives in the same house that Sanju is about to reside in. And that is when our main man comes into the picture—Prakash Raj as Vishwanath, the protective, conservative father with a heart of gold.
Even with the same mix-and-match concept as movies like Koncham Ishtam Koncham Kashtam, Hello Guru... works mainly due to the entertaining duo of Pothineni and Raj, who carry the film on their shoulders. I couldn't help but recollect Nani and Nagarjuna's camaraderie in the recent release Devadas. The story fell flat, but the combination clicked.
As the emotional but goofy father, Raj aces the role he has enacted many times in his career. His scenes with Pothineni, the lover boy desperate to impress Anu, leave the audience in splits.
Hello Guru... doesn't burden the viewer with an emotional climax, as the director smartly remixes concepts. But having said that, it is impossible to ignore a big flaw.
The character of Anu barely gets any space on the screen. It's only towards the end that the makers decide to turn their attention to the issue of the woman's consent. The Premam actor is barely present in scenes where we actually expect her to step up. The little chemistry between Pothineni and Parameswaran make the viewer wonder how they have fallen for each other.
This weekend, if you want to watch a love story with a never-seen-before twist or a family entertainer with a new concept and some depth, Hello Guru... is not worth your time. But if you want to take a break from clichéd action dramas, go for it.