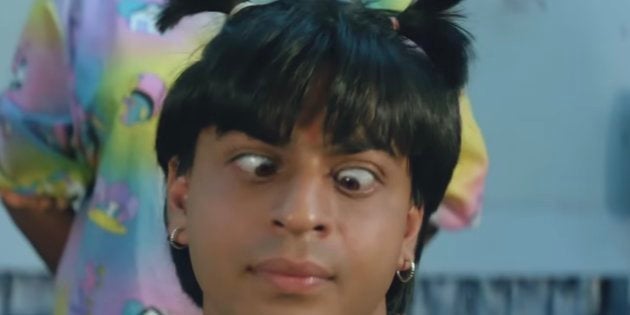 In 1989, when Doordarshan began telecasting Fauji, they obviously had no idea how big a superstar Shah Rukh Khan would become. Neither did we, but we were all enamoured. He wasn't even conventionally good-looking, but every single girl in sixth standard with me had hearts in her eyes when she thought of those chocolate brown eyes, floppy hair and annoyingly adorable stutter.
Some days, we would even enact scenes from the episode that had been telecast the day before. (I shake my head as I even type the word 'telecast'. My boys only know the word 'streaming', but that's a story for another time.) But what appealed to all of us was how he could make us laugh, even in a show that was about soldiers and the army. Although none of us knew what 'coming of age' meant, we were all caught up with the events that shaped the nervous trainee into Lt. Abhimanyu Rai.
My father predicted that 'this boy' would become a famous movie actor one day. He didn't live to see that day, but Shah Rukh had already become a TV favourite, partly, I think, because we were starved for choice. But what really appealed to me was his penchant for goofiness, which we saw ever so briefly in Doosra Keval, even though he was in barely two episodes. I remember waiting endlessly, hoping his character hadn't really died, because after his departure, the show which had been warmly affectionate and fun became morose and boring.
There should be a word for the embarrassment that you feel on behalf of someone else, hmm? That was the emotion I felt, mildly, when I saw him romance Divya Bharti in Deewana. It was probably because until then, we had never seen him do the song-and-dance routine and the obsessed lover was not the Shah Rukh we'd seen and loved on TV. More movies followed and the embarrassment disappeared and in its place came anticipation.
How we laughed when we saw the Bichhoo song in Chamatkar. He hadn't really developed that hero persona by then and he stuttered his way into our hearts, even as Urmila Matondkar and her gang painted his face and made ponytails for him. It was a delight to see him essay all kinds of roles with ease, be it the idealistic young man in Raju Ban Gaya Gentleman or the bad boy/lover boy in Dilwale Dulhania Le Jayenge.
There were other movies, too, where he was the quintessential romantic hero, but I missed that actor who didn't mind playing the fool if the scene asked for it. By then, I was beginning to be annoyed when I saw Kuch Kuch Hota Hai and Dil To Pagal Hai, although they were still better than his negative roles. I was most certainly not a fan of him trying hard to look menacing and evil, even though he did the boy-next-door roles like in Kabhi Haan Kabhi Naa every now and then.
Campy, kitschy 'Baadshah' is one of my favourites, simply because of the fun that Shah Rukh has in the movie
But then Baadshah happened. This campy, kitschy movie is one of my favourites, simply because of the fun that Shah Rukh has in the movie. I'm not sure I can accurately describe the range of absurdity he displays in the film (at least in the first half, before the movie turned into a desi version of Nick of Time). The movie may not have done well but it's a given that my family will sit down and watch it every time it's shown on TV. Mad and meaningless, this movie is one of my favourite entertainers, where Shah Rukh Khan doesn't really care that he's a superstar (although he does wear dark glasses and an absurd-looking detective type coat for most of the film). The song 'main toh hoon pagal' from the movie perfectly sums up both his character and the movie.
Sadly, after Baadshah, we didn't get to see him exploring his funny side that much, unless you count some scenes from Om Shanti Om. Of course, there was that train wreck called Chennai Express where, as in all his recent movies, Shah Rukh seemed fully aware of his own superstardom. But there were also moments in this movie when he allowed himself to be the goofy Baadshah of yesteryears, where his face relayed the energy that used to be his trademark.
I don't have much hopes from the upcoming Zero, which looks like it will riff on the superstar playing a dwarf, but I really hope that amid his intense lover-type roles, Shah Rukh Khan brings his inner goofball out to play once in a while.