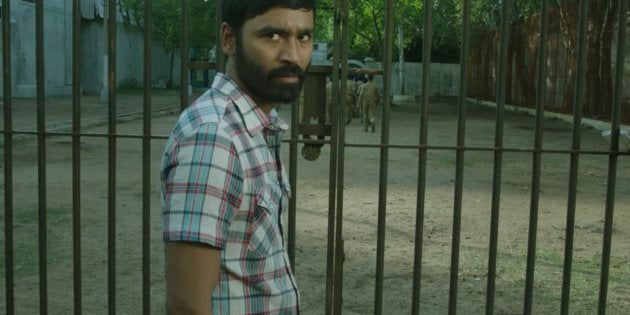 Vetri Maaran, with just three films under his belt, has become the torchbearer of gritty cinema in Tamil Nadu. While his 2011 film, Aadukalam, put him on the map of top Indian filmmakers, 2016's Visaranai brought him global attention. And with Vada Chennai, his fame looks set to rise.
Maaran's take on the lives of a group of people in North Chennai is presented as an action drama that walks in the shadow of a docu-drama. This can be seen in the way he builds his scenes and executes them. There are no quick cuts to juggle between then and now as the movie snakes through the '90s. The past and the present are seamlessly connected, like in the Netflix series Sacred Games.
Vada Chennai opens with a shot of daggers and knives falling on a wooden table. The blood-red weapons tell a story we don't know yet. The film will come back to it later. For now, though, we're made to believe that we're in the middle of a gang war. The men discussing the murder with glee are well-known faces in Tamil cinema who star mostly in thrillers–Samuthirakani, Kishore, Pawan and Boxer Dheena. The characters they play start out as friends and turn into foes after the group splits into two. But in the world of politics and entertainment, there are no permanent friends or enemies. The faces keep changing but the battles remain the same.
Vada Chennai feels like an 800 page novel that has been compressed into a 166-minute movie. It's divided into chapters and bookended by the relationships each character shares with the film's protagonist, Anbu (Dhanush). The chapters are introduced by the filmmaker—without them, we'd perhaps be left in the dark. With so much information coming at the viewer, it sometimes feels like we're sitting through history and social science lessons.
Dhanush doesn't get the introduction shot that a star of his stature would normally get. Anbu's first scene has him sullenly stepping into a jail, where he looks like a fish out of water. While his fellow prison mates seem to be well-versed with the workings of prison life, Anbu struggles to fit into the scheme of things. Maaran's eye for minutiae lets him give us a peek into how the prisoners carry out nefarious activities. They smuggle drugs, mobile phones and even cigarettes and we see how everybody—from the constables to the doctors—is involved in the dirty work. Crisp voice-overs tell you how toothbrushes and plates can become deadly objects in the wrong hands.
Vada Chennai shares its central sentiment—gentrification—with Pa. Ranjith's Kaala. If Kaala (Rajinikanth) was against development plans because it would uproot the people of Dharavi, Maaran's Anbu picks up the machete to defend his fishing colony. There's a lovely scene where Anbu questions a government officer—he asks him how they are going to understand their needs if they can't understand their basic language (Tamil spoken in a dialect that's not entirely grasped by the elite).
Even as Maaran packs in eight idlis in a box that can hold only four, he doesn't give enough time for the romance to fully take shape. Mere glances from the women—Chandra (Andrea Jeremiah) and Padma (Aishwarya Rajesh)—are enough for the men—Rajan (Ameer) and Anbu—to fall in love with them. The romantic entanglements do not deviate from the actual story—they are, in fact, a vital part of the tale, but are not developed well enough for viewers to care as much as they are intended to.
There are so many questions that the movie doesn't answer—what does Padma think about Anbu's jail stay? Is Chandra really who she says she is? I'll wait for the second part to see if I can find out.
Baahubali 1 ended with the cliffhanger, "Why did Kattappa kill Baahubali?" but, with the multi-part Vada Chennai, the promise of revenge is good enough to stay hungry and invested till the next part arrives. Dhanush's trust, as a producer and an actor, in Maaran's writing can be gauged from a mile away as his absence from the screen for nearly twenty-five minutes isn't much of a deterrent in setting up his character.
Santhosh Narayanan's musical pieces, especially the theme song, create the perfect atmosphere for Vada Chennai's journey. I hope he creates more of such delightful scores in the future.
Vada Chennai is Vetri Maaran's best movie so far (Aadukalam is still Dhanush's best).