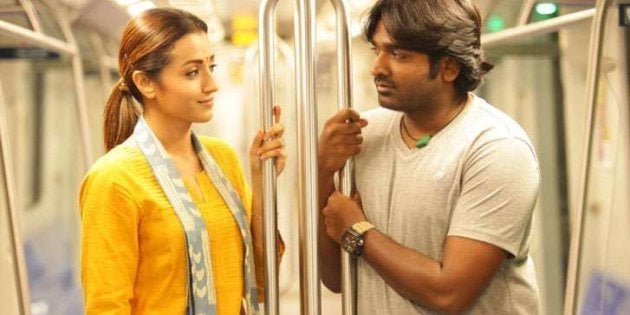 Earlier this week, I watched C. Prem Kumar's Tamil romantic concoction, 96, in an almost-housefull theatre in Bangalore. The strangers watching the movie with me were mostly in their early twenties—an age bracket I don't belong to anymore.
I'm 26, and, the protagonists of 96, K. Ramachandran (Vijay Sethupathi) and S. Janaki Devi (Trisha), are a good dozen years ahead of me. They look back at their school days through the lens of nostalgia, and a heart full of pain and remorse, for ill-fated circumstances have separated them. Twenty-two years since they parted, not a day seems to have passed without them remembering each other.
While the film's latter half left movie-goers in tears (I cried a bucketful, too), the portions involving the routines at school, and the way grown-up men and women discuss their adolescent years at a party organised for their reunion, hit me hard. The idea for the reunion comes from a conversation that Ramachandran and Murali (Bagavathi Perumal) have one morning as the former recalls the days gone by.
Even as the two of them go on and on about their school, Murali adds Ramachandran, a travel photographer who isn't on any social media sites, to the school WhatsApp group. And the members welcome the newbie with snarky comments. These hilariously staged scenes brought back memories of my own school, where I studied from the first grade to the tenth, Sri Vidya Mandir Education Society.
My school WhatsApp group, 'X' A (07-08), is no different. There are about 25 members right now (the class strength was around 50). Whenever a new person is added to the group, everybody jumps in to ask them what they are up to. And, for an hour, the group is filled with messages and gifs.
Sri Vidya Mandir is the place where I made several friends, some of whom I'm in touch with even to this day, thanks to social media and the history that we share. Just like Ramachandran roams around the corridors of his school, I have often walked into my school in the ten years since I said goodbye to those red-and-grey walls. The jamun trees, whose branches creep into the compound from the neighbouring house, welcome me always. And the smell remains the same, all these years later.
In a manner similar to 96's reunion, a bunch of us came together for a party, and made merry till the rain clouds gathered. There wasn't any of the awkwardness that stems from the presence of a Janaki-Ramachandran kind of love story in our group, and, for almost four hours, we spoke about the things we did and the mischief we got up to.
P, a friend from school, was getting married and she'd invited her pals from all over the country for a Sunday brunch. And there, I was told that S and V, two friends I hadn't met in a decade, would join us a while later. When I saw them the last time (February 2008), my face didn't have a beard yet, neither did theirs. But there we were, hugging and shouting like school kids, downing beers and whatnot, and never once discussing the decade that had gone by.
Ours was an eclectic group that had engineers, business consultants, architects, event managers and writers. But that didn't matter as seven people sat around a table meant for four, and joked and laughed about our past until we had to rejoin the real world.
When S. Janaki Devi asks K. Ramachandran if he's gone too far from the hotel (and her life), he replies, "I'm at the exact spot where I left you!" And, in a strange way, I learned that for the folks I met in school, I will be KP Karthik, not Karthik Keramalu, for that's the name they call me by, that's the name they remember me by.