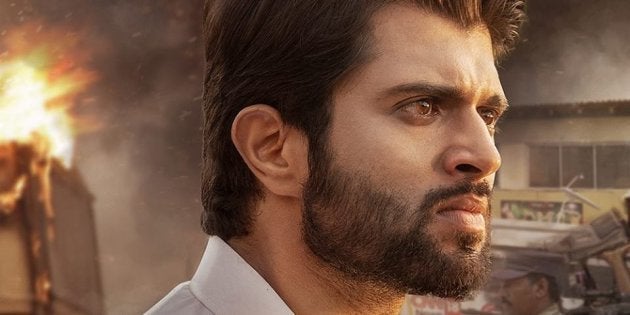 Anand Shankar's NOTA begins with the current sensation of the south, Vijay Deverakonda, dancing and singing like there's no tomorrow. He's the son of the chief minister, but we don't know that yet. He's just introduced as a young man who's looking to have some fun. If you want to give him another label, you can call him a rich young man. The movie has just begun, and the writer-director puts his hero in the midst of booze and partying women—two things Indian politicians are expected to stay away from, at least in public.
Unlike earlier films in this genre, Sekhar Kammula's Leader and Koratala Siva's Bharat Ane Nenu, Deverakonda's Varun doesn't become chief minister because of his father's (Nassar as Anna gaaru) death. He becomes a CM because his father is being investigated for a criminal case (involving money, of course).
Varun, like Arjun Prasad (Rana Daggubati from Leader) and Bharat (Mahesh Babu from Bharat Ane Nenu), knows very little about his own father. These protagonists aren't aware of what is happening in India as their dreams are different from those of their fathers. And as they suddenly get dragged into the political scene, they have to start from zero.
If Arjun Prasad discovers the state of apathy in his home state (the then undivided Andhra Pradesh) in the course of the Vandemataram song,Bharat Ane Nenu's title song describes the promises that Bharat will make as chief minister, and the changes he's going to bring about. Varun, however, doesn't get a song like that to show his abilities. He takes his own time to understand the importance of his power. And his learning curve, too, doesn't end there. He's constantly seen asking people around him for solutions—a trait that makes his associates respect him.
Anand Shankar adds one thrilling situation after another, but his film doesn't wrestle with what Telangana and Andhra Pradesh are currently facing. His punches miss their mark as the jokes and jibes are mostly fried in the sauce of Tamil Nadu's political pan. The digs at resort politics, and big wigs playing musical chairs for the CM's seat, are fresh in the minds of the people of Tamil Nadu. The bits that could have ended up as the highlights in Tamil are lost in the sea of a made-up world in the Telugu version.
Sathyaraj (as Mahendra) stars as a Bhishma-like figure whom Varun trusts the most. Mahendra hand-holds and guides the CM toward the right path. The sub-story that deals with his past stands out in the otherwise thirsty-for-big-ambitions film. But it's an unnecessary plot point that tries to connect the two characters. In some way, Sathyaraj's character reminded me of Cho Ramaswamy, the actor and political analyst from Tamil Nadu who was vocal against the tyrannies of the ruling parties.
Shankar has managed to make a largely entertaining political drama, and by roping in Sanchana Natarajan and Mehreen for supporting roles (they don't play the hero's love interests), he has announced that he doesn't feel the need to add romance, or a few duets, to sell his movie. And watching Deverakonda play Varun has taught me that he can sell any character to the audience if he puts his face and mind to it.