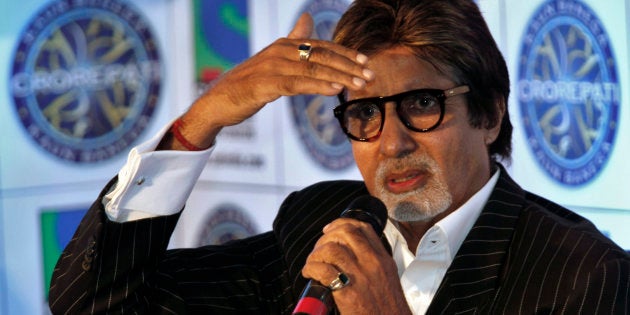 Tanushree Dutta, who last week spoke out once again of being harassed by Nana Patekar 10 years ago, has opened a Pandora's box that Bollywood, especially its men, is struggling to contain.
The predictable nonsense from Bollywood's men
Days after Dutta went on record with her allegations against Patekar, Salman Khan actually declared in public that he was unaware of the incident. When a reporter asked Khan during a recent press conference whether he thinks Bollywood should speak up, the actor buried his face in his hands dramatically and sighed and shook his head as if he was burdened with all of humanity's miseries. His reply did not make much sense.
"The legal team will look into this. I am not aware of this," he kept repeating.
Amitabh Bachchan—who wrote a long letter on empowerment to his granddaughters and released it in public before Pink released—said that as he is neither Tanushree Dutta nor Nana Patekar, he could not comment. Instead, he regaled himself and his Twitter followers with the wonder that is the Internet.
Dutta lost no time in calling Bachchan's bluff. She told HT, "I'm hurt, as these are people who do movies on social causes. They play roles in films and the audience applauds. But when it comes to standing up and doing something about what is happening in front of you, there are these evasive statements that don't make sense."
The response from many women in Bollywood has also been somewhat confusing.
Pooja Bhatt's myopic response
Pooja Bhatt seemingly supported Dutta and said that any voice expressing concern shouldn't be counted out. "Whenever someone complains about it, you shouldn't count it out. I don't think we should silence those voices."
Yet, when she was asked about Bollywood speaking up in support of Dutta, Bhatt seemed to suggest that victims of assault shouldn't expect any support or handholding from Bollywood as it is a dismissive industry. Coming from a place of privilege—Bhatt is the daughter of Mahesh Bhatt, who is a powerful producer and filmmaker himself—it's easy for her to say that. However, it is difficult for many survivors to speak up and sustain a fight without a support system.
"I find it a very frivolous conversation whether 'Bollywood stands with you or not'. Truth doesn't need a PR. If you believe it, go out there and speak it. Do not expect anyone to hold your hands and support you. Bollywood is a great place. You can expect support for award ceremonies, weddings and funerals," Bhatt said, completely overlooking the fact that in Dutta's case, even after she spoke out, the allegations remained buried for a decade.
Who is Raveena Tandon's sympathy with?
Actor Raveena Tandon made some important points about the culture of silence in Bollywood, but left people confused about her stance on Patekar.
On the one hand, she called out the magazines and sleazy headlines that helped perpetuate atrocities on women and commented how terrifying it must have been for Dutta to have faced the mob which vandalised her car, she also said that she had heard stories about Patekar's temper but never faced it. In fact, she added, Patekar had been courteous and helpful while shooting with her.
Then again, even as she said that if Bollywood doesn't stand up for victims, their films on women's empowerment ring hollow and urged people to come forward and support Dutta, she also said something confusing about 'innocent till proven guilty', which could only refer to Patekar.
What's the matter with Farah Khan?
Barely a day after Dutta's story broke, Farah Khan, who is off to shoot a film which stars Patekar, among others, posted this on Instagram.
Khan is apparently off to work on yet another sequel to the sexist, ableist and problematic Housefull series. In a statement about Khan's post, Dutta's representatives said, "Tanushree is upset about two things. Farah's Instagram post has appalled her. Being a woman herself, Farah has made her stand very clear by going ahead with Nana for the Housefull shoot."
The problem with Priyanka Chopra's response
Priyanka Chopra retweeted Farhan Akhtar's tweet, saying, "The world needs to #BelieveSurviviors". At best, it was an impersonal tweet, without saying much about Patekar. Dutta was not happy with it and said in an interview that she is fed up with what seems to be the convenient feminism of Bollywood stars.
"Well, it's amazing. She (Priyanka) has finally decided to join the bandwagon. It's probably a smart thing to do at this point of time. But I just want people to know that I am not going to be reduced to a survivor. I have a name, I have a story and I have this truth that I am trying to get out because it's not for me but for people who will come forward in the generations to come," she said.
Dutta tells off Twinkle Khanna
A couple of days after Dutta narrated her ordeal and social media was aghast at Bollywood's silence, Twinkle Khanna put out a tweet that was supposed to be in support to Dutta. With a link to Janice Sequeira's Twitter thread where the journalist recollected interviewing Dutta 10 years ago and backed up her story, Khanna said, "Please read this thread before judging or shaming #TanushreeDutta a working environment without harassment and intimidation is a fundamental right and by speaking up this brave woman helps pave the way towards that very goal for all of us!"
Dutta, in another interview, retorted, "Thank you ma'am for supporting me but your husband is about to or is even shooting the film with Nana Patekar. What about that?"
If Bollywood was trying to wash their hands off the incident with a tweet, Dutta was not letting them get away with it so easily.
While Khanna and her husband are allowed to have different stands on issues, sexual harassment demands a more comprehensive and effective response than this.
Sonam Kapoor and Farhan Akhtar all tweeted in 'support' once Sequeira narrated her eye-witness account. One cannot ignore the fact that they only chose to come on record when Sequiera—a popular film journalist familiar to actors—presented her version of events. In fact, Kapoor said, "I believe #TanushreeDatta and @janiceseq85 recollection of the account. Janice is my friend, and she is anything but an exaggerator or a liar. And it's up to us to stand together."
One can't help but wonder what Bollywood's stance would have been if Sequeira had not come forward in support of Dutta.