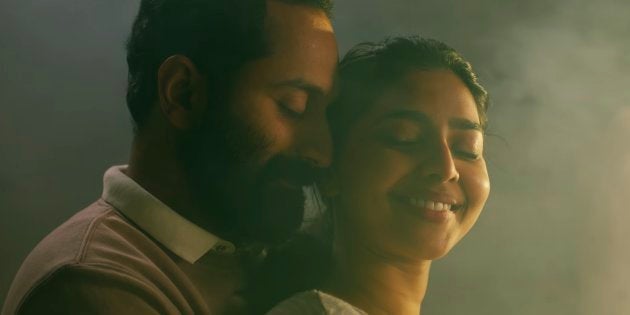 Amal Neerad's Varathan (Outsider), a film that mostly deals with the daily violence faced by women until it explodes into a thriller, is commendable for one very important reason. Neither Priya (Aishwarya Lekshmi) nor her husband Abin (Fahadh Faasil) ever blame her comfortable, fitting dresses (which stand out in a Kerala village) for the fact that she is stalked and assaulted.
When we first meet them, they are an extraordinarily loving couple living in Dubai who don't exchange harsh words or display too much emotion even when Abin loses his job and Priya has a miscarriage. She convinces him that the best place to recover would be the village in Kerala where she grew up, and they make the move.
Varathan is occupied by the male gaze—the first inkling we get of this is when the couple's taxi driver from the airport adjusts his rearview mirror to focus on Priya, who immediately challenges him. When they stop at a small tea shop in the village on their way to their new home, they are confronted with the Kerala staple of the elderly man who reads a newspaper while keeping an eye on everyone and everything in the place. His piercing glare makes Priya hastily leave her grip on Abin's hand—Malayalam movies have often tended to treat the figure of the old lech who is excessively interested in what women do in a "humorous" manner, but not this one.
As the number and intensity of eyes surveilling Priya increase every day, the viewer starts fidgeting uncomfortably. From the kitchen to the bedroom to the bathroom, there is no place where she is free of the patriarchal male propensity to view every woman as just another body. While thankfully, the camera here doesn't want to titillate the viewer (we are not subjected to any bathing scenes or others of a similar nature), its positioning from the voyeur's angle makes even an innocuous activity such as Priya licking chocolate syrup off her hand while baking seem like more than it actually is. Whenever she tries to talk to Abin about this, he dismisses her fears.
Neerad ratchets up the tension and discomfort in the first half to such a point that this viewer wondered why she was paying money to feel anxious and fearful inside a theatre when she could just step outside and experience this for free.
But this is a Neerad movie, so at some point the big guns have to come out (there is even a "guns and explosives" credit) and that is when the agency slides from Priya to Abin.
After Priya is traumatised from being sexually assaulted, the viewer is shown Abin's pain at not being able to "protect" her (after she tells him that this would never have happened if her father were alive). From then on, her character becomes an afterthought (apart from one token scene at the end) whose trauma becomes an excuse for the filmmaker to show that Abin is not as passive as he comes across.
Faasil is superb as a man who is scared even of a dog on a leash and thinks that cockroaches don't necessarily have to be killed. His Abin happily makes tea for his wife and hangs out her undergarments and doesn't seem concerned that any of this would chip away at his masculinity but sometimes you can see him wondering—does she still respect me now that I have lost my job/failed to protect her from harm?
Varathan's eagerness to answer this question means that the movie becomes another (uber-stylish) thriller where a serious case of sexual assault becomes an excuse for a few punches to be thrown.
Judging from the applause in the theatre, most viewers seemed to agree with Neerad's solution.
Faasil's Abin is the suave, aspirational metrosexual man who is set up as a contrast to the boorish, less educated local men who are sexually repressed—one to such an extent that even an innocuous conversation with a classmate years ago is fodder to build an X-rated story to regale his companions.
There are allusions to sexual violence everywhere in Varathan—a man and woman are menaced and threatened for sitting in a car together, the camera lingers on a rock bearing a campaign slogan for unrepentantly sexist politician PC George and there is a strong reminder of the 2016 abduction and assault of a Malayalam actor. That incident divided Kerala's film industry into two clear camps, and the shockwaves it dealt will not go away anytime soon. Varathan is a clear indication that Kerala's young filmmakers want to engage with the subject of sexual assault seriously. Next time, hopefully, they will be more successful.