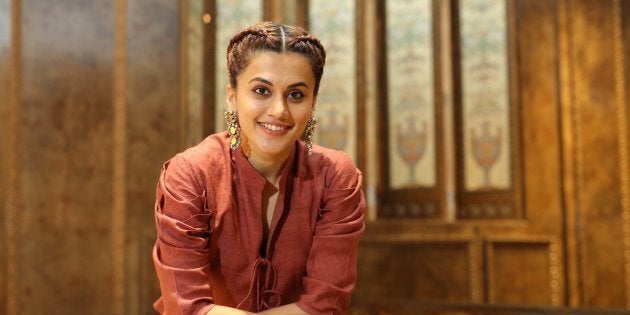 It's been a week since Anurag Kashyap's romantic drama Manmarziyan released and it's clear who the star of the movie is.
While the film is universally well-performed, Taapsee Pannu owns the movie with her character, Rumi, throwing every Bollywood convention out of the window as she goes about setting her own rules. As we settle and begin exploring connections between the Persian poet and the feisty Amritsar girl who goes by his name, in walks Imtiaz Ali.
Ali is here for a meeting with a producer but on spotting Pannu, he walks over to her as they chat about her performance.
Rumi, played by Pannu is a truly an iconic character. In this interview, Taapsee spoke about her long journey to stardom, how she fleshed Rumi out, and the road ahead.
Pink, Mulk, Manmarziyaan... you seem to pick characters that have a strong voice, that believe in something, that stand up for a certain idea. Why do you feel the need to do Judwaa 2? I read somewhere that you do such a film to broaden your audience base, sois box office your only motivation?
Well, it's one of the reasons. Another is simply to take a break from the intensity work that goes into the other films that you mentioned.
So you are saying a David Dhawan movie works as a rehab of sorts?
Literally is. I just enjoy the fact that I have worked hard for my other film, so this is my paid vacation. where I am romancing the quintessential Bollywood hero, where I get to look like a million bucks in every shot, where I get to wear the fanciest clothes. Even if it's a shot of me getting up from my sleep, I look glamorous, what's there to not like?
I'd argue that the misogynistic and regressive nature of Judwaa 2, and its exponential reach, kind of neutralises the powerful feminist leanings of your other characters. In one movie you are talking about consent, in another, you are getting spanked, a major violation of that very consent.
We are showing you a certain character. Just because it is been played by Varun Dhavan does not mean it is the most idealistic character or someone worthy of being considered as a hero. We are not saying his actions are something worth following.
Well, it's the movie's attitude. The movie's attitude doesn't condemn his behavior, it legitimizes it by treating it with casual humor. It makes it look okay and that's a problem.
But it's on you if you feel he's adorable and cute. For me when I see Raja spanking and doing all that, it's just plain weird. So I am laughing at his weirdness.
Yes, that's what, you are laughing at him and not calling him out. The scene is designed to elicit laughter and those laughs normalise that behaviour.
I don't think it normalizes that behavior because I am laughing and thinking lowly of that person. Where you think that he is not even in his normal state of mind. I am not taking him as a hero of my life, as a person whom I would want to look up to.
Perhaps the more cinema-literate audience can look at the film with a sense of irony. But for a large part, a Varun Dhawan doing such a scene makes it appear as something that's an acceptable thing to do.
Then that is the shallowness of their mind, which they will anyway pick up even if a Varun Dhawan does not do it.
Okay, let me put it this way, which of the two is more artistically fulfilling?
I've been raised on a steady diet of Hindi films so I will feel incomplete if I don't do a film like Judwaa. I might not miss it but I'll find some part of me missing if I don't do it eventually because I have grown up watching these larger than life characters. I will never do a sex comedy though. That's where I drew a line.
Yeah, in Judwaa if they are glorifying something I don't stand for, I would not have done it. you won't believe, Varun and David sir had a lot of discussion regarding this about a lot of things that they showed in the original Judwaa that they didn't show in this because they know it is wrong and that the times are different we need to do it in a different way. I refuse to believe that no sense of responsibility has come in lately.
It's obvious that Rumi's character is so well fleshed out largely because it's written by a woman. We see poorly written female characters because Bollywood is dominated by male writers/directors/producers...
I used to complain before that there are not many layered female characters because it is very difficult to write all your female character because there are excessively many layers to a female than a man. Unfortunately, we end up showing the woman as the vamp or as a highly righteous character. Women writers are changing that.
This reminds me of an article that a woman wrote on The Quint, saying she is tired of the free spirited woman which is now a stereotype. I was shocked. She wrote about how free-spirited is equated with smoking and drinking! This is a very shallow intake of the character because Rumi's smoking or drinking, like the men, is just one of the things she does, it's not a defining trait. If a man smokes and drinks in a film, no one says anything. But if a woman does it in one film, it becomes her character sketch. There's so much to Rumi than just that. I think at the end of the day, women become hurdles for their own genders.
Does a character stay with you long after the cameras have stopped rolling? Are you still in a Rumi state-of-being?
I had some insane amount of mood swings happening when I was doing Manmarziyaan. Every day I was going through this emotionally crazy turmoil. Since Anurag Kashyap does not work in a rehearsed way, you have to just throw yourself in that situation as if it's happening in real and react to it.
I am not a trained actor so I just have to psych myself into believing that I am in that situation for real and react, instead of thinking, "What am I going to do next?" The camera will catch my preoccupation. I have no strategy so I end up becoming a little crazy.
For example, after the film was complete, my sister and I were going out for dinner. I walk out waiting for my car and I see this person trying to take a picture of me very slyly. I lost it. "Keep it inside or else I will break the phone," I yelled. Now that's not me at all. I wouldn't ever do it, not to a strange man, because as a woman you are worried what his reaction might be. This was me channeling Rumi.
My characters also affect my dressing style. It changes with every film. It takes a while for that person to fully disappear and I have to make it go...
... to allow space for another character to come in.
Okay, talking about Rumi. What I like the most about her is that the film shows her as a character completely in charge of her life and even when she messes up, the film doesn't make her feel guilty for being herself.
That was the best part. None of the characters judge her for that, especially the men. In a love-triangle, when there is a girl in the center, it will always be about her sacrificing something or her taking decisions under pressure. It is almost like it's her burden and her obligation to do the right thing. A man can stray but a woman, oh she cannot. She cannot base her decisions on her own happiness. She cannot prioritise herself. In trying to keep the honor of her family and the society and the men, she does not even know who she is or what she wants.
Rumi breaks this stereotype and for many, it has come across a huge shock. It can come across like borderline selfish and very eccentric and there is nothing wrong with it.
There were numerous comparisons to Hum Dil De Chuke Sanam, did you feel so while filming Manmarziyaan?
People who don't want to open their eyes to real relationships will end up comparing to all those kind of films because in a love triangle, either the girl or the guy will be at the center. Yes, the story is similar but, we aren't selling you the story, we are selling you the characters and the moments and the treatment of the story. Hum Dil has a lot of patriarchal undertones where the women is a victim of her circumstances in the house. It was a film made in 1999 and people accepted it at that time. But now things are different.
Taapsee, you had said once that you will never date an actor because in a relationship, there can only be one star and that is you. It sounds like something Rumi would say.
That was just a funny comeback to a question someone had asked, I do not mean that. I have learned to never say never. Having said that I hope that I don't date a star because I want to come back to a life where there are no movies. A normal life. Sooner or later there will come a day when I will have to move on from this profession. I do not want it to be difficult and it will be if there's like two of us.
What's the difference between Rumi and Taapsee?
Taapsee is a proper Robby kind of a girl. I am very, very clear. Also, unlike Rumi, I can't hurt anyone, I find it extremely difficult. She doesn't quite care. I am not like that.
While Rumi is feisty and outspoken and constantly challenges existing notions of how a woman should behave, there's heartbreaking vulnerability to her which comes out when she's repeatedly let down by Vicky...
It comes from a place of honesty. She doesn't plan to hurt people. If she wishes to say something she says it, lets it out. She's instinctive and honest. You understand her inner life. You see her for who she is. You can't hate her because you know where she's coming from.
How much of it was improvising?
For the life of me, I cannot remember dialogues. That is my weakness. My sentence formation always changes and that's true for all characters. I just have to be conscious of my lingo. I can't sound the same. I have to follow the tone of the dialogue. But a lot of it is on my own. I do not follow the grammar written by someone else, I go according to what naturally comes to me because I have to make that dialogue my own. And not appear as someone merely parroting lines. A lot of the dialogue in the film, like the banter between Rumi's aunt and her son, was fully spontaneous, so was the drunk scene on the terrace between Robbie and my character. We started off with a Sholay homage but later Anurag said go with the flow and add lines that the generation that isn't aware of Sholay, will relate to...
There's a sense of fearlessness in your performance, a kind of brazen self-confidence...how did you elevate the character from what writer Kanika Dhillon initially envisioned?
From not fearing judgment.
Rumi, like me, does not care what other people think, especially what the camera thinks. I am shameless in front of the camera. I don't fear it because I don't care about my angles. I don't see monitors. I don't worry about how beautiful I am looking or how my lines are sounding or how my tone is. I accepted long back that I could not look very beautiful, as some actresses do. So I started working on the next thing -- I needed my parts to look believable.
To many, Manmarziyaan is essentially about the conflict of a young woman. To choose between the raging romantic and the boring-but-stable banker type. To settle for maybe the second best. To submit yourself to a fate that doesn't look anything like the love you fantasised about.
I wish I could show you the crazy amount of messages that I have gotten saying the same thing. Girls have written that heart out saying we could just see ourselves on screen. Like I said before, everyone wants the girl to make the right decision but maybe she herself does not want to. Also, regardless of gender, I think soon people will realize that the whole 'oh love happens only once and marriage can only happen once' is the biggest bullshit that has ever been fed to us. Slowly these ideas are going to go flying out of the window
Sure, but there's something to be said about the maddening euphoria of first love. Even if Rumi lives happily-ever-after with Robbie, it isn't anywhere close to the passionate romance she once shared with Vicky...
See, you have to also see that she has changed with her personal experiences. She did not change because someone else asked her to change. Maybe now she wants a certain person who can balance her vibe out. Maybe Vicky was too much of an energy to handle. Maybe she needed that calm after the storm.
In his analysis, Baradwaj Rangan wrote this that years down the line, Rumi is bored. She picks up the phone and begins writing a message to Vicky...
It's possible. With Rumi's state of mind you never know what she would want in the future, which is perfectly fine. If you are not honest, to yourself it's the best thing. One should never fake feelings.
The film succeeds in capturing the volatility of our ever-changing feelings, our indecisiveness, our own sense of self-doubt...
Absolutely, feelings aren't written in stone. You can always go back. That is the conditioning that we have. This is our Bollywoodised version of love. Love fades, love changes, love grows. What love shouldn't be is restricted. The heart is weird. The more you cage it the crazier it will become.
I like how the film dismantles the very idea of marriage and how the institution places an unfair burden on a couple. So it was quite subversive to see how Robbie and Rumy start afresh after they've just annulled their marriage.
If today you tell people that this is going to last till the last breathe of your life, it will freak them out.
But, if you tell them that okay this gets over now at some point and you are free, you might actually want to go back and stay for the long haul. The whole permanency is in the head freaks us out. Eventually, she went back to Robbie. Marriage demands commitment for seven births, but we are a generation that doesn't even know if we'll make it work for, like, seven days.
The dating space is such that love or at least the illusion of love is only a few swipes away.
Correct. Because we have a wider range of choices, we are just not ready to adjust. We want to live boss, we do not want to survive. We want to prioritise our own happiness. Which is why we date so much, we shift jobs, we fluctuate.
Did you feel the film could've perhaps been slightly shorter?
But I cannot point out where it should have been shorter. I understand that 2.5 hours is not appropriate today for an Indian film. None of us could point out which scene to cut down; any scene would have cut out the layer out of a character. Ultimately, it is a directors medium, we went ahead with what he thought was okay.
What about comparisons with Geet (from Jab We Met)? I feel Geet gets tamed in the end by the realities of life whereas Rumi remains unapologetically herself, if anything, it's the world around her that adjusts and changes according to her...
It's true. Geet is a great character but ultimately, she loses that spark because of whatever happens. Rumi couldn't have been that. She can't be tamed!
Despite all the love it has received, the film hasn't done well at the box-office.
I knew well before that I was doing an Anurag Kashyap film. He has taken so many years to build his brand. It's come to a point where the masses do not want to go watch it because they think he creates a very dark world. It will take time for the audience to accept his films. Post-release, he texted me saying that he is receiving a lot of appreciation so why is it not translating into big numbers? I told him, Anurag, for over a decade you have created an image where people run away from the cinema you make. Give them time to to get to know this side of you. I am very clear. I am a very box office girl. However, everyone is telling me to forget the box office. But I don't want Oscars. I want a hit.
What was the most memorable memory from Manmarziyaan?
The equation I shared with Anurag. We used to work out in the morning before going to the set. We started our day together until the shoot ended. I started out not knowing him at all to loving him so much. The way he spoilt me on the set made me feel like a crownless queen. He gave me freedom to do whatever I wanted and asked for whatever I needed.
Tell me about your conflict with Anurag. Were there moments when you felt that Kanika and you knew Rumi better than him and could handle a scene with more nuance, purely because of your lived experiences?
Anurag and I didn't quite agree on how to handle the infidelity part. He wanted it to be edgy, while I wanted it to be more of an organic situation. I did not approve of the infidelity and the way it was handled and it was a tricky point. I knew that I couldn't put the audience off. I had to make them root for her, care for her. As you know, Anurag is extreme but then I am also very brutally honest. That fight existed with him always. He wanted a scene where in one shot I am in bed with Robbie and then in another, I am with Vicky. That wouldn't have worked. I had to make her dilemma real, her battle relatable. After a point, I told him I knew how to handle this and he agreed.
The key to doing that scene was to reflect honesty in way that the audience can see through Rumi's intentions. It couldn't become about lust, it had to be about longing. For that we had to make Vicky appear vulnerable and as someone deserving of love. It added nuance to the moment and made the lovemaking acceptable.
What was your interpretation of the ending?
For the longest time, we wanted to keep it an open end. How do you know Rumi cannot change her mind again? Maybe Vicky comes back, and she is always shaken whenever he does. Changing her mind is her forte; you can keep playing with her character. I think I should tell Kashyap to seriously do a part two.
As an outsider, do you feel that you have to work five times harder to reach the same place as somebody from a privileged background?
Oh yes. But I signed up for it. I knew about it when I started out that that this is going to take me long to crack it and it is going to be harder. Forget about not having a film family, I don't even have a godfather or a sugar daddy and I am not even dating a famous person from the film industry. But it's okay. I am not trying to victimize myself because I have chosen this path. I could have finished my MBA or continued engineering but I chose this. The obvious drawback is that despite doing the kind of work I have, I am still unsure if I will even get a meeting with a big director. It's a mental block. But I think it'll get better along the way. I am having a really good year and I don't want to complain.