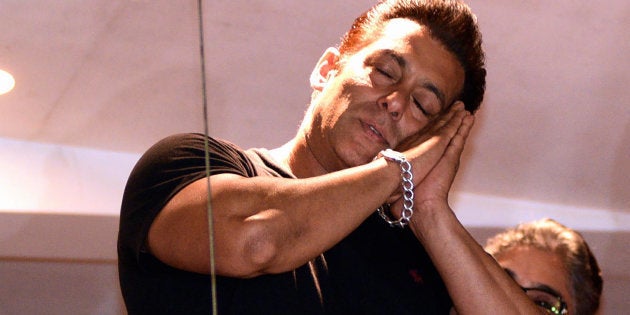 Salman Khan's production house has changed the name of its upcoming film Loveratri to Loveyatri, after Hindutva groups threatened to slap Khan and prevent theatres from screening the film. The groups had taken offence to the title's similarity to 'Navratri'. Though Khan or the film's crew has not explained why they have changed the name, the reason is fairly evident.
In June, Govind Parashar, who identifies himself as a member of the Rashtriya Bajrang Dal in Agra, announced a reward of Rs 2 lakh to anyone who thrashed Khan in public. News reports at the time had identified Parashar as the Agra unit chief of former Vishwa Hindu Parishad (VHP) chief Pravin Togadia's 'Hindu Hi Aage' organisation.
Parashar told HuffPost India, "I had declared that I would reward anyone who went to the place where the film was being shot and beat Salman Khan up and set the place on fire."
When told that it was an act of crime and he would be prosecuted for it, Parashar said that he was not afraid of facing the law. "I can do anything for my religion, I can do anything for my gods and goddesses," he said. He added that a case has been lodged in Bandra by someone he doesn't know for his threats against Khan but he was not worried about it.
The film stars newcomers Aayush Sharma (who is also Khan's brother-in-law) and Warina Hussain.
On Wednesday, Parashar boasted on Facebook, "Salman Khan has bowed before the Bajrang Dal and changed the name of his film." He added that he welcomed the move.
However, he added, had Khan not changed the name of the film, his group wouldn't have let the film be screened in any theatre. "We would have set fire to any theatre which dared to screen the film," Parashar said.
Not just Parashar, Alok Kumar, VHP's international working president, had also told The Indian Express that the organisation would stop theatres from screening the film. He said, "We will not allow its exhibition in cinema halls in the country. We don't want the sentiments of Hindus to be hurt."
When HuffPost India asked Parashar, how the film, seemingly a love story, could hurt the religious sentiments of Hindus, he said he doesn't have an issue with the film's content. "I have a problem with the name. They have distorted the name and are using it for publicity. Our group is not okay with people using Hindu festivals and religion for publicity," he said.
This isn't the first time Hindutva groups have taken offence against Navratri-related popular culture paraphernalia. In 2017, a body of medical professionals in Gujarat were offended by a Navratri-themed condom ad featuring Sunny Leone and sought a ban on the sale of Mankind Pharma's condoms Manforce in Ahmedabad. Doctors from the National Medicos Organisation, reportedly affiliated to the RSS, had told Ahmedabad Mirror that they have stopped prescribing Mankind Pharma products to patients even though they were more affordable.