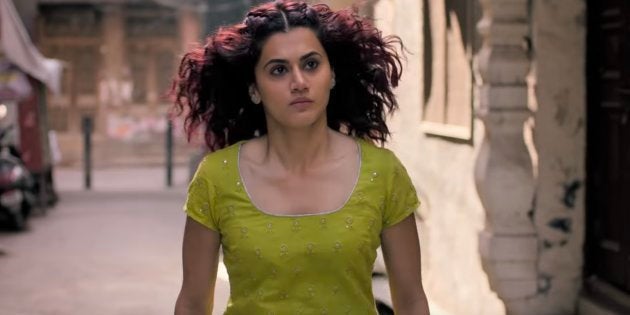 In the first half hour of Anurag Kashyap's Manmarziyaan, the film's protagonist Rumi Bagga hooks up with a man from Tinder, comes clean to her family about her relationship when they find out about it, breaks up with said man when he refuses to meet her family and then chases him away with a hockey stick when he turns up later to pester her. Rumi flirts, fights, shouts, apologises and is basically torn between being pragmatic and being in love, and never apologises for being herself. The film roots for Rumi the way the majority of Bollywood's products root for male 'heroes'.
Kanika Dhillon's script is a necessary reminder to Bollywood about what women in films could look like if women themselves wrote the characters. The fact that Rumi doesn't exist in the film to glorify the male actor's biceps and the masculine ego in general is probably as much the result of a woman writing her as it is of the empathetic gaze of a director like Kashyap.
That said, Rumi is made memorable by Pannu. From how she loses her cool at her boyfriend and storms past jaywalkers on streets, to how she cheekily tells a man that she is horny, or pleads with him to grow up, Pannu doesn't let Rumi turn into the melodramatic cliché that many women characters are reduced to in Hindi films.
Pannu doesn't let Rumi turn into the melodramatic cliché that many women characters are reduced to in Hindi films.
The film turns a classic Bollywood romance trope—a man makes a final, desperate attempt to win back the woman he loves, just as she is leaving—on its head, with Pannu's Rumi trying to win her love back. Pannu is giddy and teary-eyed when she succeeds, but is restrained throughout a slightly contrived ending. Her response is what stops a scene ripe for melodrama from being ruined by it.
Actually, for anyone who has appreciated Pannu's recent silver-screen outings as much as this writer, the character of Rumi could easily have been written for her. A woman who sticks up for herself? That's Pannu in Pink, Mulk and even box-office duds Naam Shabana and Running Shaadi.
In fact, if Running Shaadi, which sank at the box office, worked even partially, it was thanks to how great Pannu was as Nimmi, a woman who sets up an agency to help couples elope. In the film, Nimmi is again a woman who has sex when she wants, doesn't consider it the end of her life, lays out her life exactly the way she wants and goes to greats length to achieve her dreams, often being the source of courage for her male love interest.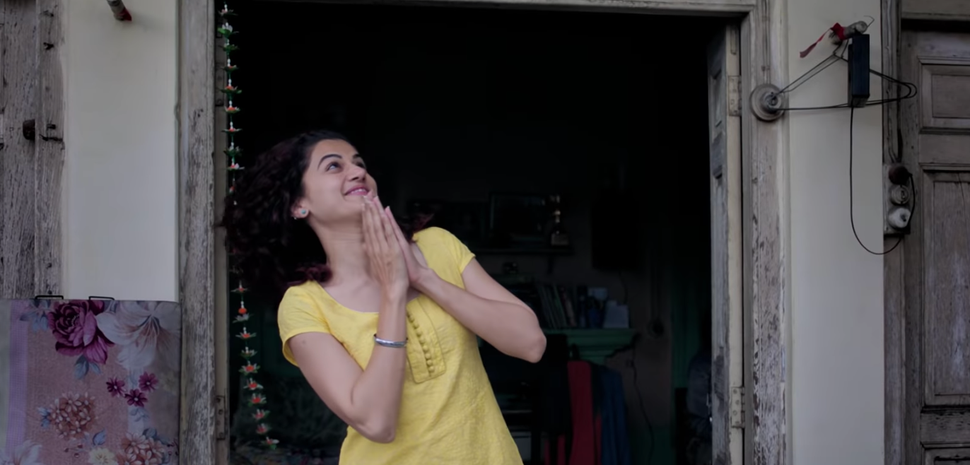 In Pink, Minal (played by Pannu) goes through the motions of self-loathing, fear, desperation and then rage when an elaborate plot unfolds to make her look like a woman who, as they say, "invited" the sexual harassment she faced.
Both Nimmi and Minal struck a chord thanks to the ease and conviction with which Pannu essayed the roles.
It is not Pannu's burden to erase sexism from Bollywood, but selecting roles that don't glorify misogyny could be her legacy if she chooses.
In 2017, Pannu spoke about how absurd she found her first few outings in Telugu films, where one scene she did was a close-up of her midriff being hit by a coconut.
"I saw Sridevi's and others' videos. Everyone had flowers and fruits thrown at them. My turn came and I don't know, maybe I was not prepared as I told you, they threw a coconut at me. I don't know what is so sensuous about a coconut hitting my midriff," she had said. Pannu faced a wave of backlash from fans of filmmaker K Raghavendra Rao, whose film Jhummandi Naadam Pannu she was referring to. Pannu was forced to apologise and she said she was simply making fun of herself.
A film journalist familiar with the Telugu industry had told HuffPost India then that if she had not apologised, the comment may have cost Pannu her career.
Her apology was seen as a sign of what the Indian film industry is like for women—fraught with violent misogyny. Apology notwithstanding, her comment was evidence of the fact that Pannu was sharply aware of, and perhaps even uncomfortable with, the sexism sprinkled generously in films across languages in India.
Fighting sexism in film industries helmed by men who thrive on the blind adulation of millions of Indians is not a battle one woman can possibly take on. However, choosing scripts that do not normalise harassment or try to pass off violence as romance is within the power of women actors. Just as Pannu chose to embrace Manmarziyaan, one hopes she would avoid scripts like Judwaa 2 in future. In sharp contrast to her recent filmography, Pannu played a woman who is forcibly kissed by a man and, as always in the Bollywood universe, eventually falls in love with him. The entire film, which made a few hundred crores at the box office, basically revolved as hailing a harasser as the 'hero'.
Pannu, in an interview with The Indian Express, did recognise the inherent problem in glorifying a harasser. However, she insisted that Judwaa 2 wasn't doing anything of that nature. "The problem is when we start glorifying these things and make it heroic. We didn't make it heroic in the film," she said.
She also seemed to suggest in the same interview that "feminism is 'going in the wrong direction" if people started outrightly rejecting aspects of a work of fiction as "offensive".
"I think this whole feminism wave is kind of going in a wrong direction, if they start nitpicking everything without analysing the larger picture," she said.
But here's the thing. Between Rumi from Manmarziyaan and Samara from Judwaa 2, it's easy to tell which character her fans hope she will not play again.