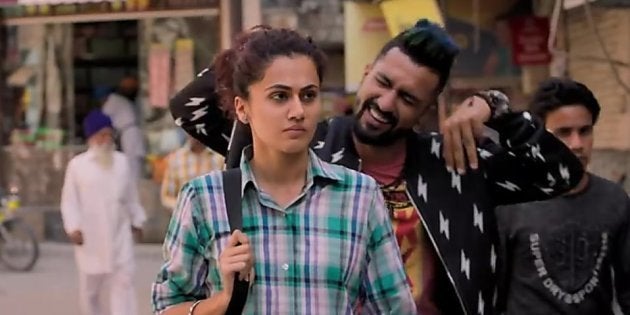 The most powerful scene in Anurag Kashyap's intense romantic drama, Manmarziyaan, comes in the last 10 minutes, when Abhishek Bachchan's Robbie and Taapsee Pannu's Rumi take a walk, talking about the events of the past few weeks. The couple has been through some dramatic upheavals but at that moment, they carry with them a clarity gained after living through the consequences of a series of outrageously irrational decisions.
In Kashyap's hyper-stylised and remarkably-shot Manmarziyaan, the three principal characters are reckless, irrational, unhinged youngsters manoeuvring the complex world of modern dating. This is a film—if you stay with it long enough—that essentially tells you that good decisions come from experience and experience often comes from really, really bad decisions.
Vicky Kaushal's Vicky is the quintessential Punjabi brat who wants to become a DJ. That Yo Yo Honey Singh is one of his role models tells us all we need to know about his character's worldview. He's in a relationship with the feisty Rumi, who runs her father's hockey merchandise store and was once a promising hockey player herself. She has no time for patriarchy, sexism or flaky men who bail when its time to stand up for their relationships. But despite her best efforts, family pressure is hard to ward off, and so she agrees to marry London-returned investment banker Robbie.
It's a decision borne out of submission and not active enthusiasm.
On the surface, Manmarziyaan may appear to be a standard love triangle reminiscent of Hum Dil De Chuke Sanam. But Kanika Dhillon's writing infuses the characters with such infectious energy it's hard not to root for them. The beauty of the film is how non-judgemental it is about the characters' decisions—they are all flawed, complex, three-dimensional people full of self-doubt, people who are constantly second-guessing their own actions. There's bravura, but under the surface, there's heart-wrenching vulnerability. And all the actors do a terrific job, delivering career-best performances.
Kaushal is outstanding as the wannabe DJ, who can neither live with the girl he loves nor without her. The character could've easily been a stereotype, simply channeling the wild masculinity one associates with muscular, gun-wielding, gypsy-driving men from North India. But Kaushal allows his character to be vulnerable and aware of his own weaknesses. Vicky is all romance and failure, a character so wildly infected by youthful, romantic idealism that he has no time to think about the practicalities of life. His eventual awakening makes for one of the best scenes in a film peppered with many memorable ones.
In sharp contrast is Robbie, played by an understated Bachchan. If Vicky externalises his love and woes, Robbie is the brooding hero who withholds his emotions and simmers within. It's a sincere performance, but the character's underlying dullness doesn't offer much for Bachchan to play with.
The film belongs to Pannu. We see the world through her eyes. She's selfish, manipulative, hilarious and confused and owns up to it. It's an incredibly layered performance, where Pannu expertly manages to balance maintaining a steely exterior with a tender, restless and mostly disappointing inner life.
Disappointment and duality is a recurring theme of Manmarziyaan. The duality of the characters—hardcore romantics who may not always be faithful—is represented through a pair of twins, a clever motif that keeps appearing throughout the film. Amit Trivedi's music acts as a binding glue for the broader narrative of the film, with the songs adding a layer of melancholy to the proceedings. The music never interrupts a scene, but works solely to accentuate emotions.
Overall, Manmarziyaan is about the unpredictability, contradictions, and headache-inducing messiness of love. It exudes a kind of pulsating romantic energy which has been absent from Bollywood for too long. The film manages to examine the idea of love as a fundamentally flawed concept, an unavoidable rite of passage that sobers down raging romantics and makes unlikely lovers out of investment bankers.