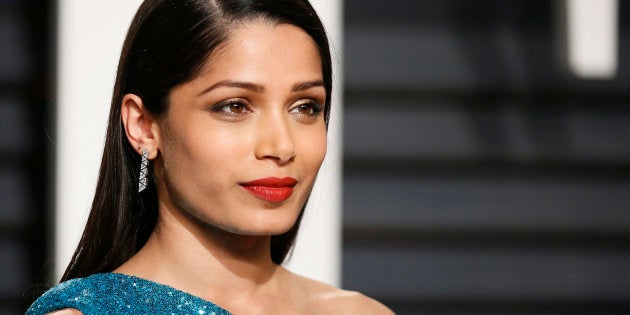 "I miss South Bombay the most. It reminds me of all our hangout spots, like Sunrise and Gokul," says Freida Pinto, naming two of Bombay's most famous dive bars, frequented by students of colleges in and around the Churchgate area of downtown Mumbai.
Pinto, an alumnus of Mumbai's prestigious St. Xavier's college, is now a bonafide Hollywood name, having appeared in films directed by Danny Boyle, Terrence Malick and Michael Winterbottom.
Ahead of the 14 September release of her film Love Sonia, directed by Tabrez Noorani, Pinto met HuffPost India for a conversation about feminism, the #MeToo movement, diversity in TV and cinema, and why she doesn't feel the pressure to recreate the sweeping success of Slumdog Millionaire.
Edited excerpts from the interview:
Your upcoming film, Love Sonia, talks about sex trafficking, a form of modern-day slavery that is prevalent across the world. Do you believe films can act as a tool for social change?
Visual storytelling, in my opinion, is the most powerful tool to initiate social change, make a powerful statement and spark a conversation.
Just look at what Nike did with their Colin Kaepernick campaign (the former San Francisco 49ers quarterback who took a knee during the national anthem to protest racial injustice in the US). You see something like that and it stirs something within you. It's a powerful way of standing up for what you believe in. A lot of people who don't know him will perhaps Google him and become more acutely aware of the cause, only because Nike decided to hire him as a face for their campaign. My point is—visual imagery can make powerful statements and we need that now more than ever before.
Having said that, I am quite proud of Love Sonia because of how authentically it portrays the horrors of human trafficking. There are multiple films on the subject but a lot of them feed off the sensational subject. Not this. It's as close to reality as it can get.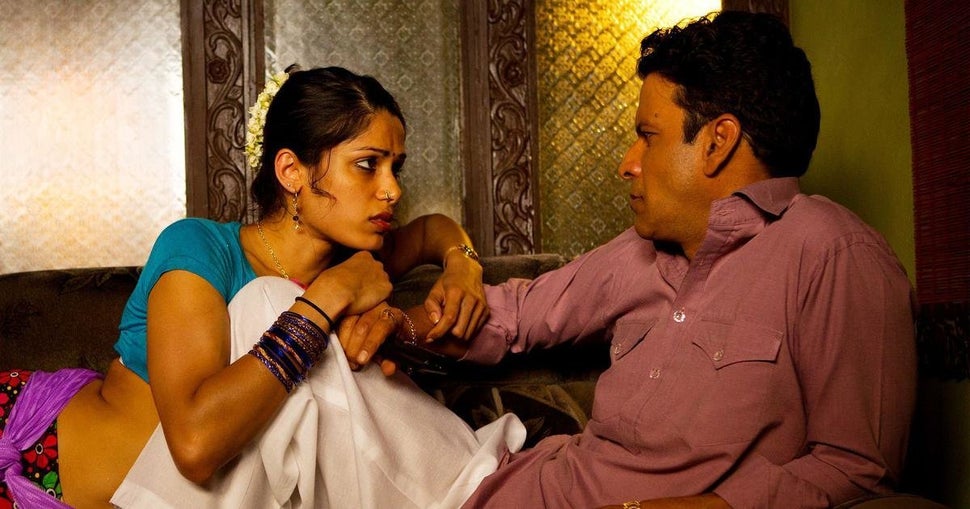 I think so. There are many stories of that nature that come my way and I am slowly learning to strike a balance around it. I'm like, wait a moment, I want to be able to strike a balance and tell stories of the flawed, complex urban woman as well and not just one part of the world. I feel it works both ways—these stories do come to me but I am also the one responding positively to them.
With stories about sex trafficking or even, say, poverty, set in India, the risk is always about falling prey to stereotypes as far as characters are concerned. On a creative level, how do you counter that?
..Which is why when such stories come to me, I am quite conscious about wanting to humanise them and not portray them as one-dimensional characters. It can't be men are bad, women are good. It has to have shades of grey. Gloria Steinem, who's perhaps one of the most well-renowned feminists in the world, says it, 'I am flawed as well.' My job is to find those flaws.
For instance, if somebody came to me and said they want to make a film on Mother Teresa, I wouldn't be excited. I'd be like, really? Just make a documentary, no? She's been a revered saint and nobody wants to watch something they can't relate to. But, if you told me, you did some research and found some juice on her, I bet people would be interested in watching the film. Flaws make a character relatable and that's what I look for in the characters that come my way.
Your new film is about exploitation of women. In a broader context, we are at a moment in time when women are coming forward and calling out exploitative behaviour. How are you processing all this? Has the #MeToo movement empowered women in such a way that they feel more confident, not just as far as their safety is concerned but in other inter-related avenues, such as negotiating a better pay cheque?
Now more than ever, if there was something I was uncomfortable with, whether it's with the way I am being treated on set, or in terms of the money I've been paid as opposed to my male co-star, I have the voice and the confidence to call it out. It has certainly happened. Recently, Oprah did an interview where she spoke about her early days as a talk-show host. She figured out that the male anchor was getting paid twice the money for the same job and when she confronted the producers, they told her, 'Do you have a family to run or kids to feed? He has all that and hence he's getting paid more.' She was, like, 'okay then. I will show you.' Women, today, are doing the exact same things as men, and if I may, a lot more as far as emotional labour is concerned. We need to and we deserve to get paid the same. As an actor in Hollywood, the conversation today has absolutely empowered me in navigating this situations in a better way.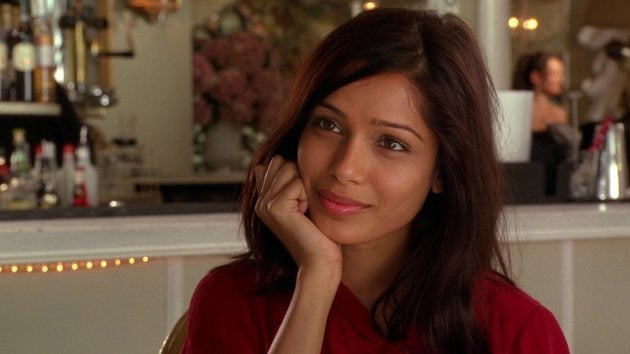 Early in your career, you worked with Woody Allen in You Will Meet A Tall Dark Stranger. Allen, as we all know, had been accused of molestation by his adopted daughter, Dylan Farrow. It's only now, after continuously making a film a year, that 2018 will pass without a release from him (Amazon Studios has shelved its next project with Allen). In hindsight, how do you feel about working with him, considering Farrow's allegations were already known at that point?
I have been thinking a lot about that. When #MeToo broke, I figured that these are the questions that would come my way. I don't regret working with him. I learnt quite a lot from my co-stars. But, going forward, will I be mindful of the projects that are attached with someone who has been accused of a thing like this? Of course. Because I don't know how some people can get away with it.
A lot of them, like Allen himself, have gotten away with it and for way too long. In some cases, it takes little time for a comeback narrative to emerge for powerful men. I mean, look at Louis CK, he performed at the Comedy Cellar in New York last month and even got a standing ovation...
Well, absolutely. But I don't want to go out there to criminalise someone on a public platform but what I can do is make the choice of not working with them because that'd be my personal decision. That also comes from the fact that I am not desperate for work and that I can afford to not work with a certain director. I just would not be comfortable doing it knowing what I know about the director.
So that negates the 'art versus artists' argument that often gets thrown around to justify the final product as something distinctly different from its maker...
Oh yeah. See, I need to have a chemistry with the person who's directing me. If there was any moment on set where I was made to feel uncomfortable, it'd throw me in a lot of self-doubt and I would even begin to question my own abilities as an actor. I would just not be able to be myself.
A lot of actors perhaps feel guilt for not just contributing to the economic and social advancement of men accused of misconduct but also benefitting from the work of those very people (For instance, actor Timothée Chalamet hasdonated his entire earnings from the unreleased Allen film to three charities, including the Time's Up campaign)...
Well, I wouldn't even go that far because to me, signing up would be a form of artistic betrayal. I'd be lying to my art if I chose something like that or continued working for someone who made me feel belittled or uncomfortable. I cannot be a vocal feminist and talk about these issues if I can't live up to them in my personal and professional life. Now that you are making me think about it, I find myself trying not to engage with friends, male friends, who often make misogynistic remarks. But sometimes, I am just done. I have to call them out and say, 'How can you say that and get away with it?'
Male privilege, I guess. The worst part is when the explanation is, 'oh it's just a joke, calm down'. The fact that misogyny is casually embedded in everyday conversation makes it even more dangerous. Do you recall any other instances where you had to call out someone in a professional setting?
In 2015, at a time when I was promoting the documentary India's Daughter (about the 2012 Delhi gangrape), I got sent a comedy script. On Page 3 of that script, there was a 'joke' where this guy is talking to a woman working at a call centre (the part she was offered) and a friend of his overhears and goes, 'You have barely been talking to her for 2 minutes and you are practically gang-raping her'. I lost it. Who approved this? Who wrote this? Probably all male writers. How did it get sent to me?
I threw a fit and asked my agent why it was sent to me without anyone having read it. I was so angry that at an event later on, I made a speech about it. I didn't shame anybody but I mentioned this. On the front row was Meryl Streep, Dakota Johnson and a host of other wonderful women. After my speech, Meryl Streep asked me who wrote it. And I told her. And in the way that only she can, she took that person to task in the kindest way possible because that's the kind of person she is. It felt good. I felt good about having a voice and having support from some of the best people from the industry.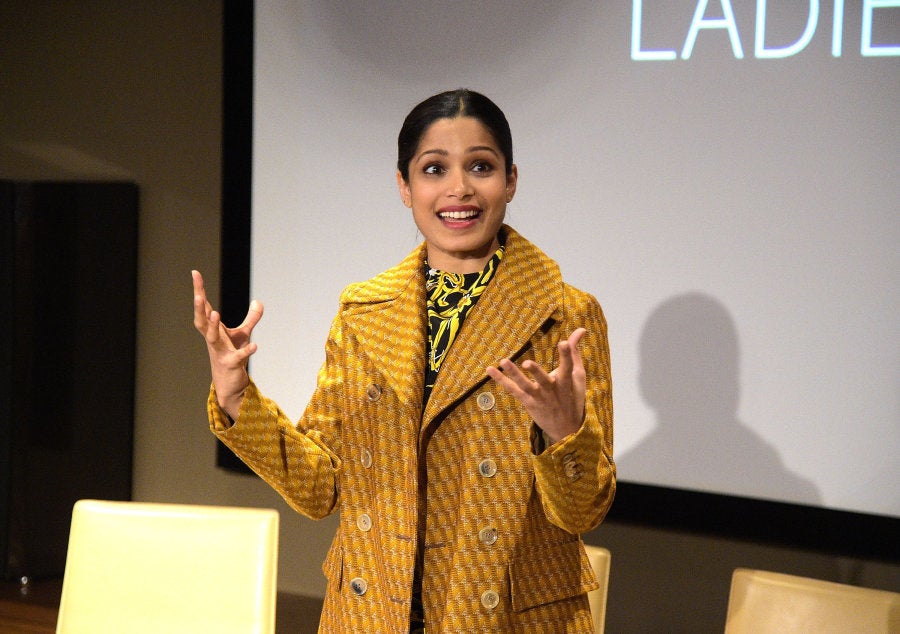 Danny Boyle, Terrence Malick, Michael Winterbottom, that's a great list of directors right there. However, you are yet to work with a Bollywood filmmaker. You came close a couple of times (NH10, which eventually went to Anushka Sharma), but it hasn't really happened. Any reservations with Bollywood?
No, there's no reservation. I have to be able to connect with the story and the style in which the person is trying to tell the story. The few times it has happened, there have been issues. Either schedules weren't working out or there were creative differences, like was the case with NH 10. I connected well with Dibakar Banerjee at one point but didn't quite work out. Maybe it's down to not getting to spend enough time with filmmakers here.
It's been nearly 10 years since Slumdog Millionaire swept as many as 8 Oscars. Do you feel the pressure to recreate that kind of success and glory?
Not the pressure for awards but the pressure to drive conversation the way Slumdog did. Obviously, I don't do films with the intention of it getting the Oscars. If they do, amazing, if they don't, it's fine. Slumdog really opened doors for Indian talent. Not just actors but writers as well. It made the West take notice of India. As far as recreating the success of Slumdog is concerned, no, I don't want that. Slumdog is and remains a special film and I want the experience attached with it to remain unique to the film.
Do you think part of your success also had to do with the timing because suddenly, Hollywood has gone woke and racial inclusivity is something that both the movies and the TV industries are trying to consciously incorporate.
Oh, yeah, absolutely. But we should also be aware of the dangers of such inclusion. On principle, it's great but a lot of times I find myself get offered parts that are done simply to tick off a box, for tokenism. Something that's just thrown in for the sake of diversity! I am extremely mindful of such parts. On reading, I'd go, 'Hmm, this is your token Indian sidekick in the movie, haan.'
Now, If they can take that character and make it into something more, well, great. That's a win-win for all. But if it's simply to be politically correct, too bad. Inclusivity isn't just about having faces of various ethnicities on screen, it's really about having ethnic diversity in all aspects of filmmaking—writing, directing, producing, the technical departments. It has to be looked at holistically, only then will we truly succeed. Why should an Indian director only make a film about India? Why can't he make a movie about the American life? Tabrez (who directed Love Sonia) has lived in the US for so long. I mean, look at Alejandro González Iñárritu, he's Mexican, but has made such great movies outside of Mexico. I hope one day we reach a point where ethnic and racial diversity are no longer barriers but facilitators in cinema.