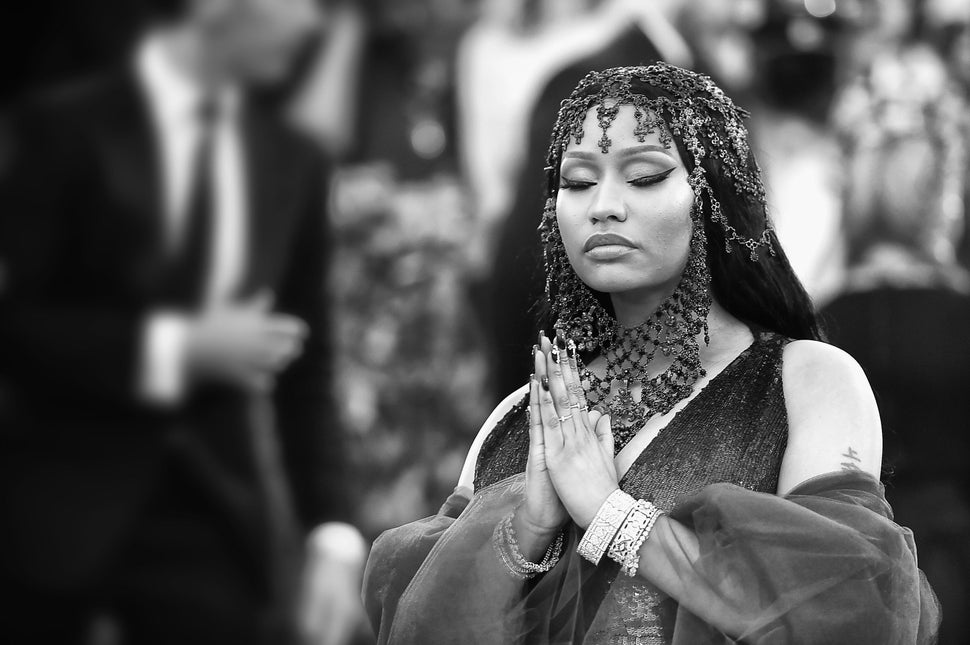 It's Beef Week at HuffPost Culture. Fight us.
We're very concerned about Nicki Minaj.
Within a matter of weeks, she's managed to start a beef with a 6-month-old, compare herself to Harriet Tubman and expose Tyga's hairline troubles. And that's not even the half of it. Sis is spiraling. The long, messy, rollout for her new album "Queen" is evidence of that.
For months, Minaj's social media presence went dark. She lay low and minded her business, presumably working on her album. But when the Queen returned, it seemed as though more mess than music followed. The "Chun-Li" rapper dragged her boots through the mud and came in the house kicking up shit on her journey to prove to everybody ― including, it seemed at times, herself ― that she reigns supreme. All the while, she's made it clear that she's seeking vengeance against haters who "get on their fucking keyboards and make me the bad guy" (even though in "Street Fighter," Chun-Li was a 12-year-old cop fighting for justice).
But the shooter's aim has been off — and folks who have nothing to do with the alleged sabotage of Nicki Minaj are getting hit in the crossfire. In one breath she touts women's empowerment, in the other she slut-shames sex workers and helps pink-slip journalists who mildly critique her. She muddied her valid critiques of Spotify's lack of promotion for her album when she accused Travis Scott of using Kylie Jenner and their child, Stormi, to artificially boost his sales and prevent her album from reaching the top spot in the process. She unapologetically teamed up with a rapper who pleaded guilty to sexual misconduct with a child ― not just for a song, but to open her tour.
Despite her bizarre decisions, we can't deny that Minaj is still, by far, the best female rapper in the game. Her legacy, for better or worse, is unmatched. She has opened doors for many women rappers after her. She's shown the world that you can absolutely be a woman and make bank in hip-hop. You can be better than the boys and, maybe most importantly, you can write your own dope-ass rhymes.
But everyone is wondering, what the hell is she doing right now?
Zeba Blay joined Julia Craven and Taryn Finley for a special edition of "Run That Back," in which we discuss Minaj's rights and wrongs, the challenges black women in hip-hop face, and how her talent really does make her the Queen ― even if her recent actions say otherwise.
Above: "Itty Bitty Piggy," from Minaj's 2009 mixtape "Beam Me Up Scotty."
Julia: Oh how far we've fallen.
Taryn: It's really sad because on any given day I can still spit every bar on this song. Not saying that sis is less talented, but her attitude has really made me not even want to sit through "Queen."
Zeba: So what I'm trying to figure out though is... what happened? Like what's going on?
Julia: I'm not sure. But I do think it's interesting that Nicki didn't get the whole "she's just doing it to sell albums" bullshit that Kanye got. Granted, I don't think that's the case with either one of them, but I thought it was fascinating how the public at large immediately wrote her off as a bozo even though she is the most influential rapper of the last decade.
I do wanna be clear though: I, too, think she's a bozo.
Zeba: I'm not really sure what to think about her whole album rollout. But I will say that it's very interesting watching a woman rapper at the top of her game spiral. Is that rude? Oh well. It's VERY interesting.
Taryn: I don't think it's rude. I think it's accurate. She's spiraling in a way that we only expect from Nicki, though. Through this entire rollout (which felt long af), lots of shit she did raised my eyebrows but I wasn't necessarily surprised that it came from her, unfortunately. She was spiraling before "Queen" dropped and I think she was genuinely disappointed when the numbers came in and she wasn't at the top like she thought she would be. Then shit just got even uglier (and it was already ugly af).
Julia: My initial response is to say she's a lunatic, but we too often write women off as "crazy." I think she's just a clown and has always been a damn clown, and when her clown-ass album didn't sell like her clown ass thought it would, the clown popped up out the clown car. Her antics are showing us who she really is. She's clearly not a feminist, based on her comments about sex workers and the fact that she got Wanna Thompson fired for a valid critique of her music.
Yet, she's going on this whole run about being blackballed because she's a black woman ― but look at what you say about other black women.
She has a very rigid "There can only be one" mentality, and while I understand the desire to blame the industry for that ― and they carry a good chunk of the blame ― Nicki is 35 years old and old enough to know better.
Zeba: I definitely feel like a large part of all this drama, and part of why I can't totally dismiss Nicki, is the fact that she's genuinely trying to navigate how to age as a woman in hip-hop.When you've been the "only one" for so long, specifically the only "sexy" one, and suddenly there's a whole new crop of girls who are younger than you, sexier than you, and also have bars, it can probably feel like the world is coming to an end. What's frustrating though is that she's behaving like she feels threatened, and she shouldn't.
She IS the queen, but she's not acting like it.
Julia: She shol' ain't.
Taryn: She ain't acting like it cause she's acting like a clown. I get it, you're a sex symbol in this male-dominated industry that relies heavily on objectifying women and acting as a boys club. Women in rap have to go the extra mile to protect themselves, and a lot of times that looks like making most of your decisions based off self-interest. But this ain't it.
At some point, she got what's good for her own self confused with the greater good. I partially blame the fucked-up label she's signed to for that, cause they all are trash ass people over there at Young Money. But you can't use the tools of toxic masculinity when they work for you and remain quiet about it until shit doesn't go your way and then play the feminist card. Especially when you're both actively and passively shitting on other women in the game. It don't work like that.
Julia: Nicki is also at a point in her career where she doesn't have to be a sex symbol if she doesn't want to be. She can do whatever she wants at this point.
Zeba: True. I think she genuinely enjoys being sexy and I won't take that away from her. It's frustrating though when in one breath she will praise taking ownership of her sexuality and in the next shame other women for doing it... Confusing, to say the least.
Julia: That part. It's bizarre. Like is it "Oochie Wally" or "One Mic"? And she's so resistant to evolution. It's manifesting in an ugly way.
Zeba: I mean, she got that woman fired for stating the truth... where's the growth? No shade, but honestly.
Taryn: What growth? At this point, I think Nicki is OK with being stagnant. She's more worried about the numbers than evolving.
Julia: "Queen" sounded like a shit version of "Roman Reloaded."
Taryn: "Queen" should've been called "Stunt Queen" cause the lengths she's going to promote it are embarrassing at this point. I still haven't listened and I don't really feel compelled to.
Julia: I'm now a former fan. But before the drop when I was an older casual fan, I wanted something like "Lemonade" from her, something grown. I'm 26, beloved. I wanna hear about why I should love myself in spite of everything that tells me I shouldn't.
"Queen" could have been a good album if she focused more on growing as an artist and less on making it clear to younger girls that she's the queen, which is something they already knew and treated as fact. No one popped up treating her, say, the way she treated Lil' Kim.
Taryn: Whew. Ain't that the truth!
Zeba: Here's my thing: It would be nice to get a "Lemonade"-like moment from Nicki, but I also feel she's not obligated to give us that if she's not in that space or if, frankly, she just doesn't want to. She's within her right to make whatever she wants to make. The thing is, though, that she has to accept that we're in an era where there is potential for more women in rap who are willing to do something different, or the same, or whatever.
I guess what I'm saying is that she needs to accept that it's OK for her to not be "the only one," she needs to accept that people might appreciate other female rappers more than her, and that's OK. Like, you don't see Beyonce subtweeting Rihanna or Normani or any of the other girls in her wake. Like, she's gucci. She understands that what she has to offer is special enough that she doesn't have to compare herself to other, younger stars.
Honestly, I feel like Nicki's behavior is so disappointing because it's the kind of shit that we as black women have to navigate in our own careers and lives. And it's just not fun seeing someone give in to the pettiness. But I see that she's human.
I'm being SO nice.
Julia: You being very nice. She also shouldn't expect us to treat "Queen" like it is something on "Lemonade's" level, which is what she's doing. It's odd that she doesn't see how her, Cardi, Rico, BbyMutha, etc. can exist in the same space and serve vastly different purposes.
Like I can't rage to Cardi but Rico?! I JUST WENT TO BENIHANA AND I'M SMOKING SHEETS AND FUNNEL. YOU A WANNABE, WHO WANNA BE, I'M ONLY BOUT THE COMMAS!
Different purposes. All dope.
Taryn: I agree with that, though, Zeba. Nicki doesn't owe us shit, but she has to recognize the consequences of that at a time like this. I really enjoyed "Barbie Dreams" because she'll sit there and namedrop rappers she either has or would like to fuck. Men do that all the time, so I'm here for any women who can flip that on its head. HOWEVER, I can't sit there and listen to you talk say "how my pussy taste" for an entire album. Range is so important, and though Nicki is the best for now, her range is limited. Which means my patience for her bullshit is, too.
Zeba: It's really eerie, by the way, how people sleep on Young M.A.
Taryn: People sleep on Young M.A because they can't get past their internalized homophobia, but that's a whole 'nother convo. Young M.A has bars and it's a damn shame that people focus more on how she identifies than her music.
Zeba: Zactly.
Julia: Boop. I also think she's flailing under the consequences of her opening the door for other women rappers. These young lads exist in such concentration because Nicki opened doors for them to exist. But it's like she wants to reign over them all instead of realizing that they're her competition.
She's basically Erik Killmonger.
Zeba: Except Killmonger was right.
Julia: bhdjabcedfghdgfhehf
Taryn: BRUH. LMAO. I really just want Nicki to sit there and eat her rice and leave us alone. You didn't get the No. 1 album, you didn't sell out shows off of said album and Beyoncé probably didn't respond to your last text. That's OK, girl. Go back in the lab and try again but leave Harriet Tubman out of it.
Zeba: TO FREEDOM???!!!!!
Taryn: INFjkerhufjerngwbr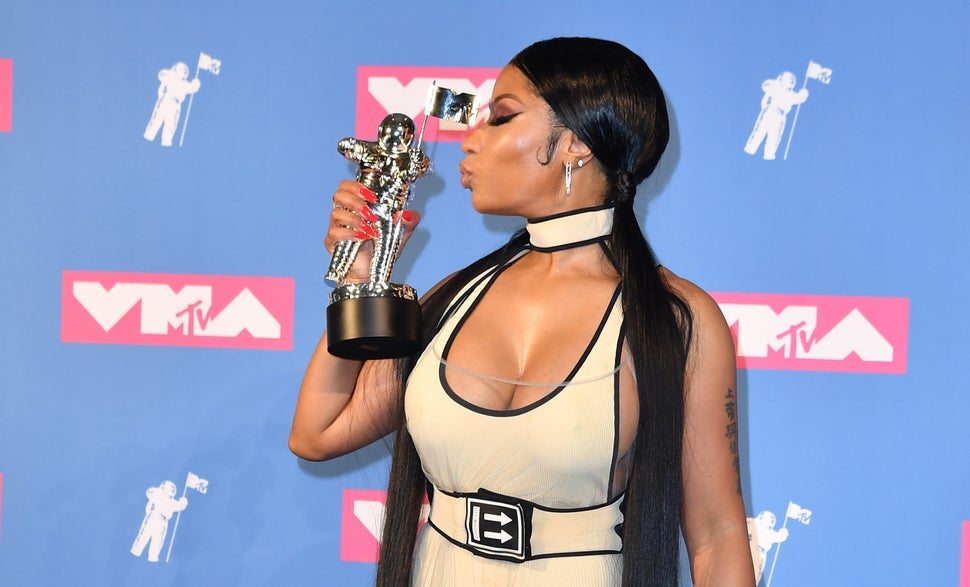 Zeba: Is this three black women shitting on Nicki Minaj or is it an "Iyanla: Fix My Life" moment? I say the latter.
Taryn: I won't disagree with that. I also need beloved to stop supporting vile ass men. You put a whole pedophile on your album and tour. I need to know what she's smoking so I'm never in the vicinity. Like, whatever is in this... I don't want it. Ever.
Julia: All that smoke she won't inhaling, Lord.
Zeba: What's everyone's favorite Nicki verse tho lol?
Taryn: "Monster." Hands down. All her hottest verses are on other people's tracks. Idk why but it is what it is.
Zeba: "Monster" is a given, yeah. I really do love "Want Some More" tho.
Taryn: "Want Some More" is for the birds (i.e. me).
Zeba: lmao.
Taryn: "Lookin Ass" was solid, too.
Zeba: TRUE. Damn. See, I'd much rather be talking about her music than about any of this other trash. But she did it to haself.
Julia: "Lookin Ass" was very solid. My fave is "Blazin'" off "Pink Friday."
Taryn: It's wild because she really would be rapping circles around anybody regardless of gender if she would just stop inviting drama into her iPhone.
Julia: How could it be lil' me had the power to be the best B in the league? Yeah, inevitably. ― UGH. Why she do this to herself?! Now I'm listening to "Blazin'" and I'm sad.
I'm on a different type of high. Heroin. Put on my cape and hit the sky. Heroine.
Taryn: It's shit like this that makes me forget how good she is.
Julia: Not gon' lie. It hurt me when we found out she was the corny one after her and Meek split up. Before that, we didn't know. Thought it was him. But, alas, Meek is out here campaigning for criminal justice reform and Nicki is doing this... whatever this is.
Taryn: We live in a world where Safaree goes high while Nicki goes low. I'm still confused about what the Lord is trying to tell me about 2018. Safaree literally told sis "no one else on your level acts like this." How is Safaree making more sense than you, girl? I really need you to take one of those Eat, Pray, Love trips. Maybe to Prague, I know how you like it out there.
Julia: Eye think God is telling us to go home and eat some mangoes and mind our business.
YOU BITCHES CAN'T EVEN SPELL... TO FREEDOM
Taryn: I ain't mad at that. *Takes a bite*
BRUH. I'M DEAD.
Zeba: lmomklmjljlkjllm
Taryn: #QUEENRADIO
Zeba: All jokes aside, I really do think she's important to the culture. And I really DO want her to win. BUT I ALSO WANT CARDI TO WIN #feminism.
Julia: I want Cardi to win and I want Nicki to leave Cardi the fuck alone.
Taryn: Really, cause I want Cardi and Kulture to whoop her ass. Stormi can get a lick in, too.
Julia: And you know Kulture can fight. Idk about Lil Stormi.
Zeba: To any Barbz who may be reading this: me no curr
Julia: I don't give a whole fuck.
Taryn: I block Barbz because I have bills to pay and I don't have time to be arguing with a whole bunch of teenagers.
Julia: I don't argue with my man, much less a bunch of wayward churren.
Taryn: I like peace in my home and on my MacBook. I ain't compromising that for a whole bunch of kids who still shit yellow. And them kids ain't mine???? Please.
Julia: Who still shit yellow.
Taryn: Babies. People who don't have bills to pay. Barbz.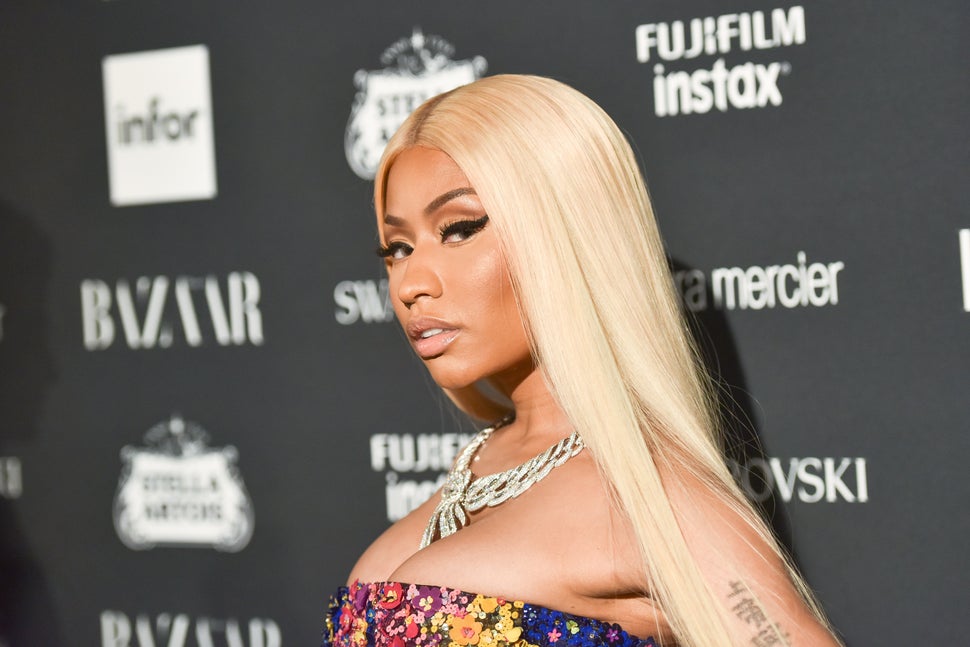 Julia: Also, we haven't talked about Wanna and what she did to her.
Taryn: Fuck Nicki Minaj for getting in her feelings and DMing Wanna off of a mild critique. You claim to be for women, then you go and do shit like that. Then when she screenshots your message, you go and get her fired from Karen Civil's outlet. You're fucked up. That's not some queenly shit. That's some ugly ass shit. I think that was the point when I told myself that I was completely off her ass.
Julia: That's part one of what did it for me. Wanna's critique was mild and incredibly valid. For Nicki to jump bad like that in the DMs and then allow her stans to attack Wanna for days? How do you call yourself a queen or a feminist when you've played such a significant role in blackballing another black woman over, as you yourself have said, "having balls" to say what's on her mind? It was grossly hypocritical and it made my skin crawl.
Then I saw the videos of Remy Ma talking about how Nicki would threaten to not walk red carpets if Remy was invited. Nicki has shown herself to be a convenient, self-serving feminist. I just can't rock with someone who does this to other black women simply because they can't handle criticism.
Taryn: Literally alladat. It's a damn shame because you want to root for her, but she forces your hand then calls it "hating" when people call her out. It's dumb.
Julia: It's a clusterfuck of Minaj-driven bullshit.
Zeba: And I mean, other than her music or her behavior toward other women, there are some really valid criticisms. For instance, her working with Takesinfk69. Although, to be fair, I wonder how many male rappers have received similar scrutiny for working with/praising abusive rappers.
Julia: Male rappers haven't gotten nearly as much criticism for working with abusers, sadly. It's always troublesome and disheartening regardless of who the rapper is (Kendrick saying he'd pull his music from Spotify over them yanking down XXXTentacion's discography made me gag because I'm such a fan).
For Nicki, specifically, her working with Checkcashingplace94 bothers me because she's a woman who has spoken out against child abuse in the past. Yet here she is working with someone who pleaded guilty to "use of a child in a sexual performance." It's maddening to see someone go from being outspoken on this issue to making a child abuser her tour's opening act.
Zeba: Is this the price one has to pay for being "relevant?"
Julia: I want to say "no," but truthfully I have no idea. Abusers dominate the industry so idk. Still, there's many a black woman rapper she could have picked to work with or open her tour. So why him?
She's yet to answer why she chose takemeouttotheballgame86 over, say, City Girls or Megan Thee Stallion or Maliibu Miitch or Cuban Doll. All of whom slap harder than iusetoomuchhairdye52.
Zeba: WELP. What did you think of her recent interview with Elle, in which she talked about the perils of thottin on the gram?
Julia: I just thought it was funny how she's shaming women for, in a way, doing the same thing she's been doing. There's nothing wrong with showing your body. There's nothing wrong with choosing to do sex work. But she made it into this weird, shame-y thing when she could have simply stuck to the consequences of selling sex appeal that she's experienced within the industry. Instead she made it about women exchanging sex for coin, even though in her own way (with sex appeal and fantasy) she's done that. Then she circled back and made it known that she's "snobby" and not "easy."
It made my ass itch, as Taryn would say.
Zeba: Yeah it was especially awkward given she had just dropped that track "Rich Sex."
Taryn: Julia, you know why Nicki doesn't put other women rappers on her tour. We all know why. Why she ― and anyone else for that matter ― decides to go out of her way to support admitted pedophiles, that's still beyond me.
But what's sad to me is that folks are quicker to write her off for clapping back at every mention of her name on Twitter than for putting her name next to Tamagotchi69's, not only on a song, but on tour. The former will cause her to fall from grace quicker than the latter. That's sickening. And it says a lot about the majority of hip-hop fans.
I just don't see it for sis anymore. I don't like her. And I'm fine with that. I just want her to leave us the hell alone.
Julia: I, specifically, want her to leave HuffPost alone. Imagine being the most influential rapper of the last decade and you're coming at news orgs for writing straight news about you. Beyoncé would never.
Taryn: She had it on her heart, I guess. And Cocksucka of the Week ain't a bad award, imo. I'm flattered.
Julia: I like dick so I'm OK with it. It's just that the piece wasn't even critical. It was a straight news write-up. There was no reporter-inserted criticism of her at all. It was a very standard piece. But, again, she can't handle any negative press, even though there wouldn't be any negative press if she wasn't generating it. I mean, for God's sake, you came for a 6-month-old baby.
Taryn: A fresh baby. That's why I'm saying y'all can keep whatever that bitch is smoking. You made innocent people defend Kylie Jenner. How dare you, Nicholas!
Julia: People legit had to defend Kylie Jenner against a black woman. That's unforgivable.
Taryn: I'll never let her live that down tbh.
Julia: Then to accuse Travis Scott of boosting his album sales... Girl, yo album ain't sell because, like you, it's all over the damn place. The Barbz can keep her trending but they aren't streaming the album or buying tour tickets. Clearly.
Taryn: Honestly, it's OK for her to be mad about allegedly getting shitted on by Spotify and not getting the numbers she expected. It's legitimately OK to be in your feelings over not winning. We all have been there. But at the end of the day, you're still out here on top, girl. Stop acting like Azealia Banks. You kicking up shit on people who don't deserve it and that's not gonna change a damn thing. Besides, numbers and awards ain't everything, nor are they an accurate reflection of cultural impact. If that really was the case, "Lemonade" would've won album of the year.
Julia: That. Part. Her comments about Spotify not blasting her album were 100 percent correct and valid. When "Scorpion" dropped, you saw Drake everywhere. It was insane. He was on every playlist, the album was splashed, etc. And Nicki should have gotten that same treatment, considering that she's a higher-caliber rapper than he is.
But, alas, her validity was overshadowed by her accusing Travis Scott and Kylie Jenner and their kid of boosting sales.
This conversation has been edited.