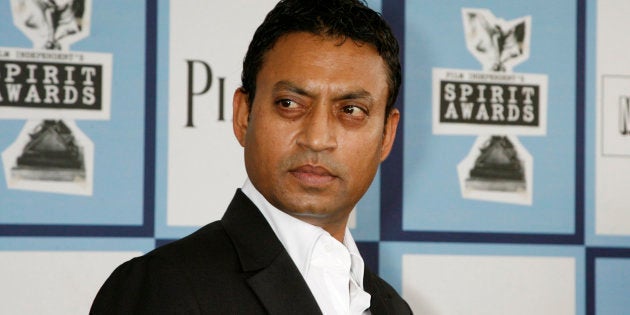 Irrfan Khan, who was headlining the cast of All India Bakchod's upcoming political satire, Gormint, (previously titled Ministry), has opted out of the show, sources close to the development told HuffPost.
The show, which was supposed to premiere on Amazon Prime Video in January 2019, is in the process of a recast as Irrfan's team has confirmed with AIB that he would no longer be able to associate with the show due to health concerns. A signifcant portion of the show had already been shot.
Irrfan Khan is currently in London seeking treatment for neuro-endocrine tumour, a rare form of cancer which he was detected with early this year. So far, he has completed 5 rounds of chemotherapy and is scheduled to do another one.
A source told HuffPost India that delaying the show for too long would make the writing appear dated and that after recovering, Khan would himself prefer to take it a little slow before resuming work.
According to sources, the show was written by AIB's Gursimran Khamba (also the showrunner), specifically with Irrfan Khan in mind. "The character was written in a manner that perfectly suits Irrfan. It was Khamba's passion project. Currently, they are talking to other actors about the role."
According to a source close to the family, although Khan is showing health improvements, he wouldn't be able to shoot for long hours, something that the AIB show would require him to do.
"Since AIB has a deadline to deliver the show (to Amazon), they cannot wait indefinitely, as much as they'd like to. It's heart-shattering for both AIB as well as Irrfan to call this off midway," the source said.
Here's Irrfan's full statement:
Confirming the same, Vijay Subramaniam, Director and Head, Content, Amazon Prime Video, India said:
"Irrfan Khan, actor extraordinaire and star of Amazon Prime Original Series, 'Gormint' (formerly known as 'Ministry') today announced the joint decision by the creators and him to no longer be cast in the show owing to his health situation. Amazon Prime Video, along with the show's creators and cast, are deeply saddened by this news. Irrfan has been – and will continue to remain a part of the Amazon family. We wish him a speedy and successful recovery and look forward to watching the show with him sitting right next to us."