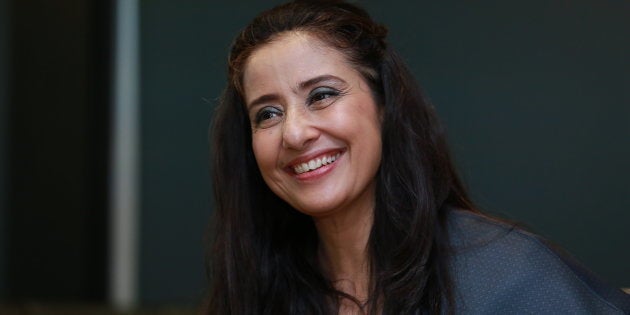 Manisha Koirala, one of the most successful actors who reigned during the 90s, is enjoying her second innings in the Hindi film industry. From indie movies to a Netflix anthology, to a much-awaited biopic on Sanjay Dutt where she plays Nargis, 48-year-old Koirala says she's looking for meaningful work and filmmakers are reaching out.
In the notoriously ageist world of Bollywood, where it is a rarity for an actress to find work in her late 40s, Koirala is glad she's defying the archaic norms and is getting to make daring choices.
Koirala, during a conversation at a club in Mumbai's Juhu, said that her battle with cancer, a few career mistakes and a divorce have enabled her to carve a life where her choices aren't driven by fear, but by a hunger to seek out empowering characters that have depth and that break the clutter.
Koirala spoke candidly about getting the chance to do films as diverse as 1942: A Love Story,Khaamoshi, and Bombay, how she fought predatory behavior in the 90s, and her strategy for the next phase of her career.
Here are excerpts from the interview, lightly edited for clarity.
From the early 90s to a Netflix film (Lust Stories), it's been quite a journey for you. How different are your choices now compared to the ones you were making in the past?
Today, I can't sign up for any random movie. In the 90s, I worked with some of the biggest directors of the time, but I was also part of some really embarrassing films (laughs). There were various reasons to do those films. But today, I can't do that. I have to make smart choices because every choice is important. I've to be very, very selective about the work I choose.
At the same time, I'm at a stage in life where I can't over-exert myself. I don't want to be a busy star. I am done being busy-busy-busy, juggling three shifts in a day. I want time by myself and play characters that broaden my idea of acting as a vocation. I can't get into the rut. I want to live. I want to wake up and smell a rose. Breathe deeply. Go for a swim. Read a book. Have a sound sleep. That's my plan.
Bombay, Dil Se,1942: A Love Story, Khaamoshi -- these are perhaps some of the best films of the 90s and you were exceptional in all of them. When you evaluate scripts now, do you feel the burden of expectations because the audience holds you up to a certain standard?
I do, absolutely. I am a hungry artist. I crave the satisfaction that an actor gets after doing 10 wrong takes and getting the 11th right. That feeling of cracking a scene is something else. Yes, there are expectations but I am going about it by looking for characters I haven't played before, like Reena from Lust Stories.
It was my favorite of the lot. What I liked about it was how the woman, instead of being tossed around between her husband and lover, takes ownership of the situation and turns the tables against them. There was an emotional nakedness in your performance and while the morality of the situation is debatable, the fact remained that your character had complete agency.
I loved how Dibakar (Banerjee) went about it. We didn't have a bound script so we were organically moving along. We were talking about how a woman would respond if she was thrown in such a situation. And yes, the infidelity part is debatable, but I felt that her character is more honest and bolder than both the men. That appeals to me. Her, going through the confusion is a great story arc. For a moment, she wants to be with the lover, and then she realises he's not fully into it. So she withdraws. She's constantly wavering and second-guessing and as a story, I was sold on how uniquely authentic it was.
We, as an industry, are still coy about exploring women's sexuality on-screen. Lust Stories did that but ultimately it's a film on Netflix, a premium platform that is accessible to a very specific high-end audience.
Our films are designed and written to appeal to the male gaze. Slowly, that idea is shifting world over. How women see love and life make for great stories and only now are they being told. Even then, I feel, our stories shouldn't just be restricted to the sexuality. Just because it's about women it doesn't have to be sexual. The gaze should be female. Which is my problem with today's trend. A woman-centric story doesn't always have to be about sex. If you make it about sex you are again, effectively, appealing to men.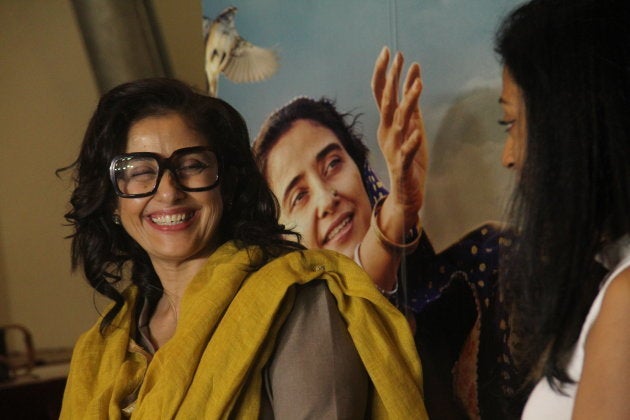 Dear Maya,Lust Stories, now Sanju -- it's commendable that we've finally reached a stage where the shelf life of women isn't restrictive, although we still have a long way to go. However, I do feel that while the Khans, who started out with you, continue to romance women half their age, the roles you are being offered, in two cases at least, were that of mothers. Is there an inherent sexism there that we need to question?
Oh absolutely. And I do hope that it eventually changes. See, all of us here want to extend our career span. There are healthier ways of doing it and then there are other ways. I don't judge others but I choose the healthy route. I want to look my age on-screen. I want to choose roles that reflect the time that I am in. Aging is the most natural process and to try and defy it for commercial reasons is something I don't approve of. I am not the kind who'll do plastic surgery to look young. I don't think I will be comfortable playing a college-going girl now.
Right... I was just making a broader point about how the men get offered a variety of roles versus the lack of options for a woman in her late-40s.
I hear you. Just the other day, I was telling a friend that cinema is about stories. So why do we restrict storytelling only till the youth? Why choose that timespan? I hope that more and more 40+ women get a broad spectrum of roles to choose from and that'll happen once we've more women in the industry. Life doesn't end with youth. It goes on till it wants to. My battle with cancer has fundamentally changed me as a person and I am glad to have a new perspective on my life and career. In a way, I am glad that work is still trickling my way but I am hungry for roles that are meaningful and empowering.
What do you miss about the 90s? While there were some great films, it was like a pubescent time for Bollywood. Awkward, loud, melodramatic. How do you compare the two eras?
Oh, I've done enough melodrama and I hope people have forgotten those movies. I certainly haven't. I am not going to remind you. We did some terrible stuff. The other day, Danny (Denzongpa) was saying how the films of today are so vastly different than what we did. The 80s were terrible and the melodrama continued in the 90s. He said, "We did such horrible films. We should be glad the audience still made us stars and gave us a career." I laughed and laughed.
That line is so true! Because of the exposure to world cinema, the audience today is much more receptive to the subtleties on screen. There are all sorts of stories and we should just be glad the 90s are behind us although I am happy that people remember only my good work!
While it is generally a better time for cinema now, it's also a time when women are coming forward to talk about years of exploitative behavior. The 90s, as we all know, were a very problematic time, not that now is a lot better. Do you recall any instances of predatory or abusive behavior?
I always fought back. I have always been the kind who wouldn't take any and I fought back. So i think people were a little, I don't know, scared of me. Maybe scared is not the right word. Because I was bold and a bit moohphat (loud mouth). And people knew they couldn't get away by saying nonsense to me. From Day 1, I made sure about that. But that is not to say that I didn't face any bad behavior.
There were a few. Being a woman, you face harassment anywhere in the world. Earlier today, two men were staring at me while I was swimming. They didn't bother till I had my trainer around. The minute he left, they started saying things like, "oh she used to be a heroine. Look at her now. She's gone fat and old." I just shut my eyes and thought of what to do. Eventually, I complained. So as women, you need to fight battles everyday. It's really up to how we respond and we need to be intelligent about it.
In this industry, it's always up to women on how they respond, because that stuff is bound to be.
What I feel is that women shouldn't have to go through it to have a career.
Absolutely. Now there's more awareness. With women coming forward, with journalists writing about it, women are much more confident now. There's also a fear in men that she'll go to the cops. It's great. But, what I fear is that this movement shouldn't turn turtle. Women shouldn't utilise or exploit the situation. One has to be balanced. If you are focused and hardworking, nothing can take away from your success. There are no easy routes.
You had a fallout with Subhash Ghai after your debut film Saudagar. You didn't work with him again. What was that about?
Basically, there was a public fallout that had happened. We were at the music launch of the film and I didn't want to speak to certain media and Subhasji wanted me to speak to them. I was actually trying to avoid them as they'd written something nasty. He made a comment and (pauses) then Mom and I said what we had to say and left. That became big news. We've patched up. Years have gone by. He's given me a break. I am grateful for that.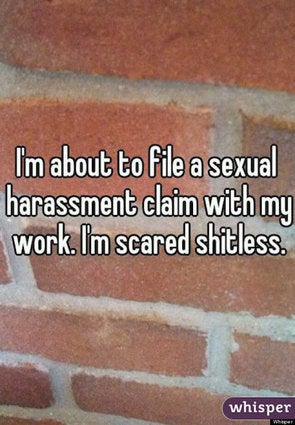 Women Who Reported Sexual Harassment