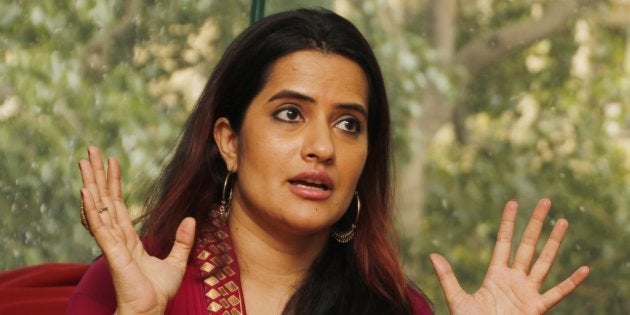 A police complaint has been lodged against singer Sona Mohapatra in Puri, Odisha by an outfit called Sachetana Nagarika Mancha. Her 'crime'? She mispronounced a few Odia words while singing a bhajan which apparently amounted to 'disrespecting Lord Jagannath'.
According to a report on The Telegraph, trouble began soon after Mohapatra posted a video on her social media pages. The video was of a concert in Mumbai where she is seen singing a popular Jagannath bhajan 'Ahe Nila Saila
Several observers pointed out that she had mispronounced " Salabega" as "Salebega", "charana" as "charane" and " matta" as "maatra".
The Telegraph quotes Prasanna Kumar Das, the president of the Odia organisation as saying, "Her song has hurt and offended the Odia community and followers of the Jagannath cult." The organisation also burnt posters of the singer and demanded she seek the 'forgiveness' of the god.
Das also wrote to the state department requesting the government ask YouTube to pull down and 'ban' the video.
However, Odisha Pradesh Congress chief Niranjan Patnaik came to Mohapatra's defence. "She is neither born in Odisha nor can read the language, still sings Odia songs and bhajans. She might have mispronounced some words of the song. No one comes out to protest when the head of the state himself distorts the language and is known for vulgar pronunciations. Why should a singer be targeted?" Patnaik told OdishaTV.
Mohapatra had been pulled up for her rendition of another Odia classic Rangabati for MTV's Coke Studio. Coke Studio which is renowned for collaboration between artistes saw Mohapatra deliver a version of the popular number. While several people pointed out 'mistakes' in her pronunciation and puritans were generally against her interpretation of the song, the BJP's youth wing went a step ahead and filed a police complaint against her in Sambalpur, Odisha in 2016.
The original lyricist of the song Mitrabhaun Gauntia and composer Prabhudatta Pradhan also slapped legal notices on Mohapatra, Coca Cola, and MTV and sued them for Rs 1 crore for copyright infringement.
A BJP youth wing leader told Hindustan Times, "Our complaint is on two counts – first, they did not take permission from the original lyricist and composer and, second, they have distorted the song hurting the feelings of millions of people in western Oridha."