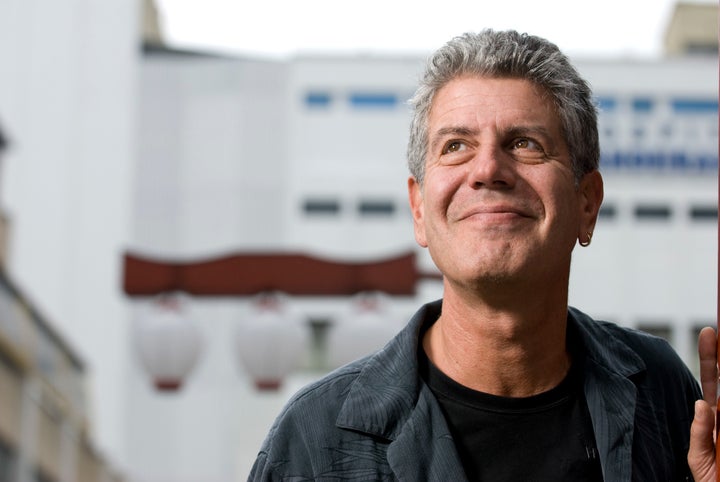 I always liked the way Anthony Bourdain nodded his head silently in approval at the first taste of a bite worth remembering. "I definitely enjoy my sandwiches," he once said, "given how low I fell and how likely it was that there was going to be a different and tragic outcome. I'm a pretty lucky man." For all his faults, and he knew he had many, Bourdain also knew to savor those moments.
He had traveled to my city, just as he had traveled to your city, just as he had traveled to every city. Bourdain knew he was an outsider, he always had been, but he was an outsider you trusted to get your city right ― to find that one dish in that one restaurant that had been hidden from the broader public up to that point. And to understand that one bite within the world it came from. He knew, as he once put it, that there is "nothing actually more political than food." So when he visited Los Angeles, where I grew up, I trusted him to see the city for what it was, to understand the Korean food in front of him in the context of what that community dealt with (and dealt out) after the city's cops beat Rodney King in 1991. And he did.
Bourdain hated lots of things, and I liked that about him, too. A little anger never hurts. He hated tasting menus and the word "authentic," whatever that meant. And when people were rude to waiters. He had no interest in being associated with people like that. "We will, I hope, be judged, eventually by seemingly small, random acts of kindness and sincerity," he wrote last month. He loved lots of things, too, like street food, the cheesesteaks at Donkey's Place in New Jersey (not Philadelphia) and Vietnam.
"I want to be able to come back to Vietnam again and again and again," he said. "And if this place is so wonderful, the world must be filled with many more wonderful and interesting and challenging and heartbreaking and inspiring and beautiful places."
In particular, though, there was nothing he came to love more than his daughter, Ariane. He enjoyed making pancakes for her. "That makes me happy," he said. The international traveler's favorite place to go was her school, where he got to pick her up. He cried sometimes when he thought of her.
I trusted Bourdain because he was so earnest about wanting to be a better man. He admitted his own mistakes and shortcomings without the usual accompanying self-aggrandizement. "I hurt, disappointed and offended many, many, many people and I regret a lot. It's a shame I have to live with," he once said. Bourdain knew he wasn't the greatest cook in the world, and neither was he always the greatest friend. "The kind of care and feeding required of friends, I'm frankly incapable of," he said. His was the kind of honesty often found in recovering addicts who no longer have the luxury of hiding from the pain they've caused. He was not looking for credit for his self-awareness; he was identifying the fault to be worked on.
Bourdain was quick to admit he had been an "asshole" at times, filled with a "psychotic rage," in his words, that he could take out on the line cooks, waiters and dishwashers around him. Eventually, however, he realized, "It's terrible ― and counter-productive ― to make people feel idiots for working hard for you."
He had gotten famous almost by mistake. Had the article that ignited his career as a 40-something cook in New York been published in the New York Press, as he originally wanted, rather than in the New Yorker, maybe we never would have met him. He'd been struggling at the time. "I was in horrible, endless, irrevocable debt. I had no health insurance. I didn't pay my taxes. I couldn't pay my rent," he later said. "It was a nightmare." But the article did come out in the New Yorker, and it did swing his life in another direction. He wrote a book and accepted his role as America's "bad boy" cook. "There I was in the leather jacket and the cigarette and I also happily played that role or went along with it," he said.
"People said a lot of silly things about me. People actually used the word macho around me. And this was such a mortifying accusation that I didn't even understand it."
He came to regret many of the things he represented after the release of the book, Kitchen Confidential. In a New Yorker profile published last year, the author credited Bourdain with helping to "create the circumstances in which one of the most widely praised restaurants in New York City is the Spotted Pig," which was identified later that year as a breeding ground for alleged sexual assaults.
"I've had to ask myself, and I have been for some time, 'To what extent in that book did I provide validation to meatheads?'" he said in October.
He looked at himself especially critically over the past year, in a way not many other men did after the revelations started to come out ― first about Harvey Weinstein, accused by Bourdain's girlfriend, Asia Argento, of assaulting her ― then about the men in his own industry. "I had to ask myself, particularly given some things that I'm hearing, and the people I'm hearing them about: Why was I not the sort of person, or why was I not seen as the sort of person, that these women could feel comfortable confiding in?" he asked. "I see this as a personal failing."
Bourdain's willingness to ask those questions out in the open was rare ― a real sort of bravery too many men shied away from. It's hard to evolve. It's harder, still, to do it in public, in real time, with your celebrity at stake. Fame tends to make people brittle, to give less and less of themselves to a public that only seems to want more and more. Bourdain went the other way. He brought us along with him as he traveled the globe in search of decent noodles and a better, more honest version of himself.