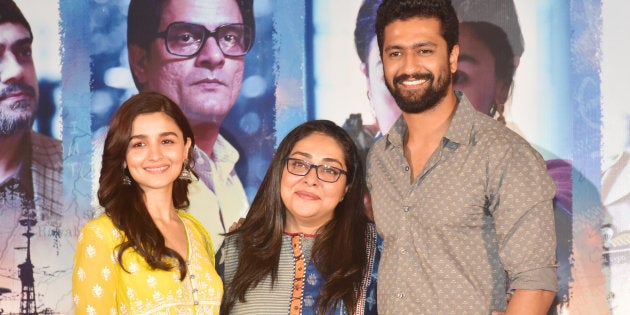 The Alia Bhatt-starrer Raazi, produced by Karan Johar and Junglee Pictures, is having a dream run at the box-office. After basking in the critical love, the film is doing exceedingly well at the ticket windows, having netted over Rs. 78.33 crore in ticket sales alone. The film features a great ensemble that includes Soni Razdan, Jaideep Ahlawat, Rajit Kapoor, Shishir Sharma, Arif Zakaria and Vicky Kaushal, who plays Bhatt's husband Iqbal in the film.
At a time when the conversation around nationalism has reached cacophonic levels, Raazi is a sobering attempt that looks at the idea of war with a skeptical gaze, questions the norms of the establishment, and evaluates the very real human cost of a battle, irrespective of the outcome of war.
A film that talks about patriotism without shoving it down the viewer's throat, Raazi is, at once, a commentary on the love for the nation as well as a critique of nation-loving. It invites the viewer to evaluate the idea of nationalism through a critical lens and offers no redemption for those that have gone too far. Far from the over-the-top histrionics of Sunny Deol in films such as Gadar, Raazi is subtle, complex, and leaves you with uncomfortable but valid questions.
In a wide-ranging interview with HuffPost, director Meghna Gulzar, who's off to a much-deserved vacation to Sri Lanka, decodes the film, its many interpretations, and why she'll never fall for the low-hanging fruit of appeasement-cinema.
Among everything else that has gone right with Raazi, Alia Bhatt's performance is something quite extraordinary. Was she always your first choice for the role of Sehmat?
The minute I read the story (Harinder Sikka's book, Calling Sehmat), Alia Bhatt popped into my head. If she wouldn't have said yes, I'd have great difficulty in making the film. I met her and gave her a verbal narration, this is something I never do. I never talk to an actor without a bound script. And again, Alia did something she'd never done -- she said yes to a film that didn't even have a script. Like they say, some films have their own time and destinies.
As a film, Raazi relies heavily on cliffhangers. It's quite commendable how you manage to keep the mood consistently tense without too much exposition. It's like we're on this internal journey with Alia's Sehmat. Can you talk a bit about how difficult it was to write scenes that were more about silences and less about words?
It was tough because the story is such where you really don't have the liberty to explain it through words. I had to convey the story quickly because it's bound by a certain timeline. The duality in Alia's character is there throughout the film and I'd like to credit my co-writer Bhavani Iyer (Lootera, Guzaarish) for bringing that across. What also helped us was the fact that the template for our story was already there in the book (Harinder Sikka's Calling Sehmat). As a writer-director, it was an exciting challenge to adapt this.
Despite the film ending on a victorious note, it never ever feels like a Pakistan-bashing exercise, something we used to see in films such as Gadar, Border etc. How did you tread that fine line? A lesser writer would've easily used Pak as a punching bag to make India look glorious.
See, the fact that India won the 1971 war is not my fault. That's just the fact. And since we were chronicling a story set in a real context, I had to show the event the way it happened. But I was clear that it can't go into an anti-Pak territory and we had to present it as a matter-of-fact. So the idea was to treat India's victory as simple documentation without making it the attitude of the film itself. When you look at it, the film isn't anti-any country.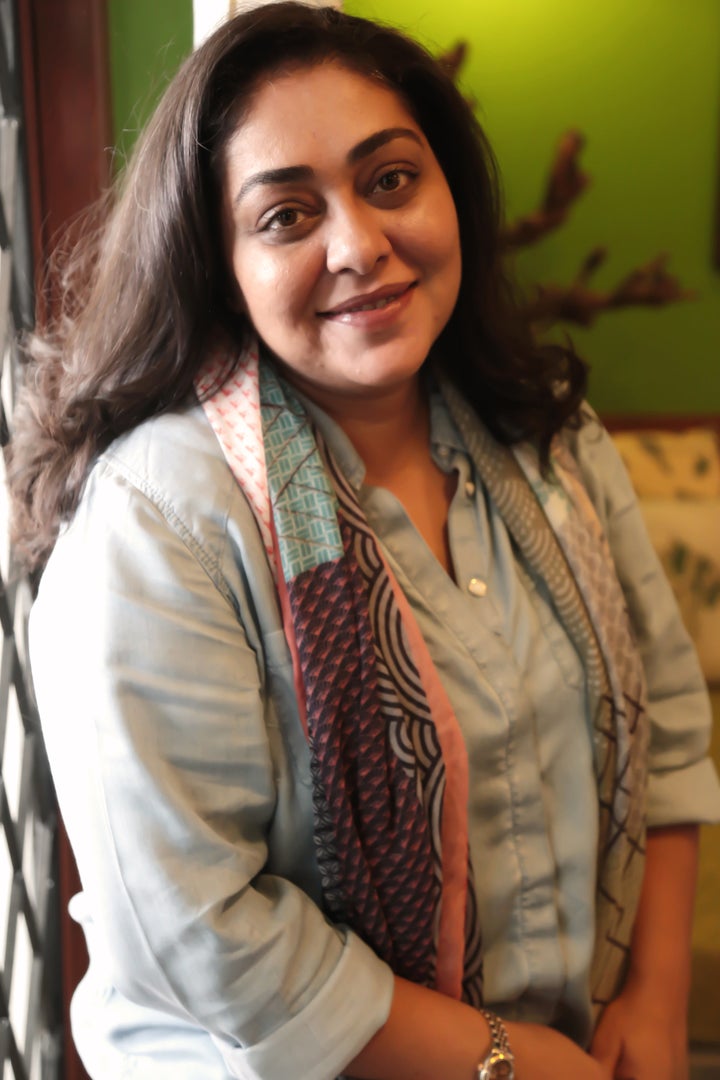 In India, or even across the world, whether it's the rise of Trump in the US or the right-wing populism engulfing Europe, the fact that there's a hyper-nationalistic wave is undeniable. In such a scenario, did you ever have to fight to not make Raazi into a chest-thumping, Mera Bharat Mahan kind of a jingoistic melodrama?
That would feel false to me. It'd feel like a betrayal to my craft, a manipulation of the audience. Appeasement has never been my sensibility. Wouldn't ever do it as I don't agree with it. The strongest of beliefs, in my personal opinion, need to be expressed extremely softly. The more you amplify a thought or an ideology, the hollower it sounds. And this belief is reflected in the subtle manner that I put my points across, cinematically. My dear friend, Jaideep Sahni, said a beautiful thing to me. He said, "Zor setuhamesha bolti hai, basunchanahi bolti." (You always say things strongly, not loudly.) As filmmakers, we shouldn't underestimate the capacity of the public. They are extremely aware, they understand nuances. they pick up the subtleties. Overall, in my opinion, to make your point quietly is a more effective storytelling technique. You need to catch the audience's nerve, and they'll do the rest. Films like Gadar and all worked also because it was a different time. Now the audience's tastes have significantly changed.
How much has your worldview been influenced by your father Gulzar? Do you feel that while growing up, you subconsciously internalized his progressive politics? He's seen life on both sides of the border and while watching Raazi, I speculated that the film's humanist narrative is perhaps rooted in his experience and understanding of the Pakistani people.
Thanks for giving all the credit to my genes (laughs). No, on a serious note, it's true. The most beautiful part of growing up was that my father wasn't consciously teaching me. There wasn't instruction, always incubation. There's a difference. I have closely seen his relationship with the people of Pakistan. When it was easier to travel, when there would be literary and cultural exchanges, there would be friends who'd come down from Pakistan to our home.
Ahmad Nadeem Qasmi, a renowned Pakistani poet who is no more, was my father's mentor. He used to call him 'Baba.' Papa would speak to him every single day and now, he speaks to his daughter. There's so much warmth, love, and affection for one another. It's not just true for him but for most of us. When we meet Pakistanis anywhere in the world, barring perhaps Wagah and Attari, there's a warmth that transcends borders. I've seen that and I know that. I never started out to make this a "Pak is not bad project." My story was about a Kashmiri woman and her immeasurable inner strength. We discovered these nuances as we went along and chose to highlight some of them.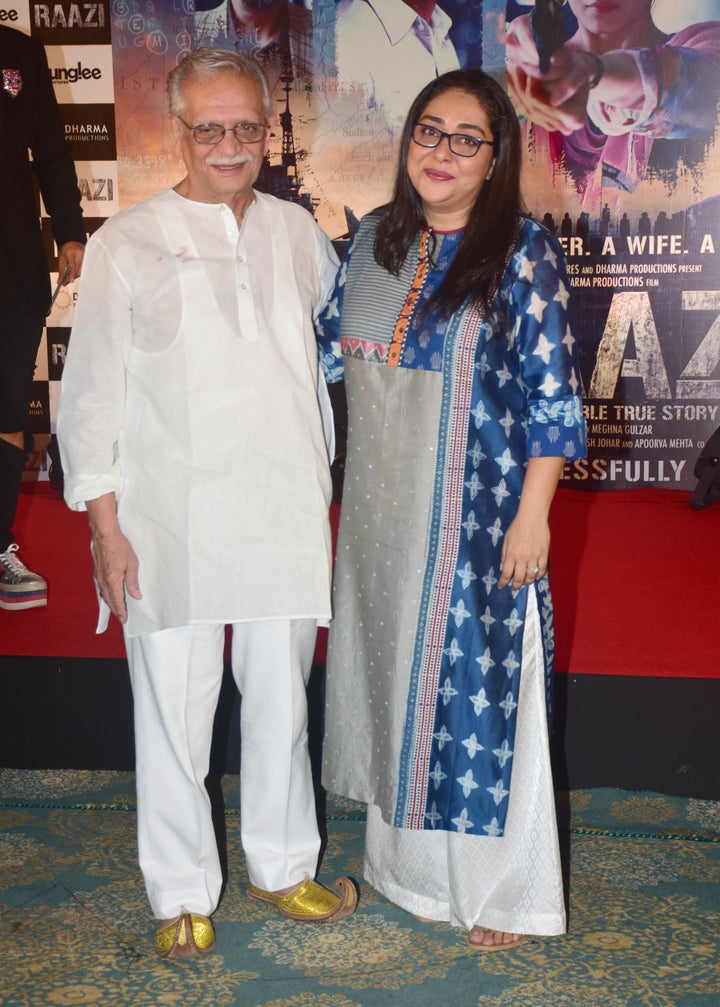 Let's talk about Vicky Kaushal's (Alia's husband) character. It's a terrific, complex character. There's a beautiful scene where his father and the two brothers (both working in Pakistani army), discuss a plan of an impending attack on India. The father says something to the effect that India will be caught off-guard. Moments later, we see Vicky's character apologizing to his wife for how she *may* have felt on listening to such talks. How did you take such seemingly radical writing decisions?
I'd like to credit my co-writer Bhavani Iyer who's an extremely sensitive person. When we were writing, we were clear that whatever happens in their bedroom is pure. It's the only space where Alia's duality takes a backseat. That universe is pure. So when she's telling him that now I belong where my family does, or when she says, can you hold my hand, I am unable to sleep, it's genuine. It's not a honeytrap. This is a woman whose heart has actually been won. Now to foil that, you needed to have a man who you could give your heart to in spite of their circumstances.
Personally, do you also feel that if a man directed the film, it wouldn't have the sensitivity which it now does? His inherent male gaze would have reduced Sehmat to a caricature, a femme fatale... your thoughts?
If a man directed this film, forget the sensitivity, Iqbal (Vicky's character) would never allow Sehmat to leave the house. He'd grab her, yank her, throw her on the floor. That's the feedback we got from some of the focus groups we did. Men reacted saying, "How could he let her go?" How can he be like this?"
I was very clear I didn't want Sehmat to be Lara Croft. Right from her costumes to her hair, we needed her vulnerability to come across so that the audience can keep rooting for her. As for Vicky's part, since two women were writing this male character, he would have to check out all the boxes that make for #RelationshipGoals.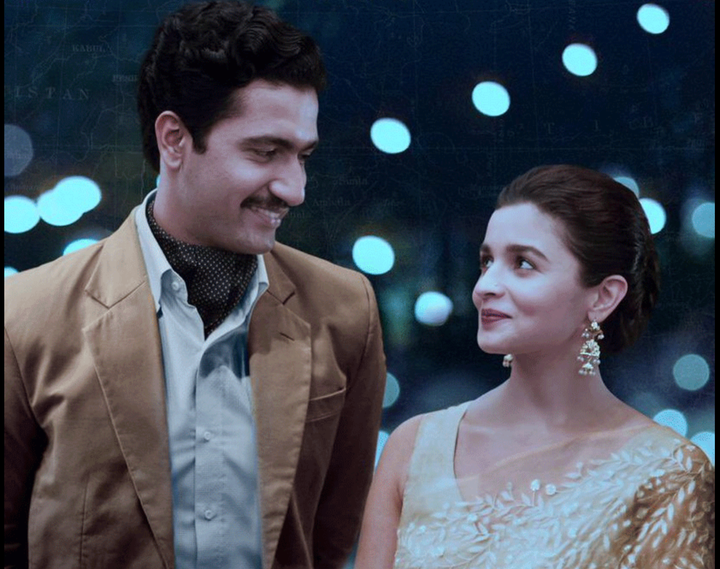 What I also found impressive about the film was how the way it also functions as a sharp response to the Hindutva brigade. The average right-winger's best attack on a Muslim living in India is the standard "Go To Pakistan" as if by making them feel guilty for being Indians will make them more Indian. It's an attempt at demonizing the community and it feels increasingly systematic. Your film shows a Kashmiri Muslim's unfailing commitment towards India, how she infiltrates a Pakistani family and still remains loyal to the nation...how deliberate was this?
... It's a real story and I didn't even have to deliberately chalk her religious identity out. Sehmat was a Kashmiri Muslim woman who took this impossible risk. If you invest in her character, religious and national identities fly out of the window. You are only looking at that girl. It could be anybody. You can recontextualize the story to suit the North Korea-South Korea conflict. Having said that, the observation is fully valid as these things started leaping at us while editing the film. In one of our sessions, we realised, "we are also saying this. And this. And this." The awareness was perhaps there but it came to the forefront only later.
Talvar swayed public opinion on the Aarushi Talwar double-murder case, made an important point about media-trials and institutional incompetence. Raazi too, makes important political points, about the futility of wars and the very real human cost of it. There's no glory or redemption for Sehmat... at one point, she even questions if wiping off families is even worth doing it, even for the nation... do you see your cinema as a critique of the establishment?
In Raazi, the futility of war and the human cost of it is the director's voice. As a filmmaker, I see my stories as a reflection of society. I am embedding, in our cinematic history, a moment in time, events from our society. Everything in Talvar that you see and respond to is pure data. I have given you both sides. It's just that the material which was going against the parents was far weaker and less convincing than that which was going against the household help. I laid it out there as clinically as I could and left it for the audience to decide. So my films are simply a reflection of our times.
I am working on the story based on the life of field marshal Sam Manekshaw which is being produced by Ronnie Screwvala.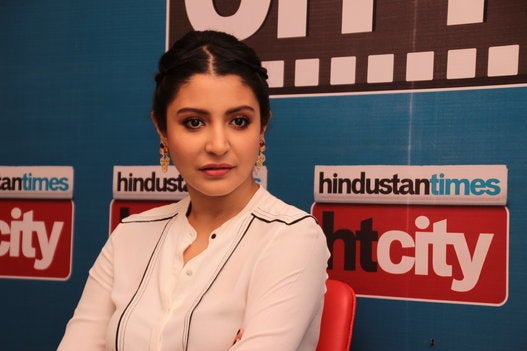 6 Times Anushka Sharma Nailed It While Speaking About Censorship