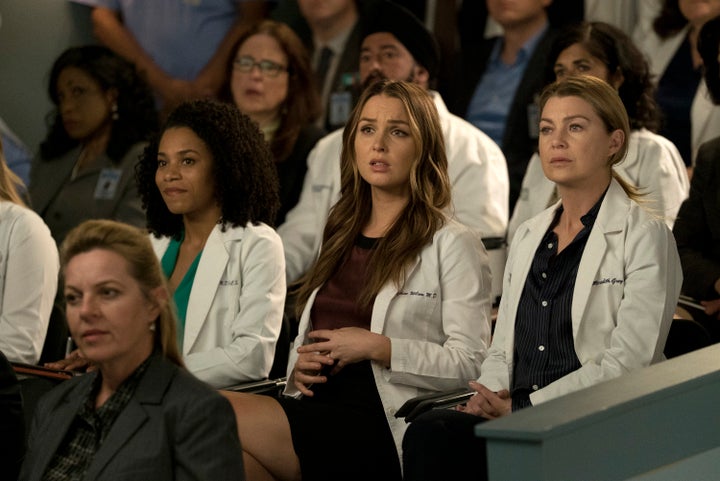 In one of the most memorable scenes from "Grey's Anatomy" Season 2, intern Meredith Grey (Ellen Pompeo) and head of neurosurgery Derek Shepherd (Patrick Dempsey) get it on in a Seattle Grace Hospital exam room while their colleagues attend a prom-style event for Richard Webber's (James Pickens Jr.) cancer-stricken teenage niece. The pair, having been torn apart by the sudden employment of Derek's estranged wife and fellow doctor Addison (Kate Walsh), dramatically reunite in only the way a fated TV couple can, culminating in Meredith's misplaced underwear being pinned on a staff bulletin board.
The whole thing is hot. It's steamy. And it's incredibly far-fetched.
Or is it?
There are lots of medical dramas on the air ― "Grey's," "Chicago Med," "9-1-1," "Code Black," "The Resident," etc. And each and every one features an unbelievable sex scene, during which surgeons hook up with interns (or nurses hook up with doctors, or chiefs hook up with residents ― you get it), turning their hospital's on-call room into a veritable den of (consensual) sex among otherwise expertly professional co-workers.
Ahead of the "Grey's" Season 14 finale, we found ourselves contemplating several questions. Will April Kepner (Sarah Drew) get a happy ending? Will Alex (Justin Chambers) and Jo's (Camilla Luddington) wedding go off without a hitch? Will Carina (Stefania Spampinato) follow Arizona (Jessica Capshaw) to New York? But none were more pressing than this longtime contemplation: Are the sex scenes on the show realistic?
So, HuffPost decided to get down to it and ask medical professionals what really happens in on-call rooms. Behold, the truth:
Scenario 1: Sex In The Supply Closet (Or The On-Call Room, Or Empty Exam Rooms...)
In Season 2, Episode 16 of "Grey's," Izzie Stevens (Katherine Heigl) summons her friend-with-benefits Alex Karev (Justin Chambers) into a medical supply closet with the classic pickup line: "Do you want to stand there and talk metaphors or do you want to literally take off your pants?" Spoiler! He takes off his pants. Thus the question: Are doctors really hooking up in supply closets?
According to Dr. Jen Gunter, a San Francisco Bay Area OB/GYN and author, most on-call rooms in hospitals are "gross and often you share them with someone else."
"I have never, ever in my 30-plus years in the medical field heard of anyone ever making out in a supply closet. I have never heard of anyone having sex in an on-call room. Might it happen very occasionally? I guess," she said.
A Philadelphia-based registered nurse named Meg (who preferred not to use her last name in this piece, because, well, who can blame her), said stairwells ― not supply closets, on-call rooms or exam rooms ― are where the secret hookups happen.
"I don't know of it ever happening in empty patient rooms or supply closets. People are in and out of the supply room on the units all the time," she said. "I have heard of people getting caught in stairwells and I have also heard of people getting caught in locker rooms."
"I know of a girl hooking up in a stairwell," Jessica, an RN based in Boston, said. "Less scandal than people think in general, though!"
Eileen, a travel RN who's worked in cities including New York, Seattle, San Diego and Boulder, said she knows of co-workers "sleeping with each other in their office and in an on-call room, always somewhere that has a lock on the door."
And a pediatrician in Westchester County, New York, who asked to remain anonymous, only wished life in a hospital was so exciting. "It may be that pediatricians are just way more boring than doctors in other specialties. I do know of a teenage patient who was caught hooking up with her boyfriend while admitted to the hospital ― we had to set up some stricter rules on visitors after that."
Scenario 2: Big-Shot Surgeons Who Hook Up With Their Junior Colleagues
Throughout "Grey's" Season 5, plastic surgeon Mark Sloan (Eric Dane) pursues intern Lexie Grey (Chyler Leigh) ― R.I.P., but let's NOT relive that devastation ― despite warnings from Meredith and Derek against it. (Lexie is Meredith's younger half-sister, after all.) The will-they-or-won't-they, "inappropriate" relationship between Mark and Lexie became one of the most beloved by fans. But, do surgeons actually hook up with nurses, interns or students?
"I am aware of a scrub tech nurse who was involved with an orthopedic surgeon. They had a sexual relationship and she would send him naked pictures, which he would email to himself in the call-dictation room and save to the computer there to look at," a Virginia-based nurse practitioner, who preferred to remain anonymous, explained. "Needless to say, he didn't always remember to close out of the pictures before leaving. We all knew a lot more about that nurse than we wanted to!"
Meg said she knows a few residents who have dated junior colleagues, with some relationships eventually resulting in marriage.
"We had a RN dating her manager ― it was kept hush-hush until she resigned and now they are married. Really it happens a ton!" she said. "I think there is a draw to a co-worker you spend lots of time with, who is smart and accomplished. They understand your stress level and what you go through. I think that it's a lot harder to find a non-medical person who understands what a person in medicine would understand. Residents often marry other residents for this reason."
Still, the nurse practitioner said, television shows tend to amp up the drama in these budding romances. "I no longer watch medical shows very much. I dislike how much romance there is among staff members, because I feel like it's unrealistic."
"It is a lie," redditor TsukasaHimura reiterated in a thread about this topic. "Most doctors I work with are old and mean. I won't have sex with any of them."
Eileen, however, said she actually knows of a few racy doctor-nurse hookups.
"I have a friend who was engaged to be married and started working at my hospital. She started seeing this doctor we work with and started sleeping with him almost immediately. He was way older and not attractive, but he had money, power and gave her a whole lot of attention. I remember her telling me she would go into the staff bathroom and take nude pictures to send to him. I know they had sex in a staircase and in his office. She broke off her engagement because she felt guilty, and she did not end up with the doctor."
Scenario 3: Habitual Drunken Nights Out With Colleagues