Bride-to-be Steph Agnew has gradually lost most of her eyesight over the past 13 years because of a medical condition. Now she's in the process of planning her November wedding without being able to actually see her dress, the flowers, the venue or even her groom.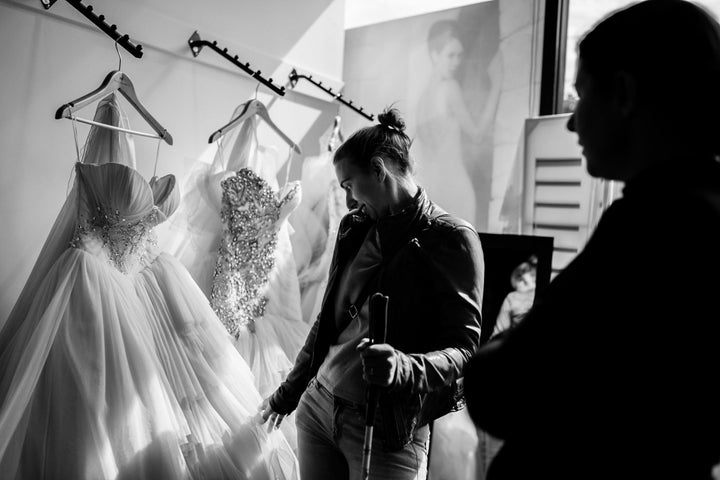 At the age of 19, Agnew, who lives with her fiancé, Rob Campbell, in South Melbourne, Australia, was diagnosed with cone-rod dystrophy, a retinal condition that causes vision loss over time. She uses a cane to get around and also recently got a guide dog, which has given her more independence.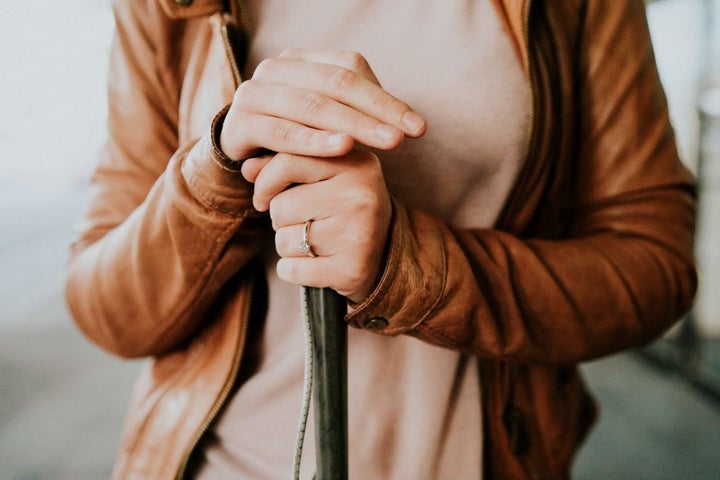 "I now have no useful vision," Agnew told HuffPost. "I have some light and dark perception, and in some lights I can see certain shapes and shadows, but everything is extremely blurry."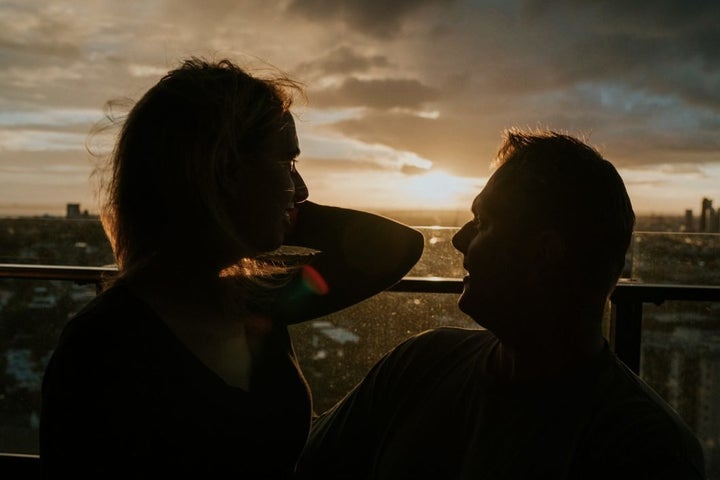 Photographer and friend James Day is photographing not only the couple's wedding day but the time leading up to it as well (which you can read more about on his blog). So when Agnew went wedding dress shopping with her mom (who also has cone-rod dystrophy), dad, brother and a bridesmaid, Day tagged along to capture the experience.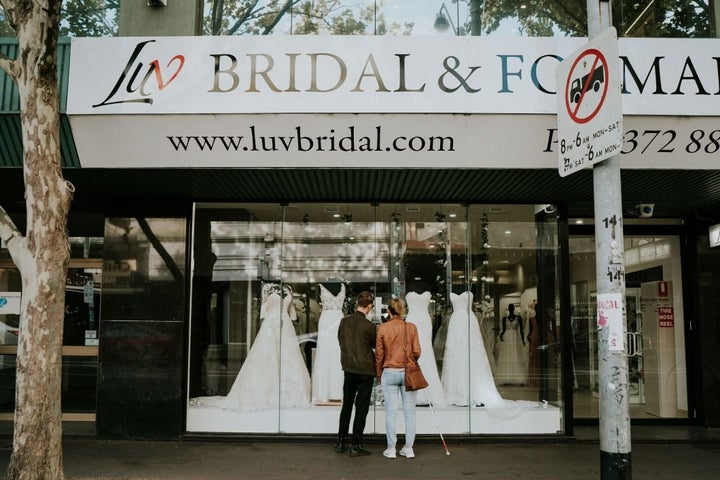 Initially, Agnew was anxious about the idea of trying on dresses but not being able to see what she looked like in them. The bridal consultant at the shop assisted her by giving detailed verbal description of what each dress looked like, then Agnew and her mother touched the gowns to get a better sense. The bride-to-be also relied on input from her father, brother and bridesmaid to form her opinions.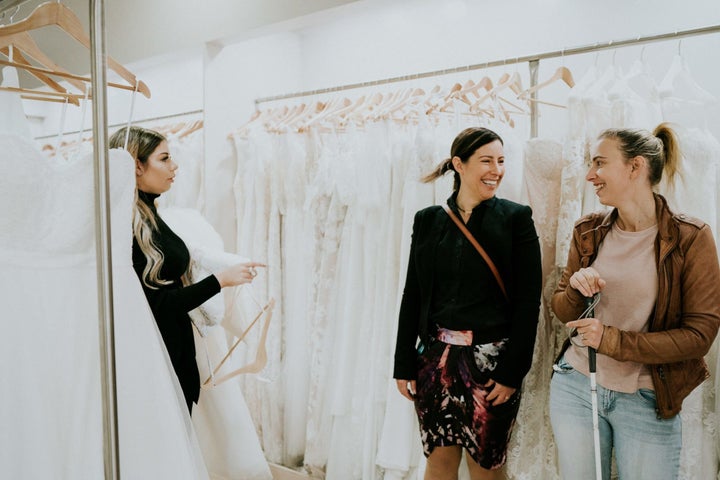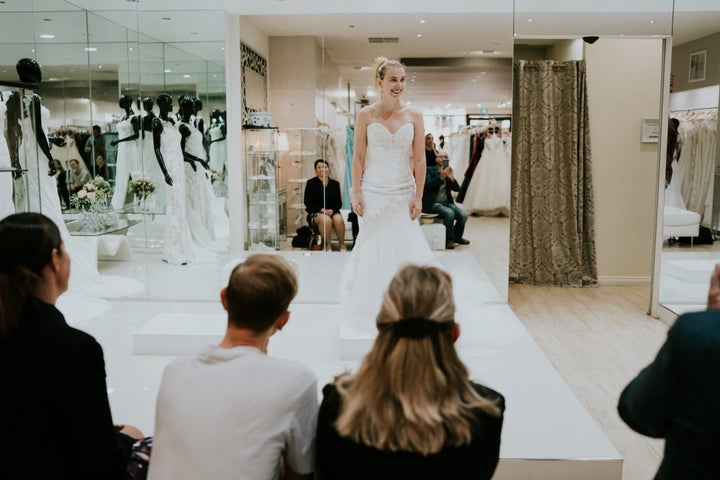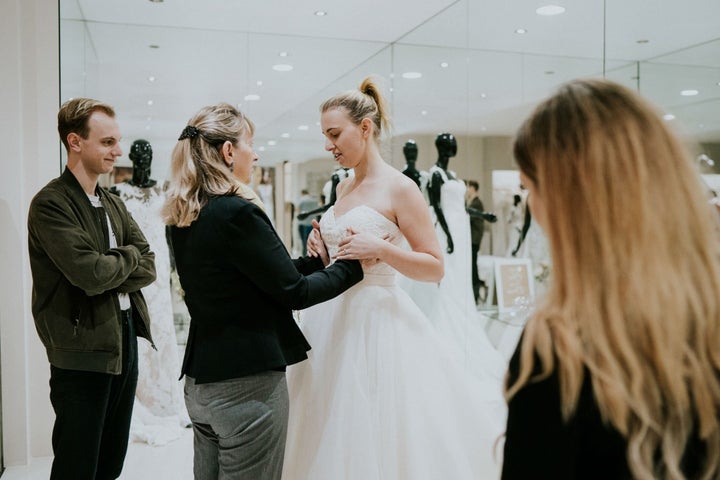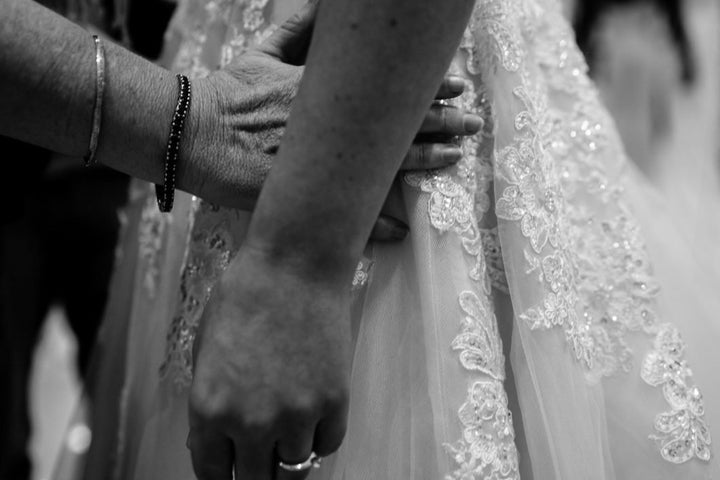 "I wanted everyone to just say yes or no, but they were very respectful with the comments, which actually frustrated me a little as I needed complete honesty," Agnew told HuffPost.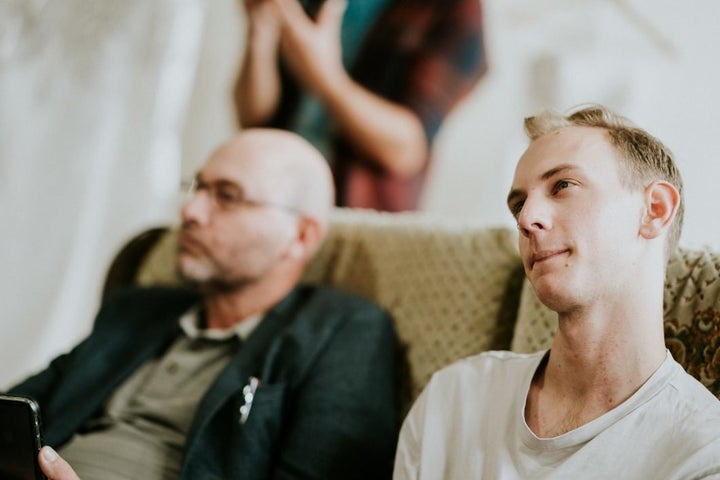 But, in the end, Agnew did find a dress that day (the details of which she wants to keep secret until the wedding), one that even gave her the "Say Yes to the Dress" type of reaction she so craved.
"I never thought that I would get the feeling that all the brides talk about when you find 'the one,'" Agnew told HuffPost. "However, when we made some alterations to the dress that I chose, I felt my whole face change. I got goosebumps and I had the biggest smile on my face. I was like, 'Oh, my God. I've got the feeling!' It was so weird that I got it even though I couldn't see what I look like."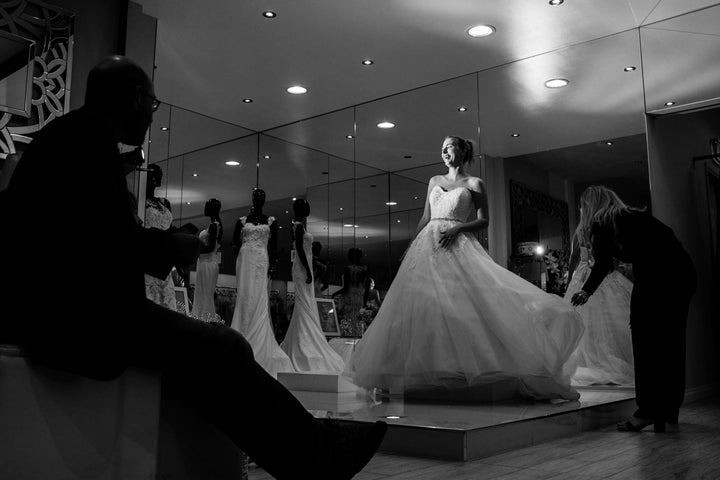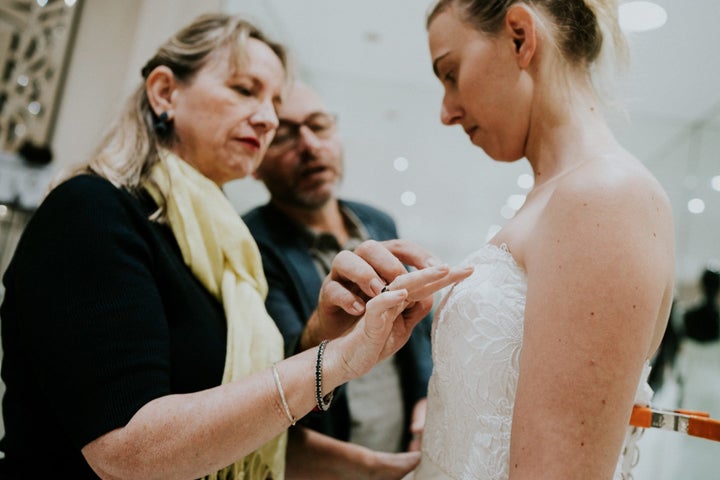 Other parts of planning a wedding have proved difficult for Agnew as well. It's not as though she can simply hop onto Pinterest and search for ideas and styles she likes.
"When I still had my vision, I started putting a few things aside into an album so that I could show people what I like," she told HuffPost. "However, this was a while ago, so I have no idea what the current trends are and what new, beautiful things are available to me."
Agnew has had to put trust in those around her in order to help bring her concept for the wedding to life.
"I have to find vendors that can work with me. So many of them just want you to send photos of what you like, which is impossible for me," she said. "Our venue, Weddings at Tiffany's in Maleny, Queensland, has been amazing! When we went to look at it, the director took me around and described everything in fine details, as well as letting me feel things so that I could get a better picture in my head."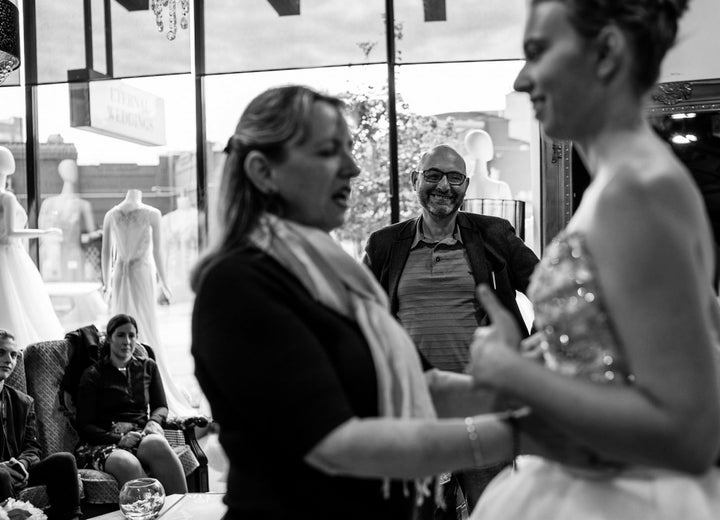 Agnew first met her groom-to-be, a police officer, at a party on the rooftop of their apartment building in October 2016. Turns out, they had actually been living next door to each other for over a year but had never crossed paths because of his work hours.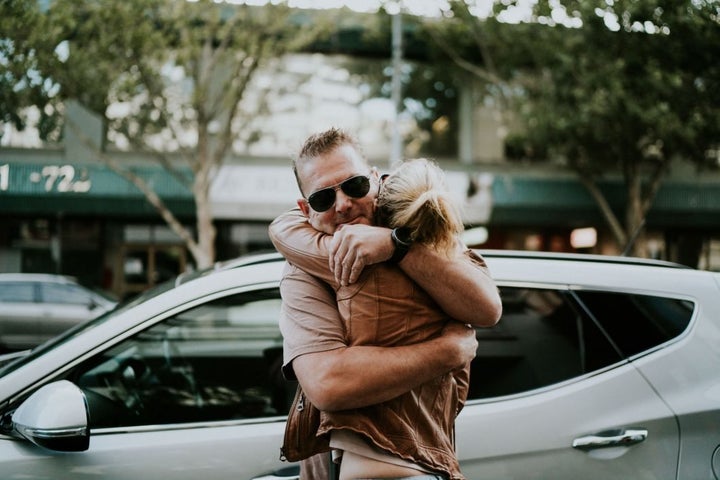 "I had a cane, so it was quite visible that I had a vision impairment, and the fact that he hit on me whilst I was using my cane meant that it didn't bother him, which was great," she told HuffPost. "In the past, I have been nervous about telling people ― that is, before I had to use my cane ― because I have had some really bad reactions from guys that just can't handle being with a girl that is going blind."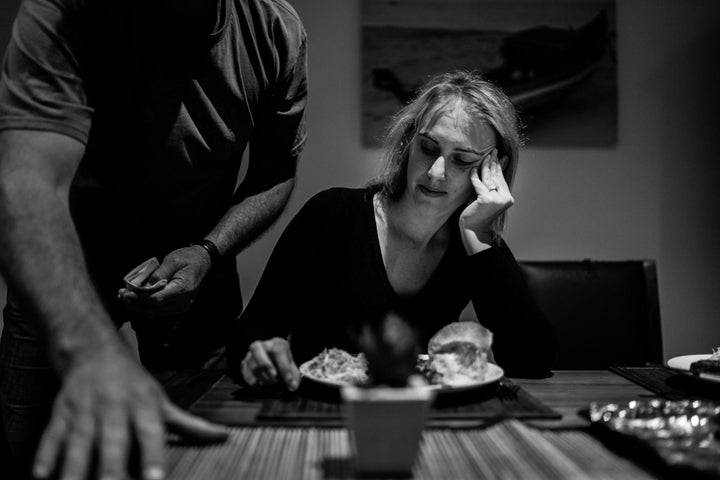 When she met Campbell, Agnew's vision had already deteriorated to a point where she could no longer recognize people's faces so she doesn't know what he looks like.
"Rob does not treat me any different because I cannot see, although he probably is a bit more protective of me," she said. "But I would say that he would be like that with anyone, as he sees so many awful things in his job as a policeman."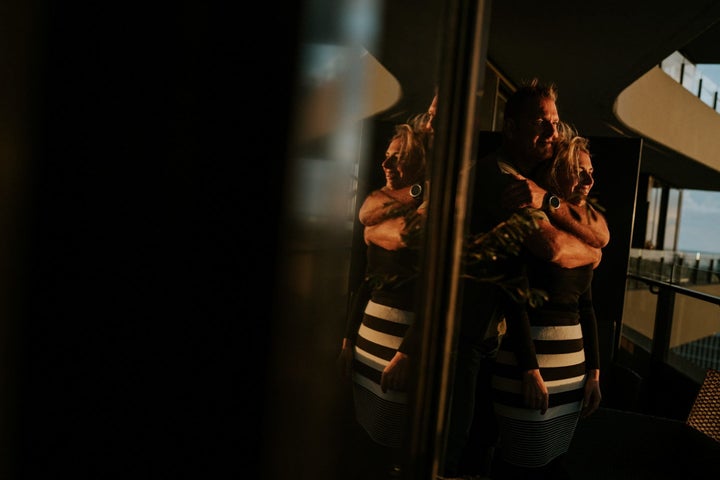 After photographing the couple, Day told HuffPost he was struck by their "beautiful" connection.
"There is an incredible amount of trust between Steph and Rob, but also it's just like any other healthy relationship," he told HuffPost. "Steph is very independent and is so driven to live life to the fullest. Rob is supportive of Steph and her pursuits but also gives her space to just be herself."
In a blog post on Day's website, he shared other photos from his time with the family and provided detailed descriptions of each image so that Agnew and her mother could get a sense of the photos without actually being able to see them.
"On the drive to the second wedding dress shop, I asked about accessibility, and they told me how they often work out what is happening in the image by reading other people's comments underneath, so I thought it might be helpful if I explained what was happening in each photo so they can enjoy the photos too," Day told HuffPost. "It is also nice to know that other vision-impaired people might benefit from this too."
Agnew hopes that her story inspires others struggling with their own challenges, whatever they may be.
"We all have an inner strength," she said. "It doesn't matter what hurdle we are faced with. You can reach within, grab the strength within and come out the other end. I want to help as many people as I can. To be an example to help them to get through those dark times."