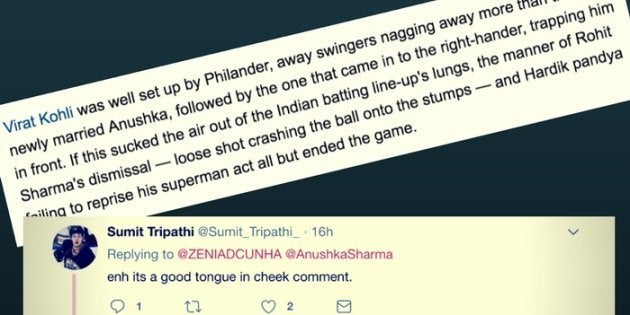 (UPDATE: Copy updated with statement from Anand Vasu, apologising for his reference to Anushka Sharma as a nagging wife)
In a match report for the Economic Times, titled 'Batting carnage as South Africa blast India aside', freelance cricket writer Anand Vasu spared no words to sum up India's play in an ongoing Test match series against South Africa in Cape Town.
"For months India had talked the talk, for passages of play they walked it, but when push came to shove the eleven men chosen to represent the country let themselves down," Vasu wrote.
However, one paragraph in his analysis, stuck out like a sore thumb — in which he compared bowling action by South Africa's Vernon Philander with a sexist stereotype routinely used to mock women.
"Virat Kohli was well set up by Philander, away swingers nagging away more than the newly married Anushka, followed by the one that came in to the right-hander, trapping him in front," Vasu wrote. He was immediately called out by a cricket writer working for Scroll's sports website The Field.
Zenia D'Cunha's tweet criticizing Vasu for using a "wife stereotype" was met with nothing less than wide-eyed incredulity by men failing to understand, once again, why Vasu's analogy was downright offensive.
There were pats on the back for the writer for being "ballsy" in dragging a woman to score cheap gender points in a story that did not require that comparison. Kohli and Sharma, an Indian movie star, got married on 11 December. Sharma's not new to blatant misogyny. She has been blamed for Kohli's performance on the pitch by upset male fans of the cricketing hero.
However, this garden variety sexism is expected from an industry that farms toxic WhatsApp jokes on women for bulk circulation. A mainstream cricket writer to use a "nagging" dig against a woman to make his point beggars belief.




However, on Friday, Vasu issued a statement apologising for his lapse. "It was clumsy and wrong", he said.
Nagging is a popular stick men have always used to beat women. And jokes on nagging are firmly established in the Indian male psyche as something that even women take in their stride. They assume that it is something inoffensive that women can be labelled with without facing a pushback. In the never-ending list of the variety of sexual abuses women face daily, jokes on identity politics must seem almost benign to Indians.
That the cheap shot was directed at a "newly-married" Sharma — an actor of considerable talent — shows just how deep the misogyny runs. And it continues because men are rarely called out when they make these jokes, emboldening them to get away with more and more. Women who call men out on everyday sexism, especially jokes that seem innocuous, are labelled "humourless".
A perfect example of this is another tweet on the writer's timeline. The photos used in the tweet are self-explanatory. While the writer acknowledged that it's a sexist stereotype, he obviously found no harm in sharing it.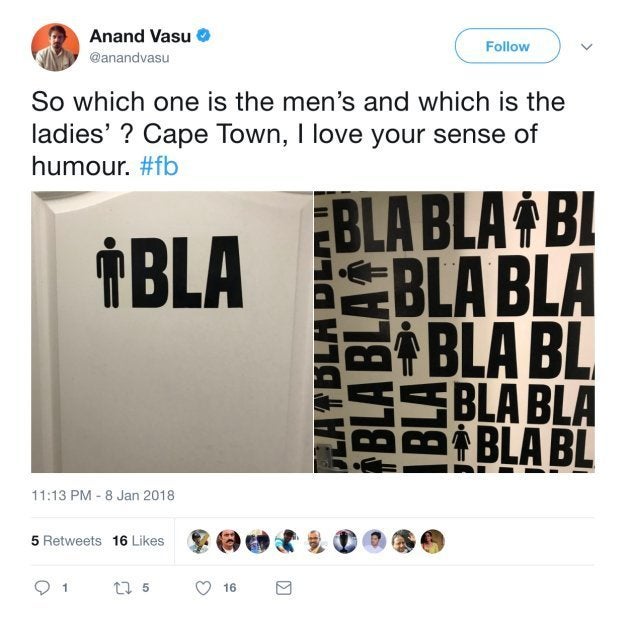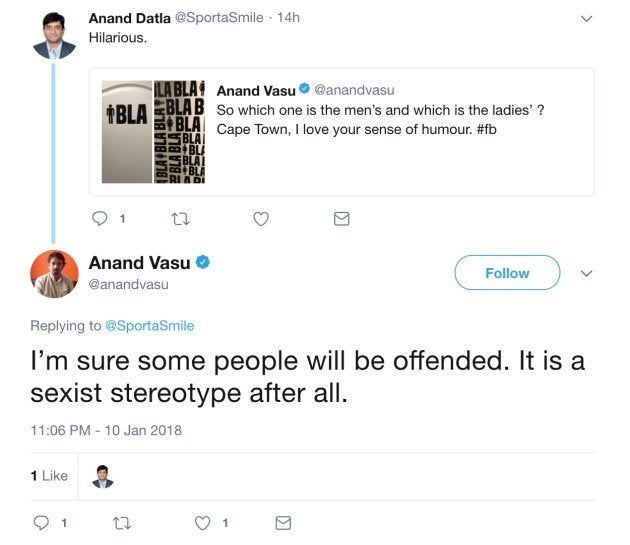 Men too found the analogy ridiculous.
At the time of writing this, the analogy remained in the story, despite flak from many Twitter users.