In his new music video, "Love Is Love," Trey Pearson finds vigor and self-acceptance amid a bevy of gay and lesbian pals on a crowded dance floor.
To anyone with a passing knowledge of queer nightlife, it's a familiar scene. For Pearson, the clip represents the culmination of a personal, and at times painful, journey. Released Nov. 17, "Love Is Love" is the title track from the singer-songwriter's debut solo EP of the same name. (The first single, "Silver Horizon," dropped in April.) The seven new songs are the first that Pearson — who spent 20 years as the lead singer of the Christian rock band Everyday Sunday — has written and recorded since publicly coming out as gay in 2016.
"I really wanted to capture the range of emotions I've felt in the past year," Pearson, 37, told HuffPost. "I felt like I didn't have to hold back this time. I felt like I was able to be completely vulnerable. To be able to do that as an artist is the best feeling in the entire world."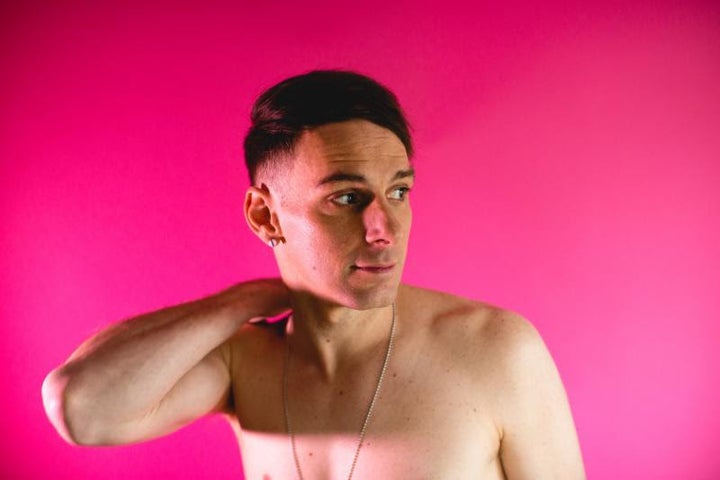 "Love Is Love" borrows its title from "Hamilton" composer Lin-Manuel Miranda's 2016 Tony Awards speech honoring the 49 victims of Orlando's Pulse nightclub massacre, many of whom identified as queer. Hoping to create "a tribute to all LGBTQ sacred spaces," Pearson opted to shoot the video in his hometown of Columbus, Ohio, as opposed to a city with a globally known queer community like New York or San Francisco. Doing so, he said, would highlight the people and places "that really gave me refuge when I came out."
"When I came out, I lost a lot of people in my life," he explained. "I felt like I'd moved to a completely new city, even though I still lived [in Columbus]. I had to just completely start over and rebuild relationships and figure out my life as an out gay man."
Pearson's struggles after his coming out came to a head in September 2016, when he and his band were cut from the lineup of California's Joshua Fest, a "family-friendly" Christian music festival, after 11 members of the event's production team threatened to walk out if he performed. (At the last minute, he was invited to join the members of Five Iron Frenzy, a ska-punk band, for an encore.)
He tackles his faith directly on the midtempo ballad, "Hey Jesus," on which he sings, "I know that I could never change, I tried so hard, brought so much pain, I just wanna be loved for who I am."
"In 2017, in a Western evangelical culture of Christianity, we can mix up what we think [religion] means, and what it means to follow Jesus," Pearson said of the song. "I've learned not to care as much about that. To love your neighbor as yourself ... to me, that was the true message of Jesus."
Sonically, "Love Is Love" marks a new chapter for Pearson, who left behind Everyday Sunday's rock vibe in favor of a polished pop sound inspired by Bleachers frontman Jack Antonoff. He doesn't see references to his faith on "Love Is Love" as any different from bands like Coldplay or U2, both of whom have explored spirituality in their work. "All kinds of artists like to explore life's mysteries," he said.
With the release of "Love Is Love" behind him, Pearson is in the early stages of planning a 20-city concert tour. Ultimately, he'd like to inspire listeners who may be struggling with their sexuality or other areas of their identity through his music and performances.
"I have this passion to be a voice to help as many other people as I can to find their voice and their truth," Pearson said. "Everything that I can do with my art to speak up and speak out, I want to do."