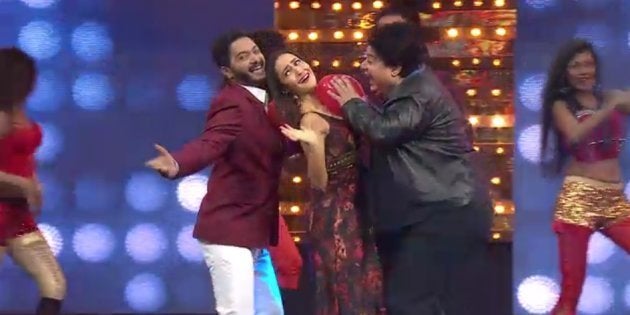 When did it become okay for men to tickle their female colleagues or give them a full-body hug from behind or sandwich them between each other in the workplace? I don't think even wrestlers do so, right?
But hey, it seems a little slap and tickle is more than kosher on the sets of 'The Great Indian Light Molestation', sorry, I meant 'Laughter Challenge'.
Far more disturbing than the alleged sexist slur on The Great Indian Laughter Challenge and the ensuing controversy between Mallika Dua and Akshay Kumar, are the opening credits of the show – as I found out over the last two weekends. For all of you who've missed the show, let me bring you up to speed. The Great Indian Laughter Challenge is a show on Star India which has a celebrity judge in the form of Akshay Kumar, who has done his share of comedy. And had three mentor judges — Zakir Khan, Hussain Dalal and Mallika Dua — who would choose 12 stand-up comics as finalists for the show. The show's anchor is Katrina Kaif-doppelganger and Bigg Boss contestant Eli Avram.
All good till now. It's not a manel, there's female representation, and the judges and mentors are all directly connected to comedy. (The three mentor judges have been removed as of last week, to be replaced by that doyen of comedy, Sajid Khan and the saving grace that is Shreyas Talpade.) The format of the show is that if you want to choose a contestant, you have to ring a bell or "bell bajao" – a take on the Hindi aesthetic phrase, "bell bajaana". Or to take the mickey out of someone.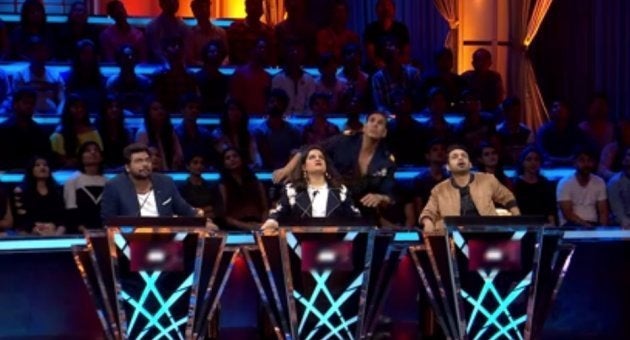 The week of the three mentors being summarily removed from the show, there was a brouhaha because journalist Vinod Dua wrote a Facebook post about the sexist remarks made by the "cretin" Akshay Kumar about his daughter Mallika when she was ringing the bell for a contestant. Kumar said, "Tum uska bell bejao, mein tumhara bell bajaata hu" (literally translating to - you ring his bell and I'll ring yours). Mallika posted about it, got trolled by Akshay fans, and deleted the post soon after.
This was followed by a video being released of a comic who imitated Narendra Modi and Rahul Gandhi to wide applause (and was the same person Dua was ringing the bell for). This comic's act was deleted from the show and he was asked to perform a new act. Everyone cried censorship, blue murder, we love comedy - the usual noises were made and forgotten.
Which is what made me tune into this show to see what the kerfuffle was all about.
And I must admit none of these controversies match up to what were the opening credits of the show, or how the female mentors and anchors (I'm sure with their permission) are physically treated in the programme.
The opening credits of the episodes with Dua, Dalal and Khan had Akshay Kumar repeatedly tickle Mallika Dua. Because that's what grown men are supposed to do to grown women on a show about comedy. Tickle them. Not tickle the male mentors, though. That would be too 'gay', right? If there was something to be offended by, one would think it would be this. But these are concessions one must make for getting a toehold in mainstream entertainment, I suppose.
None of these controversies match up to what were the opening credits of the show, or how the female mentors and anchors (I'm sure with their permission) are physically treated in the programme.
Now this treatment wasn't reserved for Mallika Dua. In the episode in which Sajid Khan and Shreyas Talpade came on as judges, there was no one to tickle in the credits. But the producers, director and I'm assuming Kumar thought outside the box and came up with a routine which left me goggle-eyed. Eli Avram, the anchor, came on the stage only to have Sajid Khan hold a red heart-shaped balloon against her chest, while Talpade held it against her back. They then sandwiched her between them, with Khan facing her and jumping to and fro while holding the said balloon to her bosom. Through it all, Akshay Kumar laughed uproariously. Avram also giggled. And finally, Kumar hugged Avram from the back.
This is a workplace which seems tailor-made for Harvey Weinstein, Dustin Hoffman, Shakti Kapoor, and Brett Ratner.
We all know that jokes about Mr Modi may not pass muster on most channels. But that really is the least of our concerns right now. Going by 'The List' being released, and the unending stories of powerful men who have gotten away with sexually harassing women at the workplace, there are far greater worries than not being able to crack a joke about Modi. The rampant sexism and manhandling of women, which seems to pass off as normal in Hindi films and TV shows, is actually what we should be concerned about while discussing The Great Laughter Challenge. What's worse is that the women seem to be loving the inappropriate touching and attention, much like in horrendous films like Grand Masti and Judwaa 2 and so on. This is the sexual and sexist tripe that male audiences watch and then emulate. The one thing you can be sure of, there was nothing to laugh at by the end of it. A pity, since the comedy acts were quite good. But when you have a lewd and sexist sideshow headlined by a superstar, it's hard to pay attention to the main act.
If you'd like a lesson in how not to behave with female colleagues, do watch The Great Indian Laughter Challenge on Saturday and Sunday at 8pm on Star India.