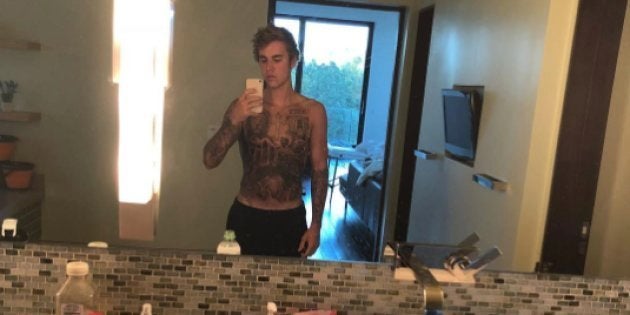 Justin Bieber has shocked his fans after debuting his massive new tattoo covering his torso.
Biebs has slowly but surely been adding to his body of art (heh) but this marks one of the bigger additions to his collection. The tattoo artist who inked Bieber, Bang Bang, spoke to 'E! News' about the process and what it all meant.
"He said he has a mustache on his belly, referring to the eagle, and it just needed more around it so it wasn't so isolated and floating in the middle of his stomach... He said he wanted me to cover his front, so I sent him a bunch of options. They were all religious in subject."
Bieber showcased the finished work on his Instagram over the weekend in two posts.
The tatt features Gothic structures, demons, angelic figures and stretches across his stomach, joining up with a few of his other tattoos on his chest.
"We added two angels, one on each side," Bang Bang told 'E!'. "Whenever I do an epic piece, there needs to be the positive and negative."
"Below each of the angels, there is a demon that needs to be defeated. The skeleton on one side and the serpent on the other. It's symbolic of Gothic art and the struggle between the light and dark, the good and the evil, Yin and Yang."
The designer worked on the tattoo for three weeks, with the actual inking taking three days.
Reactions online were mixed with some fans of the 23-year-old defending his artful choices. That didn't stop the internet roasting him thoroughly.
Despite one fan digging up an old interview with David Letterman where Bieber said he wouldn't "go too crazy" with tattoos, Bang Bang told 'E!' he wasn't finished just yet.
"I'm coming back soon... I did the bottom half of his front but still need to do the top."