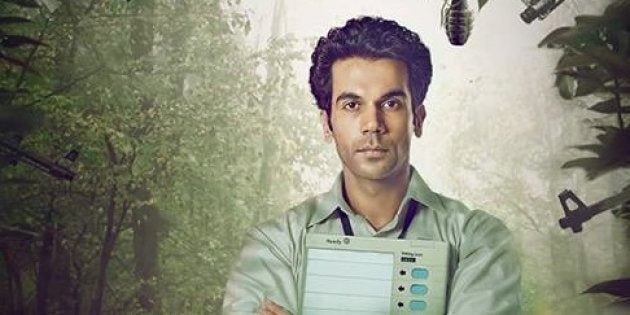 The recently released Bollywood film, Newton, seems to be going through a cycle of highs and lows in rapid succession. First, in an almost unprecedented show of approval, the Film Federation of India's (FFI) 14-member committee unanimously picked the Rajkumar Rao-starrer as India's official entry to the Oscars on Friday, 22 September — the day of the film's release in India. The film received rave reviews, with the general consensus that it was the best film of 2017.
But celebrations over the rare achievement and gushing praise lasted a mere 24 hours. Within a day of release, a pirated, average print quality version of the film was available for download online, likely affecting business. To make matters worse, at the same time, whispers about plagiarisation started making the rounds, and the film's makers were soon called upon to defend their work. On Saturday, 23 September, NDTV.com created ripples by pointing out similarities between director Amit Masurkar's dark comedy Newton and a 2001 Iranian film Secret Ballot, directed by Babak Payami. The similarities in the broad premise of the two films are undeniable — both films revolve around the conundrum faced by an honest polling officer tasked with ensuring that voting goes on smoothly in a conflict-ridden area.
But vindication came last night in the form of a clean chit straight from the horse's mouth — Secret Ballot's producer Marco Muller and director Babak Payami cleared Newton of any attempts of plagiarising their film.
In a blistering Facebook post on Monday, filmmaker Anurag Kashyap lambasted the "over enthusiastic media" and "cinephiles" for letting their imaginations run wild with allegations of plagiarism. In the post, he claimed that he had asked for a link of Newton from its director and sent it to Muller. Kashyap shared screen shots of the exchange with Muller, in which the producer calls Newton a "pretty decent film, definitely no rip off from our Secret Ballot (even if the general concept is the same)" and says that there is "not even a hint of plagiarism".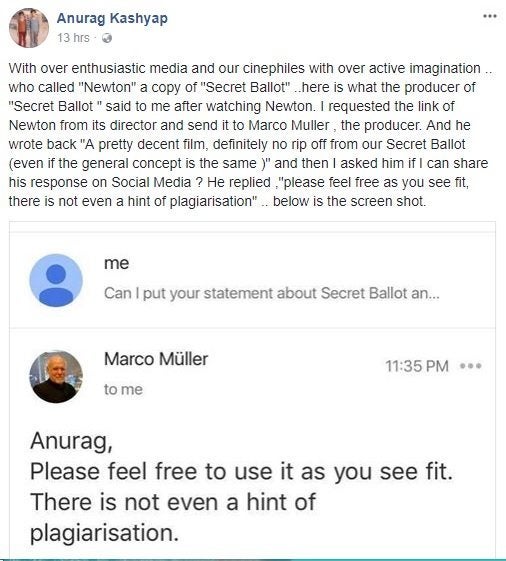 Today morning, Kashyap wrote another Facebook post shaming "controversy mongerers", by sharing a screenshot of a yet-to-be-released interview between Payami and an unnamed Indian journalist over the plagiarism controversy. In the interview excerpt, Payami congratulates the team of Newton for its Oscar nomination to represent India and says that thematic similarities should not limit filmmakers from picking up important subjects that need to be spoken about.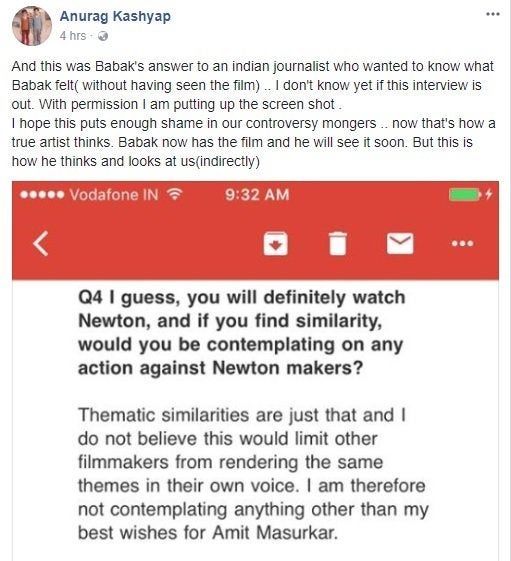 It is worth mentioning that Kashyap has been a vociferous supporter of Newton from the start. His Twitter timeline is filled with praise for the film and joy over its Oscar nomination. When the plagiarism controversy broke out, he was unequivocal in his faith that the Newton's makers had committed no wrongdoing.