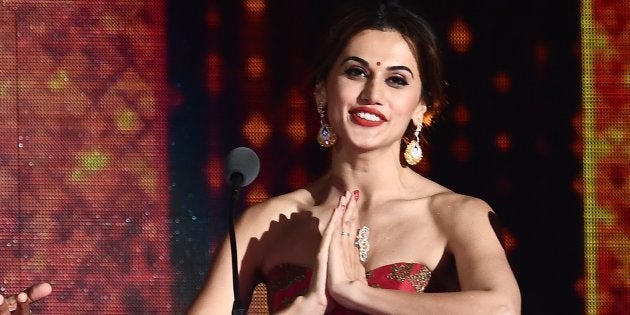 Self-appointed custodians of morality and Indian culture on social media never miss an opportunity to humiliate, abuse and lecture women on what they can and cannot wear. The latest target of their unsolicited advice is Bollywood actress Taapsee Pannu, who will soon be seen with Jacqueline Fernandez and Varun Dhawan in Judwaa 2.
Yesterday, to promote the upcoming film, Pannu posted a couple of stills from her song, Aa Toh Sahi. She was wearing a bikini in the photos.
Watching a famous woman taking uninhibited pride in her body and showing it off was too much to handle for several social media watchdogs, and they wasted no time in letting Pannu know how they felt.
Every woman knows that no matter what you're wearing, the moment you put up a picture online, both lecherous and moral policing trolls will come rushing out of the woodworks to pass judgement and make offensive comments. If you're a celebrity, the barrage of commentary is endless. Often, when faced with situations like these, famous women tend to simply ignore the trolls, hoping that they'll eventually tire of the wall of silence and go away.
But every once in a while, they decide to show the sexist commentators their place with scathing sarcasm and wit, while the rest of us watch in amusement. Yesterday was one such day.
Replying to two particularly rude and offensive (now-deleted) comments to her photographs, Pannu showed them who was the boss of her: no one.
Twitter user MerajAli tweeted to her saying:
Km se km social media pe aisi gndi pic mt upload kriye...gndi gndi movie bna ke desh ki young pidhi ko to brbad kr hi rhi h aaplog...
— MerajAli (@MerajAl76161284) September 13, 2017
Roughly translated, Meraj Ali's tweet tells her not to upload dirty photos on social media because she is anyway making dirty movies and ruining the next generation.
Another user, a Vijay Morsh, tweeted:
"In our country, we have freedom of expression, so why don't you remove the remaining clothes also. Your brother must be feeling proud of you after watching this."
Pannu had this to say to him:
(Sorry, I don't have a brother, else I would have definitely asked him and let you know. For now, will you accept a sister's response?)
Pannu's more open-minded fans were delighted at the exchange and cheered her decision to not taking the offensive comments lying down.
Unpredictably, this is not the first time a famous woman has been targeted on Twitter for her choice of clothes. In the recent past, Priyanka Chopra's legs became a matter of national shame for people who were offended by her choice of a knee-length dress while meeting PM Modi in Berlin. She was mercilessly trolled for dressing inapproriately and not being well-mannered enough to "sit properly in front of elders". In response, Chopra posted a photo on her Instagram account showing off even more of her well-toned limbs.
Similarly, Deepika Padukone was criticised for posting "vulgar" photos in a crop top and short shorts from a magazine shoot on her Instagram page. She too simply shared more similar pictures making a comment without having to say anything.
Disha Patani received a lot of flak for her outfit at the Filmfare awards, to which she responded with some choice words.
It's not just women's clothes that offend the delicate sentiments of the morality mafia, mothers showing off their baby bumps are a problem too. A few days ago, Celina Jaitly was harassed online for a bathtub photo showing off her pregnant belly. Earlier, in April, Lisa Haydon encountered similar trolling for her breastfeeding photo to promote the cause during breastfeeding week.
Will the wardrobe police please calm down?