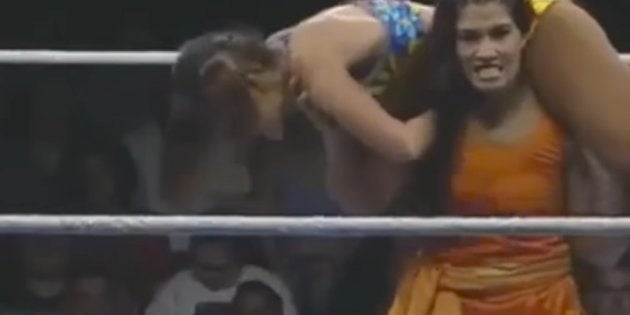 Remember that video of an Indian woman clad in an orange salwar-kameez accepting an open challenge of a professional wrestler and then totally slaying it? The video had gone viral last year.
The woman was Kavita Devi, a woman wrestler from Haryana who has broken the glass ceiling. India may be able to boast of many a wrestling talents Tiger Jeet Singh to The Great Khali, but until Devi, the country had never seen a woman in the World Wrestling Entertainment (WWE) ring.
Devi, the former Haryana police officer is back in the news again.
A video that has gone viral shows how the Punjabi former mixed martial arts (MMA) champion fights it out at an event held by Continental Wrestling Entertainment, a promotion and training school launched by the Indian WWE champion The Great Khali. In the video from August 30 this year, Devi, clad in a saffron salwar-kameez again, is seen battling it with a Kiwi professional wrestler Cheree Crowley and pinning her down.
Earlier this year, Devi became the first Indian woman to compete in the WWE when she was included in the Mae Young Classic tournament.
In an interview to Times Of India, Devi said how she has grown up trying to emulate The Great Khali. "He was the first Indian man to win a world title, and I wanted to be the first woman," she said.
She has always been a huge fan of WWE. "I remember watching all the fights of wrestlers like The Undertaker and female wrestlers like Chyna," she added.
Canyon Ceman, Vice President, WWE Talent Development, told Hindustan Times that Devi gave a strong performance at WWE's 2017 Dubai tryout. "She is an athletic and extremely strong woman who demonstrated a solid grasp of the fundamentals of sports entertainment," he said.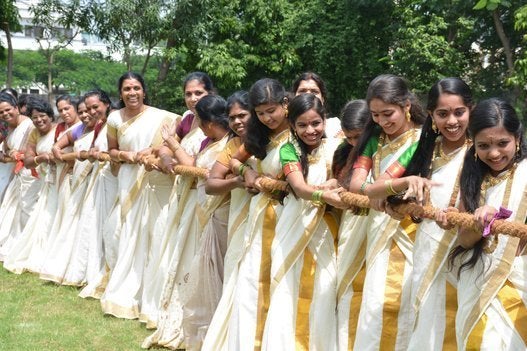 Traditional Indian Ways A Woman Can Wear A Sari