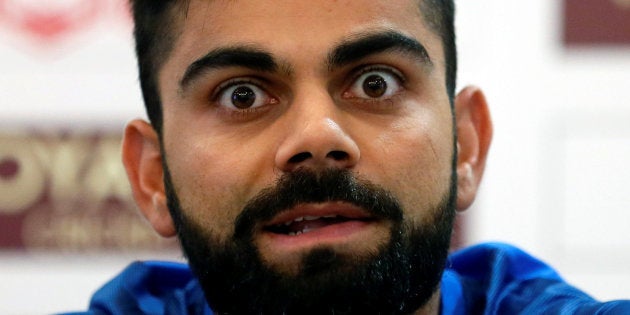 A few days ago, a little girl became an unwilling Internet star when several famous cricketers shared a video of her crying and pleading with her mother to not get angry while teaching her numbers. Cricketers Virat Kohli, Yuvraj Singh, Shikhar Dhawan and Robin Uthappa had many sharp comments and advice for the (unseen) mother for abusing her child. Turns out, the 'abused' child is singer Toshi Sabri's three-year-old niece, Haya, and her uncle is not amused by this social media trial of his sister, reported Hindustan Times.
Between 18 and 19 August, the cricketers used their social media handles to share the video, berating the mother and exhorting parents to be patient and loving towards their children. The video has racked up over 5 million views on Instagram at the time of writing this article, with hundreds of angry comments outraging over the mother's 'cruelty'.
Toshi has now responded with sharp words of his own, saying that strangers who know nothing about the people in the video and their specific circumstances should not make snap judgements about a mother's parenting style by watching a 1.5 minute video.
Toshi also raised the point of how difficult it is to raise children and discipline them. He said that Haya was a stubborn, naughty child and sometimes, parents have to toughen themselves against tears and tantrums to make the kids study; but that did not mean they did not love the child. "One cannot question a mother's love by seeing a short video, if the others are feeling bad to see the child crying, as a mother, she must feel even more upset," HT quoted Toshi as saying.
The video, Toshi claims, was never meant for public consumption. It was made for a family Whatsapp group by Haya's mother. "(She) wanted to show her brother and husband that how stubborn the girl has become," he said.
While it is undoubtedly tough to see a child bawling in a video while being yelled at by a parent, Toshi does raise a valid point about leaping to judgements and indiscriminate sharing of photos/ videos without verifying the source or their 'truth' on social media.
Parenting is hard enough as is, and any parent, anywhere in the world, will vouch for the fact that it gets infinitely harder when every move is constantly being scrutinised by strangers. Knowing that every decision you make can shape your child's personality, thoughts and future is a big, terrifying responsibility anyway, the least we can do is not add to the ever-present guilt of parents by making villains out of them, armed with only half knowledge.
Just as we can't vindicate the mother for hitting her child on the merit of Toshi's words alone, perhaps it is unfair to vilify her due to Kohli's words either.
In the meanwhile, here's a happier video of Haya, from Sharib's (Toshi's brother) Instagram.