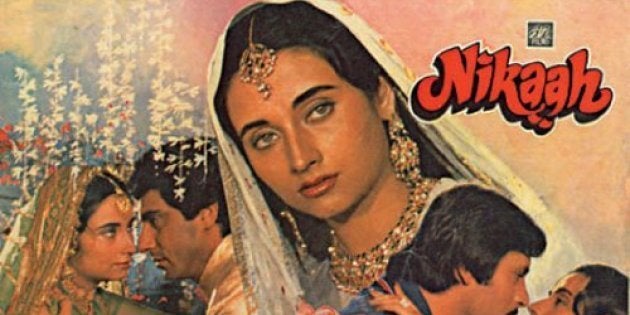 If you're not familiar with Bollywood of the 80s, you've probably not heard of Nikaah. However, for people whose primary weekend activity involved Doordarshan, Nikaah, drenched in the hallmark melodrama of 80s popular cinema, was an essential watch.
Despite its excesses, Nikaah dealt with the subject of instant triple talaq and halala. The film revolves around Nilofar, played by Salma Agha, and her interactions with two men. Nilofar is married to a nawab called Wasim, who is consumed by his work and hardly has time for her. Nilofar pines for her husband but is actively ignored by him. One day, Wasim tasks Nilofar to throw a party for his acquaintances and she obliges. However, as guests keep streaming in, there is no sign of Wasim. Distressed and unable to answer questions about her husband's absence from their own home, Nilofar retires to her room.
The guests, miffed at not being attended to by the hosts, leave. This infuriates Wasim when he returns and in a matter of minutes during the ensuing argument, he pronounces 'talaq, talaq, talaq', divorcing Nilofar.
This part of the film portrayed how instant triple talaq gave unbridled power to the man and left women at their mercy and the film has often come up in discussions about how triple talaq has been presented in popular culture.
After the Supreme Court put an end to instant triple talaq, an interesting anecdote about the film Nikaah has been published in Bengali daily Ei Samai, also underlining how dangerous a tool of subjugation it was in the past.
The film, produced and directed by BR Chopra was initially named 'Talaq, Talaq, Talaq' since it sought to portray how women were treated like objects, thanks to patriarchal personal laws. However, a Muslim friend of Chopra's — Ei Samay says it could be actor Iftikar — told Chopra it was a great subject to deal with. However, he added, the film's name presented him with a difficult problem.
"Chopra saab, there's a problem. I won't be able to go home and ask my wife to go watch the film. Because when she asks what film I'm asking her to watch and if I tell her the name of the film (which was Talaq Talaq Talaq), she'll get a heart attack," he said.
Given how triple talaq wasimplementedatthattime, Chopra thought this was a valid problem — one he fixed by changing the name of the film.
Ei Samai reports that when that after Nikaah released in 1982, orthodox Muslim groups from across the country filed several cases against the film and its makers. It has 34 cases lodged against it.