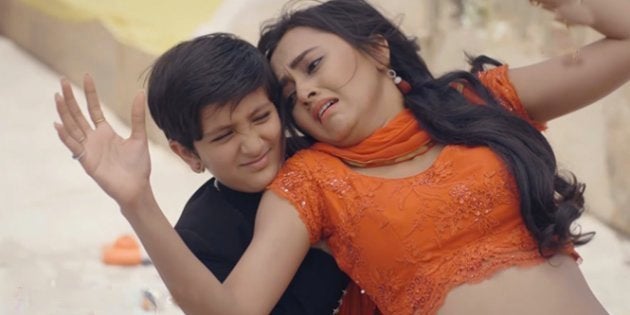 In case you've entirely missed it, you'd already know that there's a show on Sony, called, Pehredaar Piya Ki.
The show is the ultimate testimony of the depths Indian television has plummeted to as it shows a 10-year-old boy falling in love with an 18-year-old woman. He also stalks her and photographs her.
The show, produced by Shashi and Sumeet Mittal, has drawn a lot of criticism but the makers seem unfazed by it. Karan Wahi, a popular TV actor, even called out its stupidity in a viral Facebook post.
Now, one of the show's actors, Suyyash Rai has jumped to the show's defence.
Going by an interview he has given Bollywood Life, it seems he's pretty clueless as to why people are pissed with the show's concept. No, seriously, he doesn't get it.
He told the site, "I want to know what was so disgusting about the first two episodes that people got so riled up. We did not show Ratan fantasizing Diya. It is like in school, young boys, pre-teens do have crushes on their pretty teachers. They like them and they are not aware of what they are doing. Pehredaar Piya Ki is about how they end up getting married and the complications that follow."
Well, if an actor doesn't quite get the distinction between having a harmless crush on a teacher versus someone who actively acts on that crush, by stalking and photographing, then the problem is even bigger than it first appeared.
In an Instagram post, the actor tried passing of the show's undeniably problematic theme as 'entertainment.' He wrote, "Our motive is to entertain you guys not promote child marriage or anything. This show is different , plz dont judge it and jump onto conclusions (sic)"
He went on to say that since Sony has put the show out, they must have given it a thought. "A show cannot be put on air for two days and taken off. Shashi – Sumeet are sensible people and won't do anything foolish."
Well, foolish is definitely an understatement for this monstrosity.
She says being a feminist (lol) she was quite excited to be a part of the show, which is essentially about, ahem, women empowerment.
"It's a big decision for my character to marry such a young kid. So my character is both, strong and brave since the woman is the guardian of the guy and not the other way round," she says.
The whole scenario gets increasingly weird when the interviewer asks the boy, Afaan Khan, if he accidentally ends up calling her 'didi' (elder sister). With the confidence of a movie star, Afaan says, "No. Now, I'm used to calling her Diya. Even off-screen, I call her Diya."