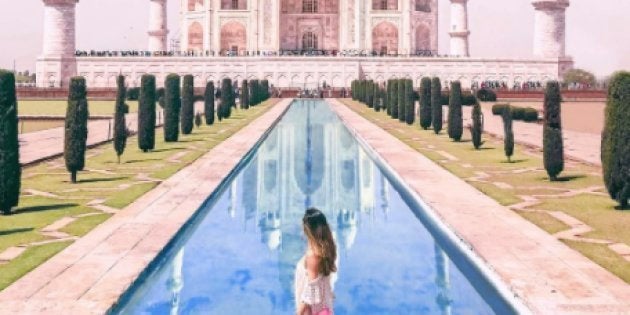 There are about 2,33,00,000 results on Google when you search for 'how to make money through travel blogging.' Yes, what's not to love about traveling the world, posting photos and getting paid for it? The catch is too many people are doing it. How do you stand out?
Travel, fashion and beauty blogger Amelia Liana has an answer to that question — learn some good photoshopping skills. With a blog that has 461k followers, Liana has been accused of editing her photos for a while now.
Sample this. A photo she supposedly took at the top of the Rockerfeller Center in Manhattan was posted on her blog on 25 May this year. However, readers pointed out a strange fact. Where was the Freedom Tower in the New York skyline?
It only got worse when people started noticing something wrong with the reflection in the photo too.
Soon after, the trolling began.
Her followers started noticing the Photoshop work in her other photos too.
Liana had posted a photo of the Taj Mahal recently. Strangely, as many of her followers spotted, the crowd of tourists that typically throngs the Taj six days a week was mysteriously missing. Her reflection ended at the edges of the pool, and Taj Mahal's reflection was compressed to fit in it.
Her readers called her 'fake', abused her and asked her to delete her Instagram account for 'fooling' people.
The blogger responded, "The amazing world of social media is changing at an incredibly fast pace, and with all the possibilities that technology gives you, a debate has surfaced in the past few weeks about the extent to which bloggers like me should be enhancing some of their imagery. I have given this a lot of thought and I would like to share with you the principles to which I work, that I have formed in order to relate to you in an honest way."
She tweeted her out "image principles".
Amidst all the hate that Liana has been getting, many of her followers have come forward to show support.
"People are nitpicking the editing?? We live in a world where we create fuller eyebrows. Create fuller lips using lip liner. Also changing the shape of the face using contouring and adding glittery powers and calling it highlight. If you ask me, we photoshop our faces. Oh boo hoo hoo," one of her followers comment on her post. "All of your posts are a work of art, please don't change it," said another.
The debate is still on about whether Liana was right in photoshopping her images. After all it's her Instagram account, and she can do whatever she wants to with her photos. However, as many pointed out, maybe things wouldn't escalate so much if Liana had put in a disclaimer, so her fans are aware what they are seeing may not be completely accurate.
But that clearly doesn't justify the hate.