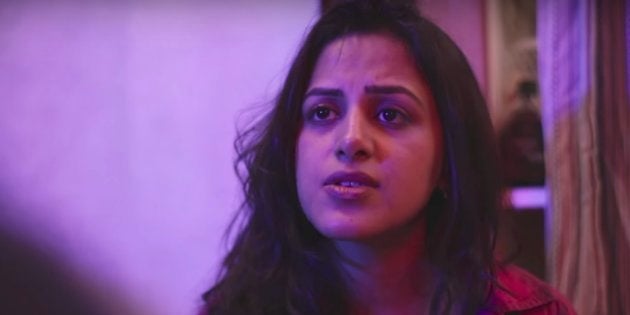 It's the season of sweet shorts.
After Hardik Mehta's beautiful slice-of-Mumbai-life, 'The Affair,' a film that explored the need for privacy in a city starved for some, comes Navjot Gulati's Ghumakkad.
As the title suggests, the film is about a solo traveller, who, fed up of issues piling up on a regular basis, whimsically decides to go on a 3-month sabbatical. And instead of focussing on the silent epiphanies our lead girl (Diksha Juneja) may or may not have had at her vacay, Gulati's story is about what she left behind, and how it all unravels when she comes back.
Just because you stop looking at an issue doesn't automatically make it disappear. This seems to be the film's underlying theme that tries to compress way too many issues/situations in its limited running time, making it feel longer than it is (about 20 minutes).
Boyfriend issues. Check. Daddy-Mummy issues check. Extra-marital affairs check. Best friend's sudden confession of love. Check. While Gulati's inherent attitude towards these morally complex situations is quite progressive, one feels he'd be able to tell the story more evocatively with fewer characters. He has many of them to suggest the magnitude of the lead girl's problems (which works, in a funny, dysfunctional family sort of a way, until it gets a tad too messy.)
There's also a scene (involving an Internet service guy), which is quite reminiscent of the famous plumber scene from Shakun Batra's Kapoor and Sons.
The film, which relies on conversational, everyday dialogue, is held together by a sparkling performance by Diksha Juneja (although she's messed up, she's still quite adorable, in a way that you want to hold her and say it's gonna be okay, which nobody does). Suhail Nayyar, who plays the boyfriend, shines too, as the lovestruck Bollywood fan, who has a song for every situation.
Overall, Ghumakkad is a brave attempt that tries to capture the confused millennial spirit, where travelling (especially to Europe; and yes Imtiaz Ali, you are partially responsible for romanticising it) seems to be an escape to all problems.
But even if we escape our troubles, it isn't necessary they'll leave us alone too.