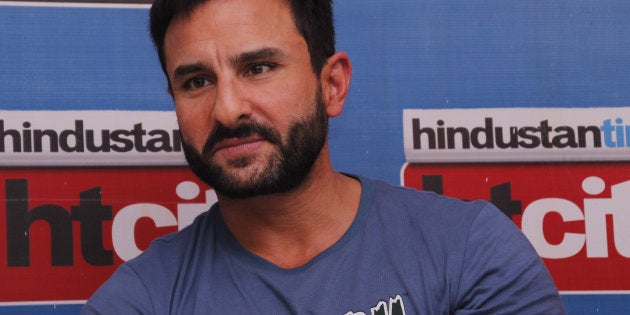 Saif Ali Khan is all set to headline the cast of Sacred Games, Netflix's first original series in India.
While the streaming giant has produced a number of hit international shows (it got 91 Emmy nominations this year), Sacred Games, an adaptation of Vikram Chandra's 20006 crime novel of the same name, will be their first original series in India.
In a statement released by Netflix, Saif said, "Content In the digital space is taking over the existing dynamics at a rapid pace - the crown in the digital empire lies with Netflix, and it's extremely satisfying to partner and participate in the first original series from India to be showcased on Netflix."
Erik Barmack, vice president of international original series at Netflix, said, "Saif's role is layered and complex, and we are thrilled to be working with such a fantastic actor to bring this story to a global audience."
While both Amazon Prime Video and Netflix entered the Indian market in a big way, none of the top Bollywood stars have signed up yet to act in an online series, although Amazon has a lot of original programming in the pipeline, casting of which will be announced in the coming months.
Saif, whose career got a major boost with the new-age drama, Dil Chahta Hai at the turn of the millennium, has once again proved that he has no qualms warming up to a new, contemporary digital medium, something that most A-listers in Bollywood are yet to fully embrace.
Could his career, which has seen a spate of box-office duds like Rangoon, Phantom, Humshakals be revived with the Netflix show? While a fresh lease of online life could very well be possible (and he'll have the first-mover advantage), it's worth noting that he has an interesting bunch of films lined-up. He's got the Indian remake of Jon Favreau's Chef (which Raja Krishna Menon of Airlift is directing), Akshat Verma's comic caper Kaalakaandi, and a Wolf of Wall Street-styled stock-market drama, Baazaar.
However, SacredGames, where he'll be seen essaying the role of Sartaj Singh, a jaded cop, who is pitted against one of India's most-dreaded gangster, is right up Saif's sleeve, and very well could turn out to be one of those celebrated performances that might just get the talented actor back in the groove.
While the Netflix announcement didn't mention a director, sources tell HuffPost that Vikramaditya Motwane (Lootera, Trapped) is likely to helm the series.
While Bollywood stars are taking baby steps into the online marketplace, internationally, major actors like Brad Pitt (War Machine), Kevin Spacey (House of Cards), Michael Sheen (Masters of Sex), Jessica Lange (Feud, American Horror Story), have already made the transition, solidly capitalising on the creative freedom streaming companies offer as compared to conventional Hollywood studios.
As far as India is concerned, Amazon beat Netflix to launch its first original series, the Karan Anshuman-created Inside Edge, which has opened to mixed reviews. Netflix, on the other hand, commissioned two comedy specials, one with Vir Das, which is already streaming, and another with Aditi Mittal, which premieres July 17.
With SacredGames taking off, they've finally arrived.