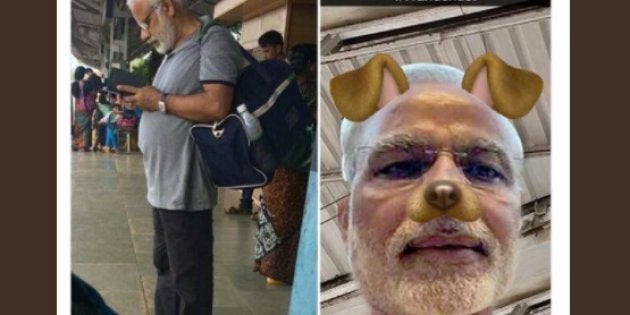 While Prime Minister Narendra Modi may have been in favour of humour in public life, many past incidents have showed that his fans and followers are not the ones to take jokes in their stride.
When it comes to cracking jokes on Modi or even criticising his decisions and moves, it is a known fact that the BJP trolls come crashing down on people. And the latest victims are All India Bakchod.
The photo of a Narendra Modi lookalike was doing the rounds of social media, and while everyone was making fun of it, they also put out a tweet with the photo of the doppleganger and that of Modi with the Snapchat dog filter. And of course it did not go down well. But when they deleted the tweet, Congress leaders joined the bandwagon of trolls going at AIB.
After this people associated with the Congress also took digs at AIB for deleting the tweet about the doppelganger.
Here's what they had to say:
However AIB's Tanmay Bhat and Rohan Joshi were not going to take it lying down:
And it did not stop there:
While another Congress guy assured AIB that they would never be hounded if they were to troll Congress leaders, Rohan Joshi stepped in to take a dig at them.
However at the end of it all, Tanmay Bhat left us with a quote from PM Modi:
This isn't the first time that the group of comedians have gotten into trouble. They have had to take down and apologise to people on other occasions.
AIB is perhaps one of the first groups of comedians who shot to fame and became instant hits on YouTube. Started by Gursimran Khamba and Tanmay Bhat, Ashish Shakya and Rohan Joshi joined the group later.