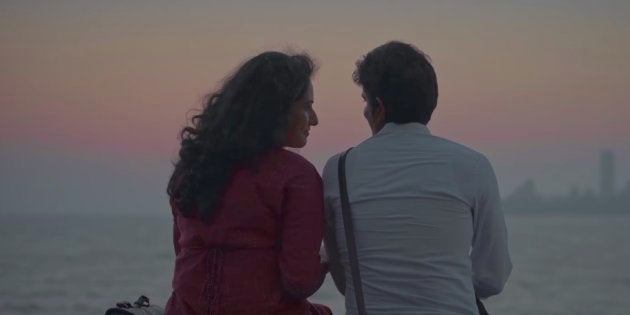 In a city where real-estate prices are perennially formidable, it isn't very rare to see families of over 5 members residing in a single-room apartment.
In fact, it isn't rare at all.
Compared to the number of people bundled together in shanties, a 1 room flat in a proper building in Mumbai is, in fact, a luxury to be grateful for.
And undoubtedly, the biggest casualty of living with your clan in a crammed apartment is intimacy.
So the situations families aren't prepared, or equipped in dealing with, organically find their way in public parks and coastal promenades, places peppered with young couples, enjoying quiet moments of intimacy.
It's ironical then that the privacy which a house cannot afford is extended by public places populated by strangers. Perhaps each of them is aware of the other's predicament and hence has made peace with the restrained, conscious, but very public display of affection.
This is exactly the theme of Hardik Mehta's sparkling short, The Affair, produced by Manish Mundra's Drishyam Films. Mehta previously made Amdavad Ma Famous, a festival-trotting docu on the city's famous kite-flying festival.
In a way, The Affair also encapsulates the many contradictions of Mumbai. While the house is tiny and the people are too many, the same city also offers the couple complete anonymity by the sea.
While The Affair sounds like a sordid tale of passionate infidelity, it is well, just clever wordplay.
As the film unravels, with Piyush Puty's camera taking you to the sea, the trains, the buses, the very Mumbai houses, it'll end up putting a massive smile on your face, and maybe a joyful tear or two.