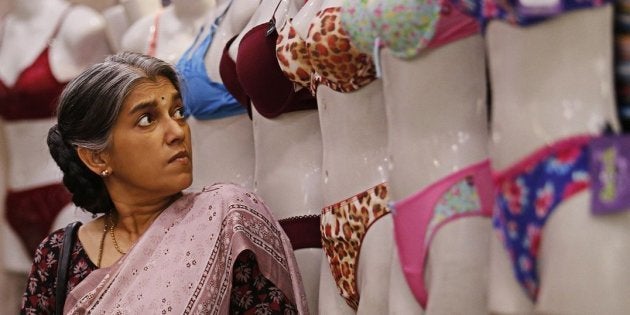 Alankrita Shrivastava's Lipstick Under My Burkha has had an elaborate battle with the Indian Censor Board (or the Central Board of Film Certification - CBFC).
The film, starring Konkona Sen Sharma, Ratna Pathak Shah, Aahana Kumra, Plabita Borthakur and Vikrant Massey, was denied certification by the Board for being too 'lady oriented,' a decision that not only baffled many but was also telling of the Board's chief, Pahlaj Nihalani's, deeply regressive attitude.
The makers contested the decision and took their fight to the FCAT , which directed the CBFC to clear the film with an 'A' certificate.
Ever since the FCAT's decision, the makers are coming up with unique ways to rub their victory in against the Censor Board.
First, they came up with a poster that had a lipstick covering the middle finger and now, Ekta Kapoor, who is presenting the film, has unveiled a new trailer.
Taking complete advantage of the controversy, the trailer starts with real-life news reports of how the Censor Board tried to sabotage the film's release. It has supers that say, "The Most Controversial Film of the Year," and "They Said It Has Contagious Sexual Scenes" before cutting into a shot of a woman who asks, "Why are you so scared of our freedom?"
It is an extremely clever approach wherein the film's content transcends its fictional barriers to convey a message to the same establishment that tried to derail its very existence. It's almost like the actors in the trailer are telling Pahlaj Nihalani and co. that no matter how hard they try to suppress an independent voice, it will come back, only louder.
In a way, Nihalani has done a great service to Lipstick Under My Burkha. By attempting to ban the film, he has put more spotlight on the production. Even the less curious ones are now excited to check what exactly it is they were being prevented from watching. And fortunately, this film needed all the attention that it could get.
How many times to do we see a film about the sexual lives of women, entirely from a woman's point of view? How many times have the sexual escapades of older female characters been represented on screen?
Chances are very few to negligible.
It is for these very reasons that Lipstick Under My Burkha is an extremely relevant and an important film, especially in a country that's still grappling with the horrors of patriarchy, where some men still think they can decide how a woman should live, what she should wear, and who she should hang out with.
The new trailer is a hard slap on the faces of all the forces that tried to stifle the voices, faces, and stories of these women.
Watch the trailer below. The film opens in cinemas on July 21.