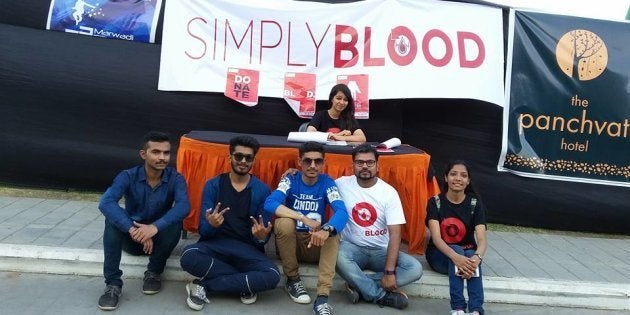 Kiran Verma was all of 18 years old when he regularly began donating blood. Naturally, he didn't know at the time that he would go on to set up the world's first virtual blood donation platform.
In August 2016, Verma experienced a "life changing" event. One of his friends needed platelets for his mother who was afflicted by dengue. His friend asked for platelets on a WhatsApp group dedicated to blood donors, hoping he would get it in the next 2-3 hours. But he didn't and his mother passed away.
Verma's mobile blood donation app, which became functional in January, has over 10,000 registered users and has already been downloaded 7,000 times.
He created the platform to connect blood donors with those in need of blood. "We have connected over 800 people in the last three months," Verma told HuffPost India. Demand has far exceeded supply."We need more donors to register," he added.
The idea of creating an app first occurred to him last year after he was told by a patient's wife that the blood Verma had donated for free had been sold to the patient for ₹1,500.
"I realised the person who had called me for donating blood was a tout who was running a black market in Delhi," he said.
Verma's app, called Simply Blood, is available on Google Play Store and those using non-Android mobile devices can access it at simplyblood.com.
The user needs to register as a blood donor on the app. The user can then choose any date to donate blood. The app tracks the user's location on the selected date and shares all the requests within a radius of 10 kilometres. "So, even if the user is travelling to another location, Simply Blood will notify only the nearest possible needy on the selected date," Verma said.
He also spoke about the problem of selling blood illegally.
India, according to WHO data, needs 12 million units of blood annually but collects only 9 million, which is a 25 percent deficit. Often, the shortfall hits 50 percent and, as a result, desperate patients resort to desperate measures to get blood.
"In blood donation camps, no one knows who is going to get the blood. While the donor may believe it will be for a noble cause, it is often sold by private blood banks at prices ranging from ₹1,500 to ₹50,000," Verma said.
He added that despite a 1996 Supreme Court ruling banning paid donors and unlicensed blood banks, there still existed a vast illegal market for blood.
A BBC report notes how the situation is much grimmer in rural areas. "I've seen patients being transfused directly from a donor, without any testing of their blood," Dr JS Arora, general secretary of the National Thalassemia Welfare Society said.
In situations when patients are in desperate need of blood, their relatives buy packs of blood directly from touts operating near hospitals. Rarer blood types fetch higher prices. "The resulting situation is life-threatening for millions of people," the report notes.
Verma says his app will let potential donors know when someone is in need of blood with just three clicks. He also said that with the app, the time for the donor to reach the recipient decreases.
Otherwise, when blood is required, every potential donor listed in a database is called and the process can take hours. "At times we fail to save lives due to such a long process," Verma said. He hopes that the app will go some ways in solving this life and death problem.
"With a database of 10,000 blood donors across India on our platform, the donor can donate blood without any middle-man involved," he said.