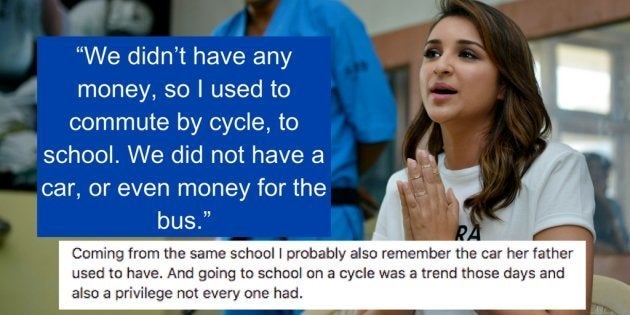 Bollywood actor Parineeti Chopra recently attended the graduation day at a self-defense academy for women in Mumbai along with actor Akshay Kumar.
Addressing a group of women at the event, Chopra spoke about the problems she faced as a girl growing up in Ambala, how her family went through a financial crunch, and how she never had the money to learn martial arts. Talking about the tough times, Chopra also said that she cycled every day to school as she did not have the money to go by bus or car.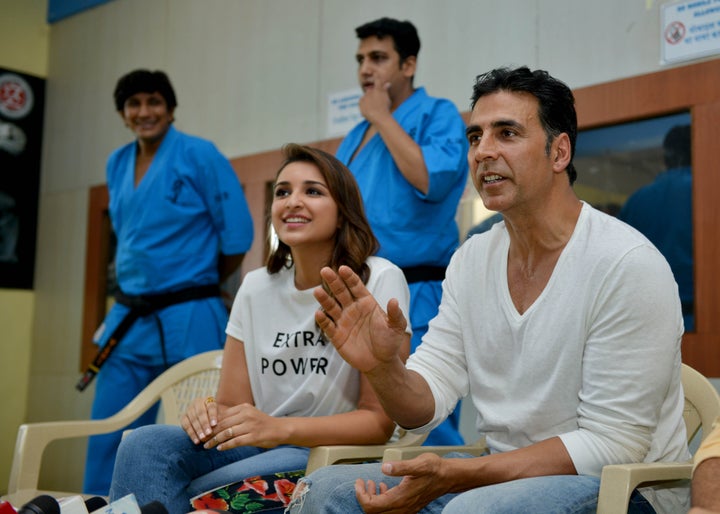 "I am so touched after coming here. I come from a very small town, Ambala. I had two brothers growing up and we faced a lot of difficulties. We didn't have any money, so I used to commute by cycle to school. We did not have a car or even money to buy tickets for the bus. I used to fight with my parents because I had to cycle to school every day. I didn't have the money to join a martial arts class then. I am so happy that you got this opportunity. Thank yourselves that you are graduating from such an institute. Make use of this knowledge and go kick some ass," she said at the event.
However, her anecdote didn't go down well with her "schoolmates" from Convent of Jesus and Mary in Ambala. A Facebook user Kkanoo Gupta claimed that the actor was "lying through the teeth".
Sharing the video, Gupta wrote:
"Shame........ coming from a privileged background and lying through the teeth in front of camera. I guess this is what being a celebrity means. Create a fabricated sob story of no money no car etc etc.

Coming from the same school I probably also remember the car her father used to have. And going to school on a cycle was a trend those days and also a privilege not every one had.

My friends from CJM would probably understand the lies a bit better.

SIC."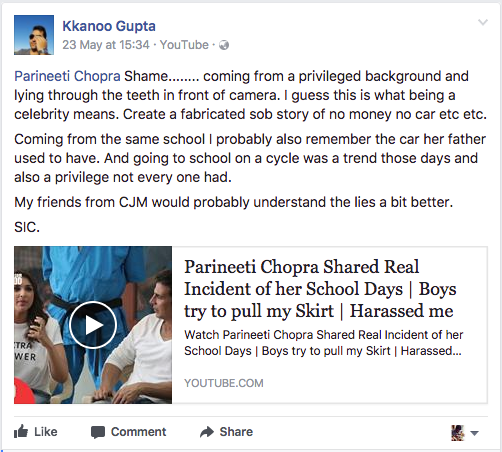 Many chimed in with the post and claimed that the actress was lying, while some sarcastically commented about how "underprivileged people study Masters from Manchester/UK".

Some claimed it was merely a publicity stunt.





After receiving a good deal of flak on the social media for "faking" her "poor" childhood story, the Meri Pyaari Bindu actor took to Facebook and Twitter to clarify that her story was being misconstrued.
Hi everyone,

I think what I said at a martial arts event a few days ago has been misconstrued in some places, so I would like to take a moment and clarify what I meant.

As long as I was in school in Ambala my brothers and I did not have access to a car and driver to take us to school so they took the bus and I cycled. My dad followed close behind me to ensure I reached school safely. My dad did have a car that he used for his office work but we kids did not use if for school travel. As a child, I hated going on a cycle! But today I understand that he was doing it to make me independent and keep me safe. I know I said this even that day but somehow it's been misconstrued, about something very irrelevant about me having a car or not!! I was talking about using a car and driver to go to school thats all. The essence of what and why I was giving that example was completely lost. I am proud to be present at a time that girls are becoming stronger with training in martial arts. If I had such an opportunity back then, I know I would have felt much confident!

I am responding now as I was travelling out of the country all this while. I would request everyone concerned to please not let menial things like this take precedence over what I was actually trying to say, about women's safety and challenges that we girls face while growing up.

Thank you!