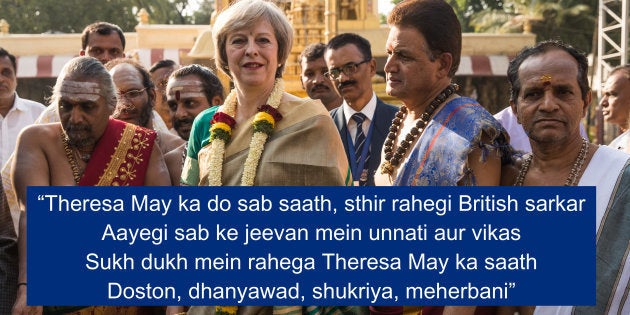 The Internet is a gift that keeps giving, and now we have a Hindi song in praise of — yes, indeed — the British Prime Minister, Theresa May. The song, which aims to gain support for May among the 1.6 million strong British Indian community ahead of the British general election of 2017, has been released by a group called the Conservative Friends of India.
It urges voters to join hands with the British prime minister and elect a strong stable government.
It's titled, Theresa Ke Saath ("We're with Theresa").
The video accompanying the soundtrack has been made by the same folks who were responsible for the hideously cringy song, Neela Hai Aasma, about the then British prime minister David Cameron. (Watch it here if you haven't already.)
The latest video features Theresa May being garlanded, meeting the Indian prime minister Narendra Modi, and wearing a saree. These visuals are from her two-day trade mission visit to India last year.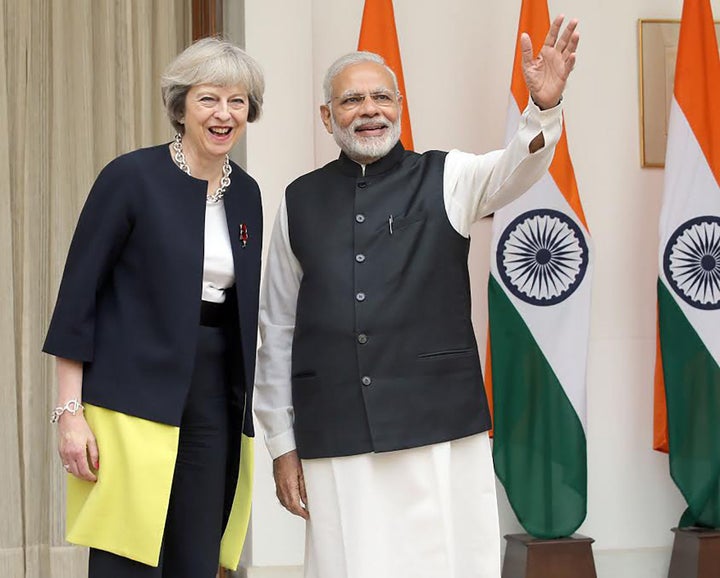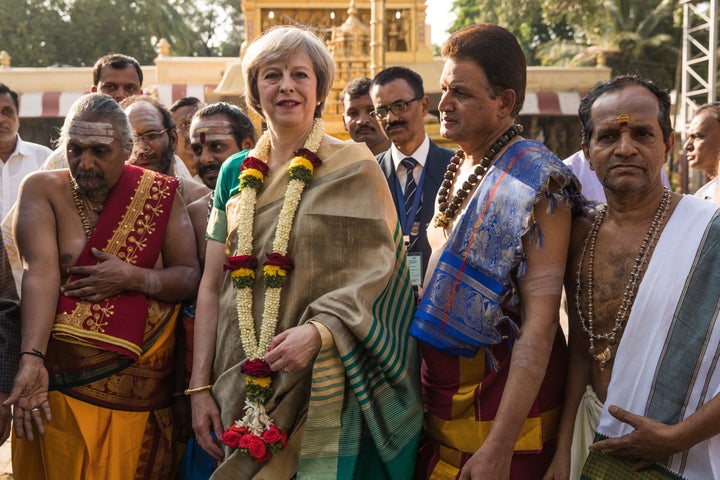 Ranjit Singh Baxi and Shailesh Vara, co-chairmen of CFI said in an interview with the Telegraph, "Given the importance of social media, we very much hope that this short video will reach many British Indians and help persuade them to vote for Theresa May and the conservatives on 8th June."
Here are the lyrics of the song because, who knows, this could be your new favourite jam.
Doston, dhanyawad, shukriya, meherbani
Ab phir samaye aya hai, saath nibhane ka
Pichle samaye jo saath nibhaya, uska bhi salaam
Doston, dhanyawad, shukriya, meherbani
Theresa May ka saath nibhana, Conservative ko hai jitana
Paanch sal Theresa May ke saath, yahi hai vatan ki shaan
Theresa May ka do sab saath, sthir rahegi British sarkar
Ayegi sab ke jeevan mein unnati aur vikas
Sukh dukh mein rahega Theresa May ka saath
Doston, dhanyawad, shukriya, meherbani
Theresa May, Theresa May, thaam lo inka haath
Jo leke challenge hum sabko apne saath
Just in case you need the translation —
Thank you, friends grateful for your support,
Again, the time has come for us to be together,
Thank you for your continued support
Let's join hands with Theresa May
To make Conservatives win
Let's join hands with Theresa May
For a Strong Stable government
She will bring Growth & Prosperity for us all,
Theresa May will support us always
Let's join hands with Theresa May
Who will take us forward together
Let's join hands with Theresa May
Here's the video: (Pro tip — to enjoy every bit of the song, use your headphones.)