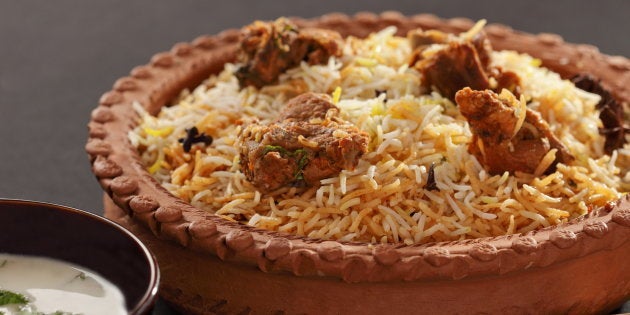 Any biryani lover can sing praises of the dish -- fluffy, long-grained and flavourful rice, tender meat and the heady aroma of spices and herbs -- but ask them about their favourite one and opinions are likely to be divided over which region serves the best biryani. From the light and fragrant Lucknowi biryani, to the spicy Hyderabadi one, the Kolkata version with potatoes and eggs, and the mild Malabar biryani, there are numerous regional variations of the dish. We asked some of India's top chefs about their favourite biryanis from around the country. Here's what they had to say.
"I cannot forget the vegetable biryani that I had in Hyderabad few months back. This small biryani joint in old Hyderabad served biryani with a unique biryani pickle. I was researching for my book on Pickles of India when someone said that there is one old man selling biryani and biryani pickle that I should try and that led me to him. It was evening, and within the market, there was an old man with a degchi of biryani on a cart. It was the pickle which made the difference. It had biryani flavours. There was no main ingredient but many roughly ground spices in oil. I could feel browned onions, mint, chilly, cardamom, coriander, shahi jeera, cinnamon, cloves besides oil. This enhanced the overall flavour of the meal, making it one of my most memorable. Hyderabadi biryani is a bit masaledar and quite moist. The quality of rice and how it is made is more important than the meat. Rice has to soak in all the flavours, has to be soft and moist."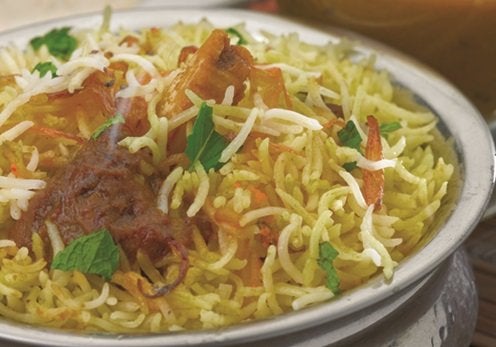 Sanjeev Kapoor
Two biryanis stand out for me: the light, flavourful Lucknowi biryani and the robust spicy one from Hyderabad. It would be impossible for me to pick one, was tough enough narrowing down to these two.
A biryani from Hyderabad, they say, is like its people, exciting, spicy, sweet and tangy – all in one. Mostly a kachchi biryani, where you don't pre-cook any of the ingredients. All the ingredients cook together to create a happy marriage of flavours. Pieces of marinated mutton, soaked long grain basmati rice and fragrant whole spices, perfectly sealed and cooked together on low heat for hours – till the meat is tender and falls off the bone and the rice is fluffed up and soft. Fried onions or birista, fried nuts, kewra water and saffron strands are added for aroma, texture and flavour. When compared to a Hyderabadi biryani, the Awadhi biryani uses less spices and oil, is lighter in colour and has more delicate flavours. It is more pulao like with a rice and masala ratio of around 70:30 -- more rice and meat and less masala. Cooking it in dum keeps the dish moist and the flavours sealed.
Ranveer Brar
My favourite biryani is from Lucknow, because I am from Lucknow. It is from a 50-year-old shop called Idris Ki Biryani in Chowk in Patanwala. Right now it is run by the third generation of the family, a man called Abu Bakr. The reason it is my favourite is because it is till cooked the way Lucknawi biryani should be cooked, like pulao. The rice is already half cooked and the lamb is also cooked, and they are then lined together and finished. I discovered the shop when I was 16. It is fairly well-known in Lucknow, and among the two most famous shops for biryani, the other one being Lalla ki Biryani. Abu bhai still cooks his biryani on charcoal and he only does three items: biryani, strew and sheermal. For me, people doing less dishes do good food. His other advantage is that he is right next to a meat shop and he gets the freshest and choicest of meats.
The beauty of Idris or Lucknowi biryani is its subtle spicing. We don't do our biryani with a lot of masala. Instead, khada masala is placed in a muslin cloth and make a stock out of it called yakhni, so you will never get a spice in your mouth. I've cooked with Abu bhai twice. It is also something to do with the charisma of the place. Every time i cook there, it is great, every time I cook at home, there is something missing.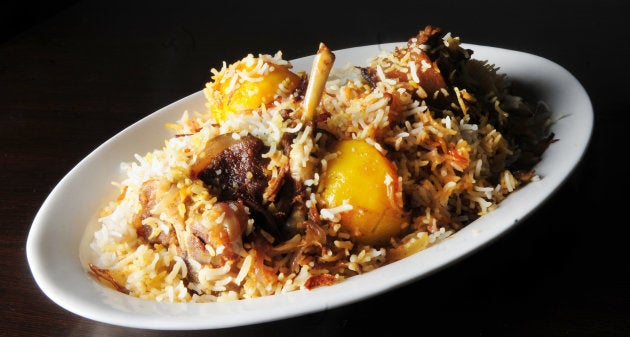 Manish Mehrotra, Indian Accent, Delhi
I love all different kinds of biryani, but one of my favourites is from Calcutta. that is not because of chicken or mutton but because of the potato. The potato is a simple vegetable, and one thing that everyone takes for granted. Doing something inspiring with the flavour is not an easy job. Potato is one vegetable everyone takes for granted. The potato is cooked while the rice is cooking and it absorbs the flavour of the meat, stock of the meat and spice especially turmeric so well that it is amazing. It becomes so tasty that in biryani, the potato becomes the hero. Making potato the hero in a non-vegetarian dish is a work of art.
I first tasted that biryani in a small restaurant in Kolkata three years back, where we had gone to eat chicken biryani and Calcutta roll, both were fantastic. That potato had so much impact on my mind that I created a dish on my menu called Calcutta biryani aloo, where I cooked the potato as the protagonist in the dish without rice.
My second favourite is the traditional biryani from the restaurant Thalappakatti in Dindigul, Tamil Nadu. This is a very masala-oriented biryani where the spices are really overpowering. Then there is the biryani from north india, Awadh, where biryani is too fragrant with ittar and gulab jal it overpowers everything. The Kolkata biryani is a very simple biryani. It doesn't have too many spices. For me a chef, for me, making a simple dish with less ingredients is more difficult than making complicated dish with 100 ingredients. Just like it is tough to make peeli dal tasty than a kaali dal cooked with butter and cream.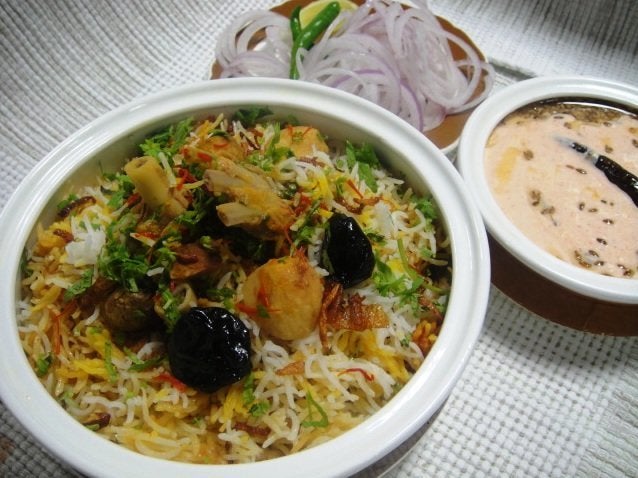 Chef Manjit Gill, Corporate Chef, ITC Hotels
My favourite biryani is Mumbai's Bohri Biryani. When ITC was planning its first luxury hotel in Mumbai, we started researched on the region's archetypal cuisine. This was my first tryst with the Bohri biryani and I have been a fan since. What I like particularly about this biryani is the abundance of vegetables, potatoes and prunes along with the most tender meat. The Bohra community's roots can be traced to Gujrat and they are an integral part of the business community of modern Mumbai. Communal eating is predominant and the biryani always finds pride of place in Bohri homes. This biryani which has now found home and heart in Mumbai, is testimony of why the city is called the melting pot of cultures.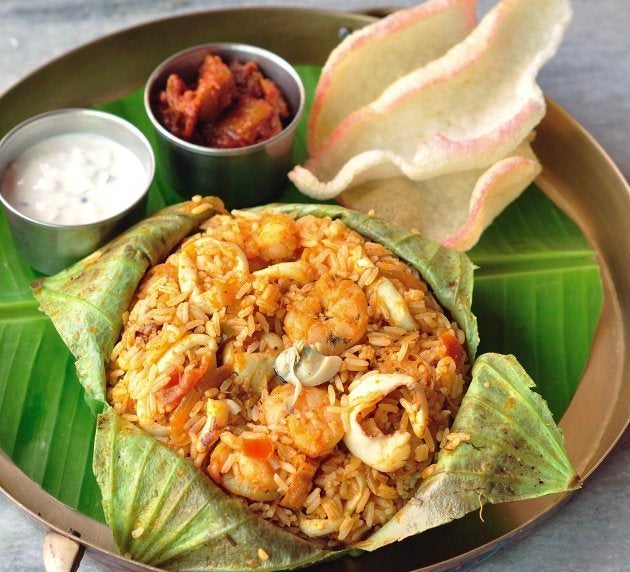 Thomas Zacharias, The Bombay Canteen, Mumbai
My favourite kind of biryani is the Calicut-style Malabar biryani, which is particularly prominent in the city of Kozhikode in Kerala. It's an integral dish in Kerala Moplah food, a cuisine which was born as an amalgamation of Arab and Malayali influences in the area. This style of biryani is unique in the kind of rice (a short grain variety called kaima), the subtle use of spices, browning of onions and use of ghee in the recipe. It is a lighter version of biryani which you can eat endlessly without feeling bloated. The legendary restaurant called Paragon in Calicut (with a branch now opened in Cochin as well) served the best version of this biryani. They make versions in chicken, mutton, prawns and fish.
Saransh Goila, Goila Butter Chicken, Mumbai
I've tried a lot of biryanis across the country but my favourite is the Calcutta one, which is interesting because of the potato and the egg. It is that flavourful potato that makes the big difference. It is amazing how they make the potato which has this nice scent and is cooked perfectly. It is very similar to the Lucknowi style, but because of the potato it becomes different. I first tried when I was travelling for my show Roti Rasta aur India in 2012. My favourite Kolkata biryani restaurants are Arsalan and Aminia.
I am not a big fan of the Hyderabadi biryani. I think the Calcutta biryani would be accepted more widely. It is light and more flavourful. It is definitely more aromatic, while the Hyderabadi one is spicier. Though the spices are the same, it is the just ratio of spices that makes the difference. The biryani masala has shahi zeera, dalchini, elaichi, it has laung, all the entire biryani spices. The only thing that differentiates them is the colour. Lucknowi or Kolkata has a touch of yellow, while Hyderabadi is white. The garam masala, javitri (nutmeg) and jaiphal (mace), add value to the Calcutta biryani, while kevra gives it the nice fragrance.
Atul Kochhar, Michelin-starred chef, Benares and NRI
"The vegetable biryani inspired by the Lucknowi biryani, has to be one of the simplest recipes ever to come out of India and is one of my favourites. Indian food is full of fusions after centuries of maturing and mixing with many cultures, so use any vegetables that please you -- that's the biggest leeway a cuisine can offer."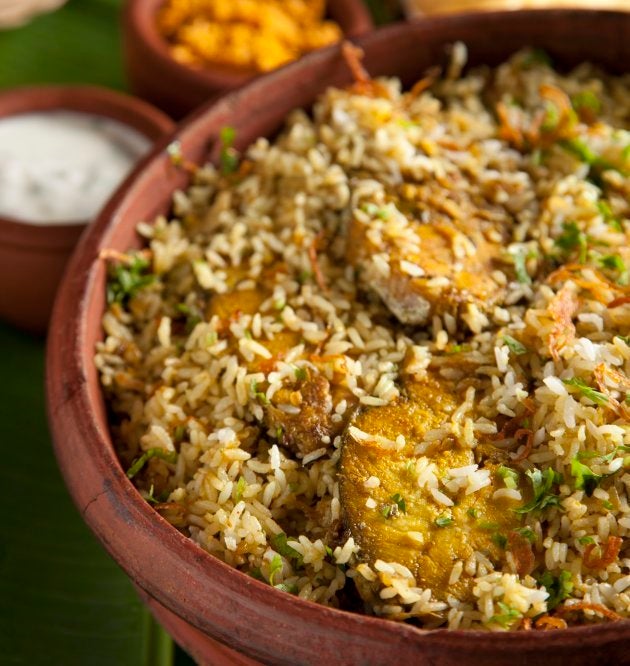 Naren Thimmiah, Executive Chef, Karavalli, The Gateway Hotel – Residency Road, Bengaluru
My favourite is the Thalaserry Moplah biryani. Rice is a staple for the Moplah community from north Malabar, where a majority of people are from the trading community with a lineage from the Middle East and Persian countries. The influence truly reflects in their food as well, with liberal use of dry fruits or for that matter, subtle usage of mild spices in their cuisine. Thalaserry Moplah biryani can have its roots in the biryani of Samarkand brought in by Moguls and also the indigenous Muslim rulers of Arcot and Mysore.
I like this biryani for its wholesomeness and its mild and fragrant taste. This is quite different from the traditional spicy biryanis of the South. The use of fried dry fruits makes it even richer and tastier. The use of date chutney gives it a distinct flavour with its sweet, sour, and spicy tones. The other point which makes it even special is the fish variation that differentiates it from the regular chicken or meat versions.
Manisha Bhasin, Senior Executive Chef of ITC Maurya, Delhi
My favourite is the Sarai ki Biryani, a dish which evolved from the area which is now the National Capital Region. Lamb and basmati rice are cooked together with whole spices and completed with angel hair onions. Served with mint yogurt sauce, this biryani is a complete meal in itself.
This biryani also has a bit of history attached to its origins. Right through the Mauryan Empire (when it was built) to when Bahadhur Shah Zafar ascended to his throne, the Grand Trunk Road was used by traders, armies and noblemen alike. Naturally, this gave rise to several taverns or 'sarais' which dotted the route. Biryani was extremely popular at these 'sarais' since it was easy to prepare (cooking meat and rice together with spices) and also easy to eat for those who travelled long and far on the Grand Trunk Road.
There are a few families and historic eateries in Old Delhi which still use the traditional recipes of preparation. I first tried it in a family's home in the Walled City. That's when we were inspired to research it, refine it and include it as part of our menu. Sarai ki Biryani is different from the Lucknow biryani is terms of preparation, flavours and ingredients too. For example, tomatoes are used in the Sarai ki Biryani, and it is also more than the Lucknow version.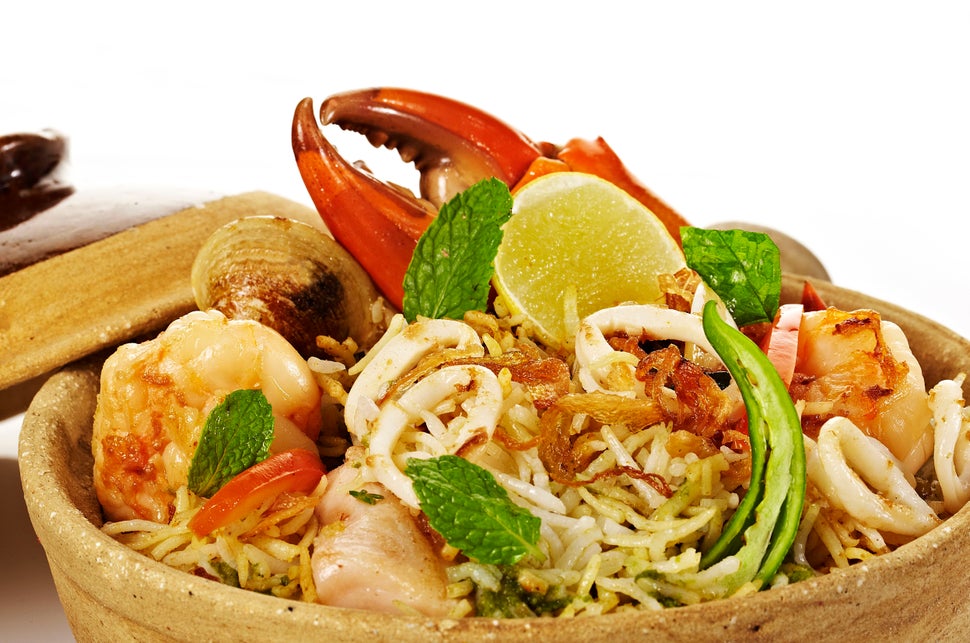 Ajit Bangera, Senior Executive Chef – ITC Grand Chola, Chennai
One of my favourite biryanis is the seafood-based kadal biryani I created for ITC Grand Chola in 2011, before the hotel even opened. Kadal means the sea in most of south India and this is a variation of my mother's recipe. The inspiration comes from my background of growing up in a Mangalorean home where no meal was complete without some form of seafood.
It can be made with a single type of fish on its own, or a mix like fish, prawns, mussels, and scallops. The brilliance of this biryani comes from the use of fresh coconut milk, seafood stock, a selection of South Indian spices such as cumin, black pepper, cloves, cinnamon sticks and turmeric and fresh coriander, green chillies and tomatoes. I would never use turmeric, cumin seeds, fresh tomatoes and coconut milk, if I make a meat or chicken biryani, but these ingredients play a significant role in heightening the flavour of the seafood biryani.