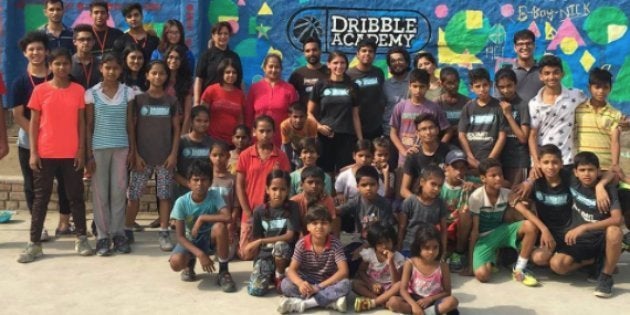 In a video by Footletic, a young girl says, "Over here girls are considered inferior and expected to be in the kitchen. So they do not educate them much." She is talking of a village called Gejha, in Uttar Pradesh's Noida. "Gejha is very dirty. People speak filthy language here, I don't like it," adds another young girl.
While their lives haven't changed overnight, a glimmer of hope in the way of basketball trainer Pradyut Voleti came their way recently. Twenty-seven year old Voleti is a trainer who learned the game in America. Now, he travels around the country and coaches people on basketball.
Voleti runs his own basketball coaching institute in Noida, called Dribble Academy.
"I started with five kids, two bamboo sticks and one ring a year ago," he tells HuffPost India. Dribble Academy is not only changing the lives of underprivileged kids in the villages of Gejha and Hoshiarpur, but it is also equipping them in the ways of life. Voleti mentions that the kids, all of whom are from ages 5 to 15, undergo basic English lessons, they watch documentaries and learn about things that are usually taught within the confines of posh Delhi classrooms.
Voleti who himself has been a student of clinical psychology says, "They already have a cultural and educational gap from kids who have the luxury of going to schools. So, we are trying to give them lessons on everything to bridge the gap. I have another coach who helps me and then there are volunteers who teach these kids. In fact, to play and be a part of the team, these kids need to keep up their exam scores and need to at least meet the basic criteria. I am not trying to turn them into world class basketball players here, but to give them a chance at life. I want to take them as far from the drugs and violence as possible. The eventual aim is to enable them to bag a good job and help them sustain themselves."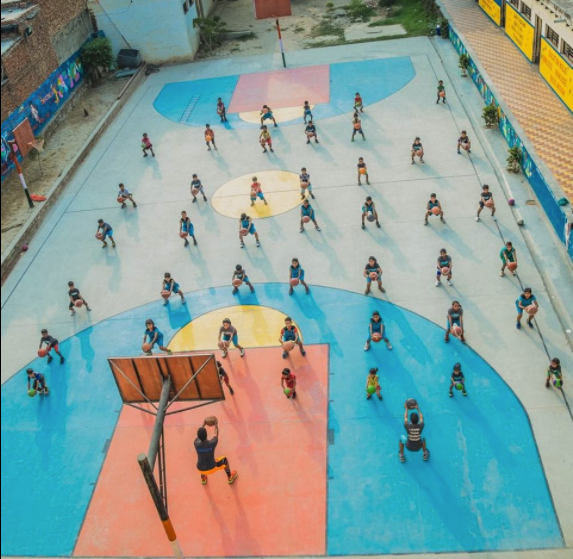 It seems like Voleti is successful for the most part, as at least 130 out of the 300 kids he trains in both the villages are girls. "Girls coming out to play in such numbers is huge. Just to pull this off without any major funding is an achievement it itself," he adds.
That is how he runs the academy as well -- without much funding. He uses his own money to run the academy. There are a couple of companies that have pitched in to help them with money but that also isn't much. With the money sourced from these places Voleti says he can manage milk and bananas for the kids thrice a week. "It is still better than nothing at all," he laughs.
He says that getting the kids to come regularly is an achievement in itself and add to that the negligible dropout rate. Voleti mentions that they are very strict when it comes to discipline and there are a lot of rules and regulations to follow.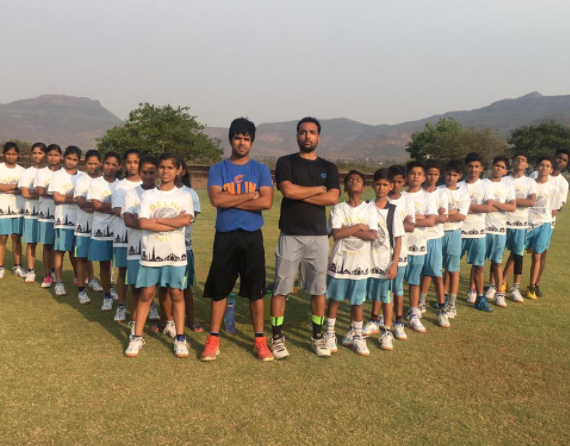 As luck would have it, Voleti claims that schools in Noida are now clamouring to give scholarships and admissions to these kids.
It is not difficult to fathom how involved he is in the lives of these kids. One of them mentions in the Footletic video, "Pradyut Sir is my mother, my father, my teacher, my guru."
Voleti also runs programmes in societies situated next to villages so as to sensitise privileged kids about the life and struggles of the underprivileged ones.
When asked if he has any plans of expansion, Voleti says that he would like to make this project pan India.