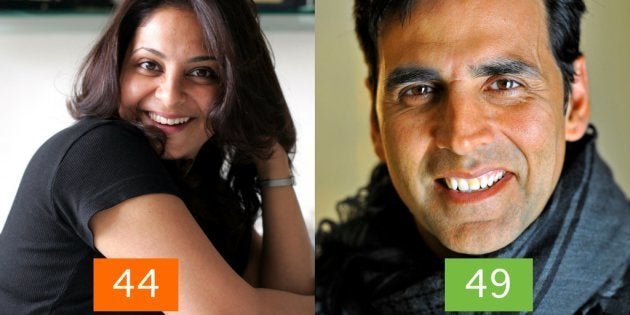 You think a weepy, sacrificial mother in Indian cinema, and you think Nirupa Roy. In fact, Nirupa Roy -- thanks to a slew of Bollywood films in the 70s and early '80s -- became a cultural currency to describe the melodramatic mother figure.
Her name is almost synonymous with Deewaar's famous dialogue -- 'Mere Paas Maa Hai'. In the film, a dapper Shashi Kapoor walks up to an angry Amitabh Bachchan and declares, he may not have the 'bangla, gaadi' etc. but he has their mother. That dialogue from the 1975 film turned into a cultural phenomenon of sorts.
Now here's a fun fact: when 1931-born Nirupa Roy played that role she was 44-years-old. Her onscreen 'sons' -- Shashi Kapoor was 37 and Amitabh Bachchan was 33 -- were just seven and 11 years younger than her respectively.
In 1976, another film starring Dharmendra and Hema Malini as the romantic lead released. It was called 'Maa' and guess who played the titular role? No surprises that it was Roy. 1935 born Dharmendra was just 4 years younger than Roy, who played his mother.
In 1999, Bachchan was cast opposite Manisha Koirala in the film Lal Badshah. Koirala was 29, Bachchan was 57. When Om Shanti Om released in 2007, Shah Rukh Khan was 41, Deepika Padukone 21. More recently, Sonam Kapoor (then 29), played the romantic interest of Salman Khan (then 49) in Prem Ratan Dhan Payo and in an interview, Khan joked that it was strange to romance his friend's daughters.
Oh and wait, should we also talk about the women who have been playing the romantic interest of 66-year-old Rajinikanth? One of them was Sonakshi Sinha, whose father and Rajinikanth had played people of same age in films in the past.
Now if we were to start a list of male actors in India and especially Bollywood who played the romantic interest of women decades younger than them, we'd need an entire book.
While things are slowly changing -- Aishwarya Rai romanced Ranbir Kapoor in Ae Dil Hai Mushkil recently -- women have an almost inflexible sell-by date in Bollywood. One has to blame the consumers of Bollywood as well, they have no problems mooning over a 50-year-old romancing a 30-year-old but, but the masses will never pay to watch a woman that age play the lead.
A Twitter handle -- @BollywoodQing went on to make a thread on the Mother's Day pointing out Bollywood misogynistic outlook towards its actresses in this thread.
Here are a few instances that they brought up and a few that we dug up.
#1 Reema Lagoo - Sanjay Dutt
The screen mother the 90s kids were most familiar with, late Reema Lagoo played mother to every big male star in Bollywood. Salman Khan, Shah Rukh Khan, Sanjay Dutt, and Aamir Khan - everyone has played Lagoo's son in multiple films.
1958-born Lagoo played mother to 1959-born Sanjay Dutt in Mahesh Manjrekar's 1999 crime drama Vaastav. If we were to apply the same logic to male stars, do you think Aamir Khan (52) would play dad to Shah Rukh Khan (51)?
#2 Nargis Dutt - Sunil Dutt / Rajendra Kumar
India's another poster-mother -- Nargis from Mother India -- played mom to her husband Sunil Dutt in this iconic film.
You may want to know that Nargis, Rajendra Kumar and Sunil Dutt were all born in 1929 and was of the same age when Mother India released in 1957.
#3 Supriya Karnik - Hrithik Roshan
1975-born Supriya Karnik played mom to 1976-born Hrithik Roshan in the 2001 romantic drama Yaadein.
Supriya has also played Priyanka Chopra's (33) mom in Mujhse Shaadi Karogi (2004).
#4 Himani Shivpuri - Salman Khan
Himani Shivpuri, born in 1960, also has been Bollywood's preferred mom-masi-bua-chachi for a long time. She has played mother to Salman Khan, who is just five years younger to her.
#5 Reema Lagoo - Salman Khan
Reema Lagoo (born in 1958) has played 1965-born Salman Khan's mom several times.
This is like Salman Khan / Shah Rukh Khan playing dad to Aishwarya Rai. LOL.
#6 Himani Shivpuri - Govinda / Milind Gunaji
You need to look no further than this picture below to be convinced how sexist Bollywood can be to women. This still is from the film Jis Desh Mein Ganga Rehta Hain which released in 2000.
Seen in the frame are following:
Himani Shivpuri, playing mother. She was born in 1960.
1961-born Milind Gunaji and 1963-born Govinda play her sons.
#7 Priya Tendulkar - Jackie Shroff / Anil Kapoor / Shah Rukh Khan
The Hum Paanch photo frame's mom, Priya Tendulkar (born in 1954) played mom to Jackie Shroff (born in 1957), Anil Kapoor (born in 1956), and Shah Rukh Khan (born in 1965).
#8 Supriya Pathak - Kay Kay Menon
Supriya Pathak, a powerhouse performer, has often been cast as a mother in big budget Bollywood films.
Pathak ( born in 1961) happened to play Kay Kay Menon's mom in Sarkar (2005). Menon is just four years younger than Pathak in real life.
#9 Reema Lagoo - Shah Rukh Khan
She's going to make quite a few appearances in this list.
This young mom has even played Govinda's (53) non-biological mom in Jis Des Mein Ganga Rehta hai.
#10 Reema Lagoo - Daggubati Venkatesh
My favourite part of the movie Taqdeerwala (1995) was Yamraj (Kader Khan) eating "heem cream" and hand grenades. But looking back now and seeing the cast and their age, hand grenades is the least amusing part. Venkatesh, who was just two years younger than Lagoo, played her son in this film.
#11 Rohini Hattangadi - Sanjay Dutt
The year is 2030. Dutt is 70. He plays a gangster. His mom is Madhuri Dixit. Really, no one will be shocked if that were to happen in Bollywood.
Rohini Hattangadi (born in 1951) played Sanjay Dutt's mother in Rajkumar Hirani's Munna Bhai M.B.B.S. Dutt is nine years younger to her.
#12 Farida Jalal - Anil Kapoor
Farida Jalal (born in 1949) who has worked with 1956-born Anil Kapoor in movies such as Judaai (1997), Pukar (2000), Lajja (2001) played the role of Kapoor's mother in Laadla (1994) and Loafer (1996).
#13 Kirron Kher - Shah Rukh Khan
Kirron Kher (born in 1955) played 1965- born Shah Rukh Khan's mother in Om Shanti Om (2007). Kher has also teamed up with the Baadshah as his mom in Kabhi Alvida Naa Kehna (2006) and step-mom in Farah Khan's Main Hoon Na (2004).
Just to give you a perspective, this is like Govinda (53) playing Hrithik Roshan's (43) father.
#14 Kirron Kher - Aamir Khan
Who Khers about the age difference, right? Kher (born in 1955) played 1965-born Aamir Khan's mom in Rang De Basanti (2006).
#15 Waheeda Rehman - Amitabh Bachchan
Waheeda Rehman (born in 1938) plays 1942-born Amitabh Bachchan's mom in Namak Halaal (1982).
Rehman played Bachchan's wife in 1976's Adalat. Sigh,what's going on Bollywood?
Just Bollywood things, eh?
#16 Shefali Shah - Akshay Kumar
Okay, this is just very, very weird. Shefali Shah (born in 1972) played 1967-born Akshay Kumar's mom in the movie Waqt (2005).
Who knows, someday Bollywood will make Kareena Kapoor play Ranveer Singh's mom.
#17 Dimple Kapadia - Salman Khan / Arbaaz Khan
A very young Dimple Kapadia played mom to Khan brothers in the action-packed Dabangg (2008).
Dimple Kapadia was born in 1957. Salman was born in1965 and Arbaaz is 1967-born. Kapadia also played 1967-born Saif Ali Khan's mom in Cocktail (2012).
#18 Rohini Hattangadi - Rishi Kapoor
1951-born Rohini Hattangadi 1952-born Rishi Kapoor's mom in Damini (1993).
Yeah, go ahead, roll your eyes.
#19 Nirupa Roy - Shashi Kapoor/ Amitabh Bachchan
Vijay: Aaj mere paas paisa hai, bangla hai, gaadi hai, naukar hai, bank balance hai, aur tumhare paas kya hai?
Who, by the way, is just 7 years older in real life than her screen son in question.
#20 Rati Agnihotri - Akshay Kumar
Khiladi Kumar (1967) is extremely fit and shows no signs of ageing what so ever. However, he's 49 years old and playing son to 1960-born is a bit of a stretch, don't you think?
Yep. Agnihotri also played the role of Saif Ali Khan's in Hum Tum (2004).
#21 Rohini Hattangadi - Amitabh Bachchan
If you scroll down and see the poster below, you'll realise even Amitabh Bachchan is wondering wtf is up with Bollywood and its casting. Rohini Hattangadi (born in 1951) -- 11 years younger than Big B (born in 1942) -- played his mother in the 1990 action drama Agneepath (1990).
(Major credits to @BollywoodQing for flagging sexist ageism in Bollywood. You can always contribute to this list and we'll add it here with due credits.)
Also, make this a habit. Every time you watch a Bollywood movie, check the cast and go...