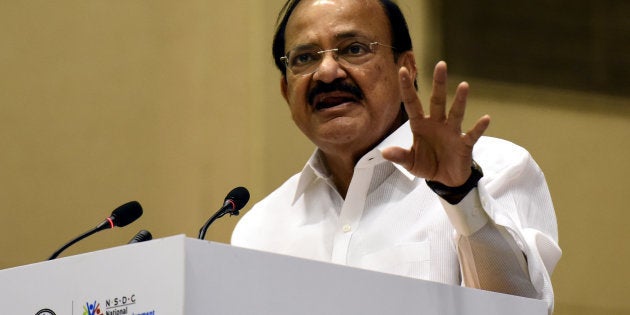 The new gold standard for Indian cinema, you may say, was already redefined when the jury for this year's national awards named Akshay Kumar the best actor for his role in Rustom in a year of serious contenders in movies like Udta Punjab, Aligarh and Dangal. But such surprises, it seems, are a dime a dozen.
At the 64th National Awards ceremony in New Delhi on Wednesday, Union Information and Broadcasting Minister Venkaiah Naidu hailed Bollywood blockbuster Bahubali 2: The Conclusion as "a shining example" of his government's ambitious Make In India campaign. The reason behind this ringing approval will hardly surprise anyone familiar with the emerging rules of national pride in this country, even though it may still make little sense. "It features home-grown talent and has been produced by our people," as Naidu put it.
That Bahubali has become a gigantic box-office sensation isn't surprising. Considering films like Dabangg and Happy New Year went to became huge hits, one has to give the Bahubali films the credit of at least trying to be visually gratifying. It isn't callous or lazy like several ₹100-crore wonders churned out in this country, but also by no means comparable to the rich tradition of cinema for which India is known in the world.
In Naidu's defence, he was probably focusing on the year-and-a-bit timeframe the national awards take into account and he did mention Dangal and Sultan as other examples of good contemporary Indian cinema. But leaving aside the matter of individual taste, what beggars belief is that a Union minister considered it fit to brag about his government's policies at an event ostensibly meant to commemorate artistic merit. The next thing we will hear is our greatest vocalists, painters and writers also owe a debt to the Olympian success of the NDA government's Make In India programme.
Coming from the man in charge of the information and broadcasting portfolio, such glowing praise for one kind of movie-making that seethes with sound, fury and spectacle feels quite in line with the spirit of this age, when only certain forms of cultural expression remain kosher in the eyes of the State. For if Bahubali is a shining example of "homegrown talent", so are plenty other movies that have been given a short shrift by the State but been applauded abroad. Alankrita Srivastava's Lipstick Under My Burkha is an example of "homegrown talent" being initially stalled for release by the censor board for being "too lady-oriented", but greeted elsewhere in the world with enthusiasm and interest.
To go by the recent spate of movies that haven't passed muster with the censor board, for the oddest of reasons mostly, there's proof that a Big Brother-like gaze is hovering over India's cultural life more keenly than ever, one that not only casts its hawk eyes on every indiscretion but also puts a ban on anything that it doesn't like.
In a country where a differently-abled citizen is assaulted for failing to stand up while the national anthem is playing before a movie screening at a theatre, nothing less than a chest-thumping nationalism appears to stoke the fragile egos of our moral custodians. And the ones which even slightly question the government's arbitrary idea of sanskar are asked to beep phrases, cut scenes or are not even allowed to see the light of day.
In the recent months, Haramkhor, a movie about a love affair between a teacher and his minor student has run into a knot of controversy with the censor board, while in reality, worst forms of barbarity are inflicted on a daily basis on young girls in India and often go unpunished. Cuss words were asked to be removed from several movies, including one about the drug mafia in Punjab. A Malayalam movie, Ka Bodyscapes, was told off for "glorifying the subject of gay and homosexual relationship" and even Oscar-winning Moonlight wasn't spared from cuts for similar reasons, though homophobic scenes from Badrinath ki Dulhania weren't asked to be excised. And so, the list goes on, too long and too familiar to be reiterated in its entirety.
Though he did pay lip service to 'the language of cinema', Naidu also commented that its beauty lies in 'national integration'. In saying so, he completely missed the spirit of cinema everywhere — one that also challenges, questions and refuses to toe a line. The overarching urge to sanitise the idiom of contemporary cinema to suit a narrow political agenda, therefore, was unmistakable.
While this government's enthusiastic public relations machinery is something most of us have grown a thick skin to, appropriating a cultural narrative that has grown and thrived without this government's, or any government's, active participation as an example of 'Make in India' is both shallow and opportunistic. While showering accolades on Bahubali, Naidu must have forgotten that the film has been distributed by Karan Johar's Dharma Productions. The same Karan Johar who had to go out on one limb before the release of his film Ae Dil Hai Muskhil and declare his unwavering 'patriotism' before promising he will never work with any Pakistani artiste again. They make that in India as well — this narrow, inflexible definition of 'patriotism', one that is imposed on everyone with fear, intimidation and abuse.
Though Naidu did applaud how Indian cinema reflects the country's cultural diversity, one wonders how the likes of Satyajit Ray, Guru Dutt, Shyam Benegal, Ritwik Ghatak, Mira Nair, Deepa Mehta (to pick a few arbitrary names from across the decades) figure in his idea of 'home-grown talent'. The works of all these filmmakers refused to dress up hypocrisies and atrocities of India's political class and society in the shiny garb of nationalism or sanskar. Would he consider them worthy 'home-grown' talent as the makers of Baahubali? We should be glad if he doesn't actually. Because great filmmaking (or any other form of art) doesn't subscribe to parochial imperatives of the State, but rather, follows its own spirit and belongs to everyone, everywhere.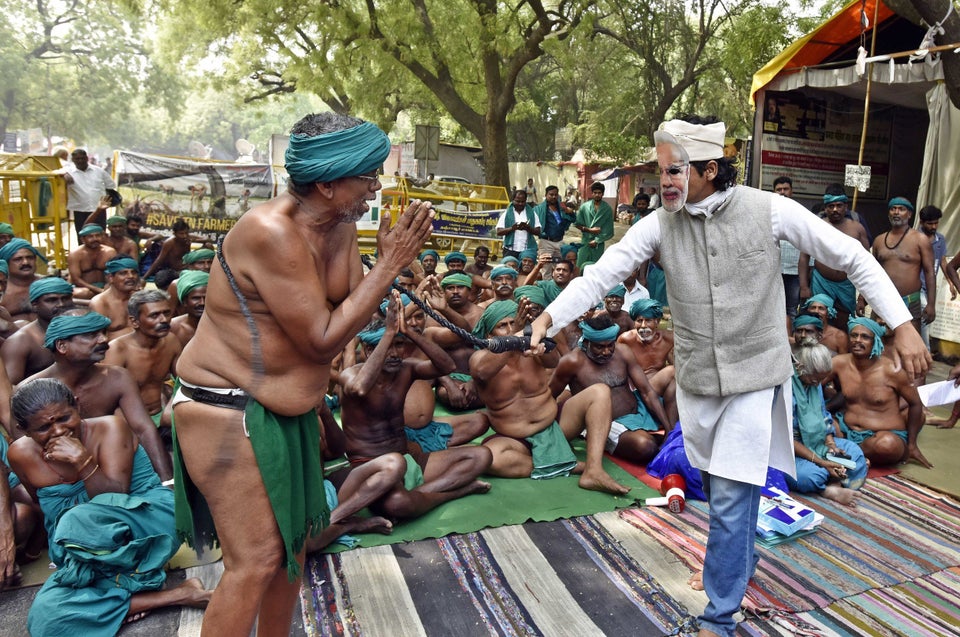 Tamil Nadu Farmers Protest In Delhi