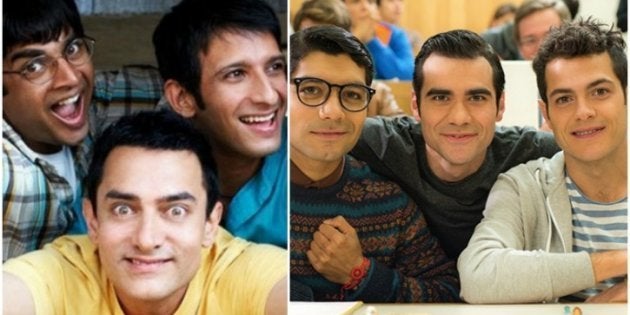 ICYMI, Aamir Khan's blockbuster, 3 Idiots, has been remade by a Mexican production house.
The Hindi film, directed by Rajkumar Hirani, broke several box-office records on its release as it offered a humorous take on the notoriously high-pressure Indian education system.
Now, the trailer of the Mexican remake has dropped on the internet.
Directed by Carlos Bolado, the film is titled '3 Idiotas.'
While the titles in the trailer didn't credit 3 Idiots as its source material, HuffPost contacted the office of Vidhu Vinod Chopra productions and they confirmed that the film is an official remake.
However, it seems the makers haven't done much to alter the storyline/narrative/aesthetic style.
The trailer is an exact replica of the original. In fact, the character who plays Rancho (essayed by Aamir Khan in the original) is even called 'Pancho.'
Some of the jokes, too, are literal translation. Even the sets look extremely similar. This is not to say that it isn't fair to do so (it's an official remake, which means the Mexican producers paid VVC a premium), but the end result is pretty hilarious in itself.