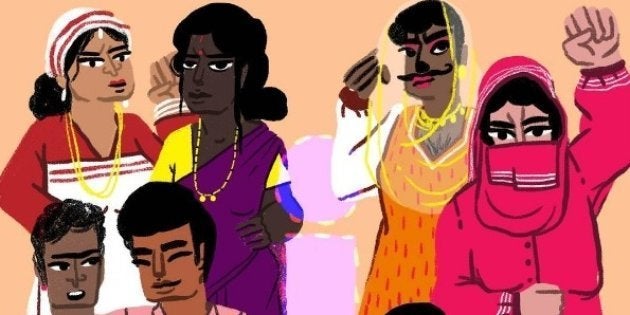 The history of women's movements in India still remains patchy and unfamiliar to most. A recent Instagram series by Delhi-based illustrator, graphic designer and comic book creator Kruttika Susarla traces ten important moments in the history of women and gender equality movements in India.
The project is a part of 36 days of type, an annual Instagram call for designers and artists to present their take on the alphabet and numbers. "For this year's edition, I wanted to work on a series that would contextualise the movement within the realities and experiences of Indian feminism because the issues surrounding women and minorities here are so complex -- it's mixed with religion, caste, sexuality and majority of public discourse is devoid of these intersectional realities," Susarla said.
In a series of 10 illustrations numbered 0-9, Susarla highlights the role of some significant organisations, individuals and movements who changed the terms of debate around gender equality in India in different ways. The series has been careful to focus on intersectionality, by including the stories that reveal how caste, class and religion affect women in India.
On the one hand, it celebrates Dalit educationists Savitribhai and Jyotirao Phule who set the first women's school in Pune, and played a pioneering role in encouraging the education of girls in the 19th century. On the other, it also looks at the Pink Chaddi campaign that was launched in 2009 in response to the attack on a group of women in a Mangalore pub and Sri Ram Sene leader Pramod Muthalik's threat of marrying off young couples found together on Valentine's Day.
Susarla says that she was careful to represent individuals with different skin colours, body shapes, face structures and features. "There is a an urgency to have this conversation, especially with violence against women and minorities increasing every day and through this project I found the channel," she said. In 2016, Susarla has also designed the interiors of an auto-rickshaw in Delhi to celebrate women leaders such as Irom Sharmila, Savitribai Phule and Soni Sori.
Susarla also focuses on organisations such as the Delhi-based feminist resource and learning centre Jagori and Zubaan's, India's first feminist publishing house set up by Urvashi Butalia and Ritu Menon. There are also interesting nuggets, like the fact that the first LGBT walk in India was organised by a group of 15 people in Kolkata in 1999.
You can follow the entire series on Instagram.