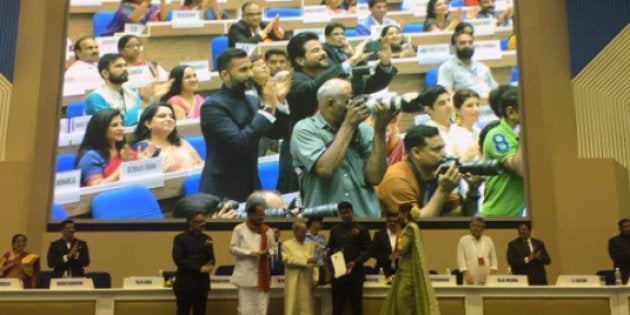 With one photograph, actor Anil Kapoor proved that fathers everywhere are just the same.
On Wednesday, when Sonam Kapoor was honoured at the 64th National Awards ceremony by President Pranab Mukherjee for her commendable performance as 'Neerja' in the movie with the same title, her father couldn't really contain the excitement.
So even as the shutterbugs didn't stop as Sonam went to the stage, Daddy Anil took his phone out and started capturing the precious moment.
The movie, Neerja, directed by Ram Madhvani, also won the National Award for the Best Hindi Film.
Kapoor also posted photos from post the event.
"President Pranab Mukherjee and the Government of India have given this award to Sonam, so this day is really big and important for me, my family and Sonam," the 60-year-old was quoted as saying by Hindustan Times.
The love was returned, on Twitter, from Sonam.