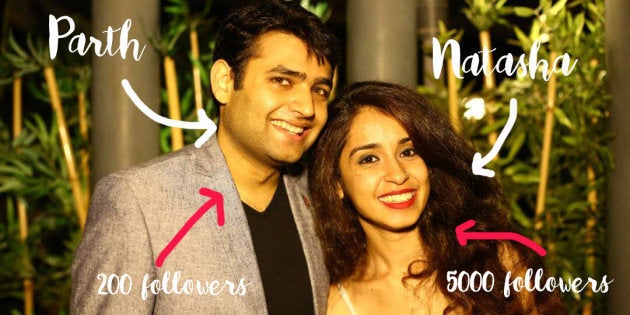 Most of us are wary of associating the internet with love. Teeming with trolls, imposters and harassers, often, the internet doesn't sound like something we'd like to subject out heart to. Yet, some of us, find love right there. We spoke to six Indian couples, who found each other on a variety of social media platforms, starting with Instagram and even Quora. And guess what, there's even Orkut in the list. These couples spoke about overcoming the anxieties and awkwardness that come with online dating to find love.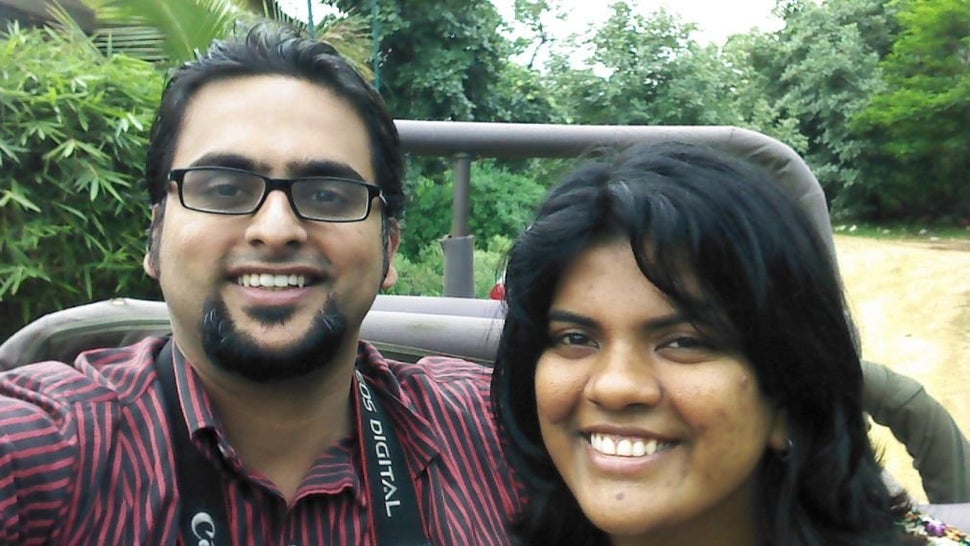 Srinivas Kulkarni, 34 and Deepika Gumaste, 28, Mumbai
Deepika Gumaste, a consultant at a technology PR firm, only had work on her mind when she joined the question-and-answer platform Quora back in 2012. Gumaste had recently attended a session on leveraging Quora for public relation campaigns, and decided set up her profile to gain practical knowledge. It was here that she connected with Srinivas Kulkarni, a journalist who wrote on social media campaigns and had several interests in common with her, including a love for travel.
"I complimented her on her answers and told her that I hoped to see some good answers from her," Kulkarni, who had joined Quora a couple of years earlier in 2010 said. Two soon followed each other, but it was still strictly professional. "When we connected with each other, I thought, I was connecting with just another journalist, who I had to pitch a marketing story to, on behalf of my clients," Gumaste said. "Turns out, life had other plans".
After connecting on Quora, they spoke on phone but as professionals, discussing which companies she represented and what he could write about. They soon began following each other on other social media platforms and realised that they had several common friends. "From her answers on Quora, I thought she was intelligent and that's what drew me to her," Kulkarni said. "And believe me when I say this, nothing has changed since I met her. If anything the feeling is growing, even four years after we first met."
They met each other in Bandra two months later. Did anything change? "It was a breeze. I think working in inter-dependent industries worked in our favour," Gumaste said. "We didn't really think there was something more to it -- were meeting as professionals." Eventually, when they met each other's families, they realised that they were actually long-long family friends.
They married in 2013. "Meeting somebody someone online can be fascinating, but it doesn't mean lowering your guard and acting foolish," Gumaste said. "Both of us ensured that we had a no-nonsense understanding of why we wanted to meet."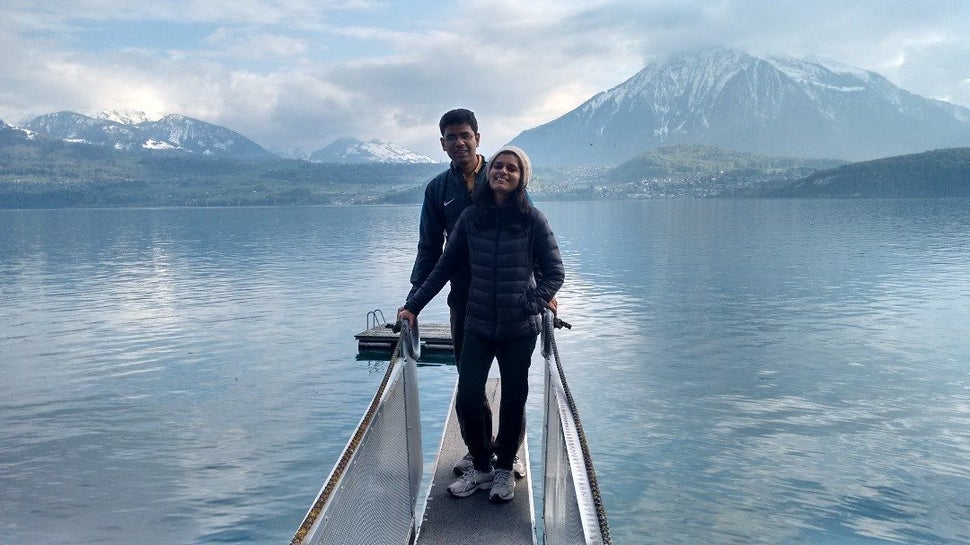 Nidhi Mishra, 29 and Keshav Chowdhary, 29, Delhi
It was October 2015, and the buzz around the new dating app Tinder had just picking up. Curious to see how the app worked, Delhi-based journalist Nidhi Mishra had joined Tinder a month ago, when she came across Keshav Chowdhary's profile. They had two common friends, both of whom she knew very well. They both swiped right.
Their first conversation was about how they knew these mutual friends. A week later, they exchanged numbers. They spoke every day for a month, mostly on WhatsApp. "When we finally met, we were already friends. We had gotten used to each other's schedules," Mishra recalled. "It was nice, but there was a certain awkwardness. No matter how many pictures you've seen or conversations you've had, it is different when you meet in person, and see the little quirks you can't envision when chatting." It took another six meetings before they decided to officially start dating. Though they are from different backgrounds -- Mishra works in media and communication and Chowdhary is in the revenue service, they found they had common interests like theatre and cinema. "Every time we met, it got more and more comfortable," Mishra said. "When we met each other's friends, it became real. "
Mishra says if she had first met Chowdhary in person, it might not have worked. "Online, you can hold on to certain aspects of yourself and have the shield of your device, and choose when to meet this person," she says. "Both of us are reserved when we meet new people, and those barriers fall back this way." While she immediately told her family about him, Chowdhary broke the news to his family in a more roundabout way.
"I was not looking at Tinder as an app that would lead to a serious relationship. But what happened was that once the two of us started talking, we recognised it as an opportunity that something more can happen here and then see how it goes."
Mishra and Chowdhary are set to get married in June. "Everyone was happy because now we don't meet as many people at parties as you do when you are younger," Mishra says. "Now, we've gone through so much that it feels like we've know each other all our lives."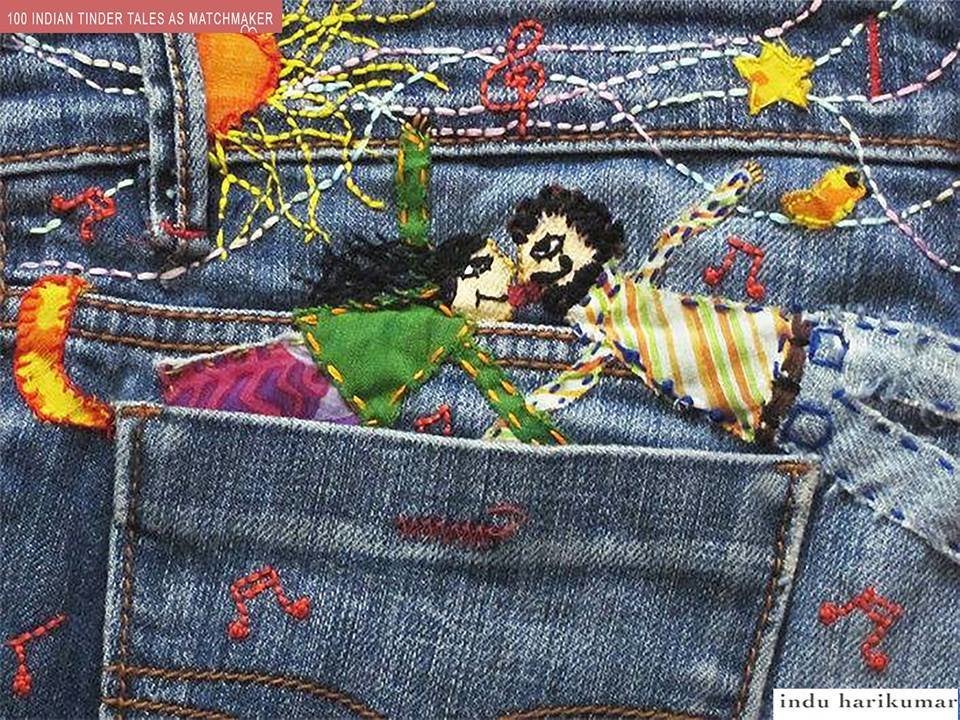 Aashna and Abdullah, Mumbai (last name withheld on request)
Last year, when Aashna decided to contribute a story to the viral crowd-sourced #100IndianTinderTales project on Facebook, little did she know that it would end in a wedding. Aashna, who was single at the time and knew the project's founder Indu Harikumar, decided to anonymously contribute a story of a failed Tinder date she'd had. When a man named Abdullah commented that he'd had a similar experience, Aashna voluntarily replied. The two soon bonded over their love of music and started sharing recommendations.
As their conversation moved to Facebook messenger, and then phone calls, Abduallah and Aashna found they had a lot in common. There was one hitch in meeting: Aashna worked in Mumbai, while Abdullah was in Delhi and soon set on leave for an indefinite work trip abroad.
Three weeks later, Aashna mustered the courage to fly down to Delhi for a day. "I was prepared, because we had spoken so much. We both set expectations right," Aashna said. "I knew he was restrained, and not as outgoing as me. So he was a little wary in the beginning, but then it was back to how we talked on the phone." Over the next few months, Abdullah and Aashna met over the weekends, flying in and out of each other's cities. One day when Abdullah, accidentally sent a message meant for Aashna to his sister, he suggested that they get married instead.
Would they have ever met if they hadn't connected on Facebook? "There was no chance that we would have ever crossed paths," she said. "Though he has family in Mumbai, we had nothing in common. It just seemed very preordained. Everything fell in place without any work."
Seven months after they first met each other, Aashna and Abdullah were married. "Having had my fair share of relationships, this is the easiest relationship I've had," Aashna says. "I'm married to a Muslim man who is super-progressive. He is super-chilled. This is how it is supposed to be all along. It was strange that it happened to us the way it did. You're made to believe that these things don't happen. Yet, everything took care of itself."
You can also read their story on 100 Indian Tinder Tales here.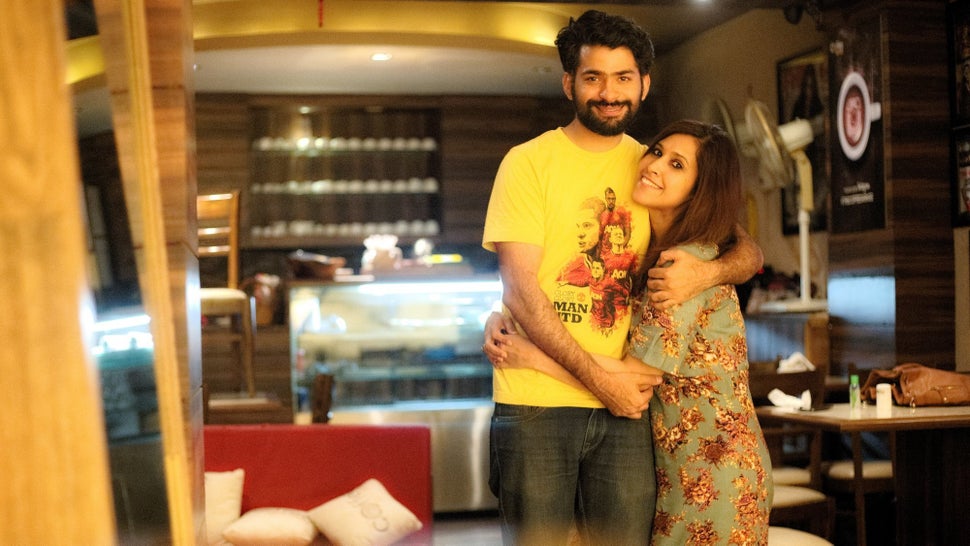 Dipti Malhotra, 35, Gurgaon and Varun Taneja, 31, Delhi
Where they met: Instagram
Dipti Malhotra and Varun Taneja had followed each other on Twitter and Instagram for three years, but only started talking on Instagram in 2016. Varun had posted a birthday photograph of himself and his twin sister, and when Malhotra misspelt his name, he sent her a private message to correct the spelling.
After the conversation, they exchanged numbers and started chatting on WhatsApp. They discovered that though they were from different worlds -- he is a businessman and she's a photographer -- they had mutual friends. "We were thinking of meeting, but I kept delaying because I was just wanted to be sure that I wanted to meet him," Malhotra recalled. "One day, after a few cancelled meetings, he said, 'you know xyz got committed after I met and another girl engaged too, so you never know you might get lucky.' The funny thing is, we ended up getting engaged a few months later."
They met three months later. "The first meeting was like two very good friends spending a weekend over beer, in Connaught Place," Malhotra said. "Not at all like we were meeting the first time. And thereon, kept meeting every week." They initially met as friends, but it was only when Malhotra went to Australia for a photography assignment, that she realised that she missed him and that this could be something more. They started dating in November.
It wasn't difficult to break the news to their families -- Taneja's cousin brother and sister had already met their spouses on Twitter. Malhotra and Taneja are now engaged to be married in December.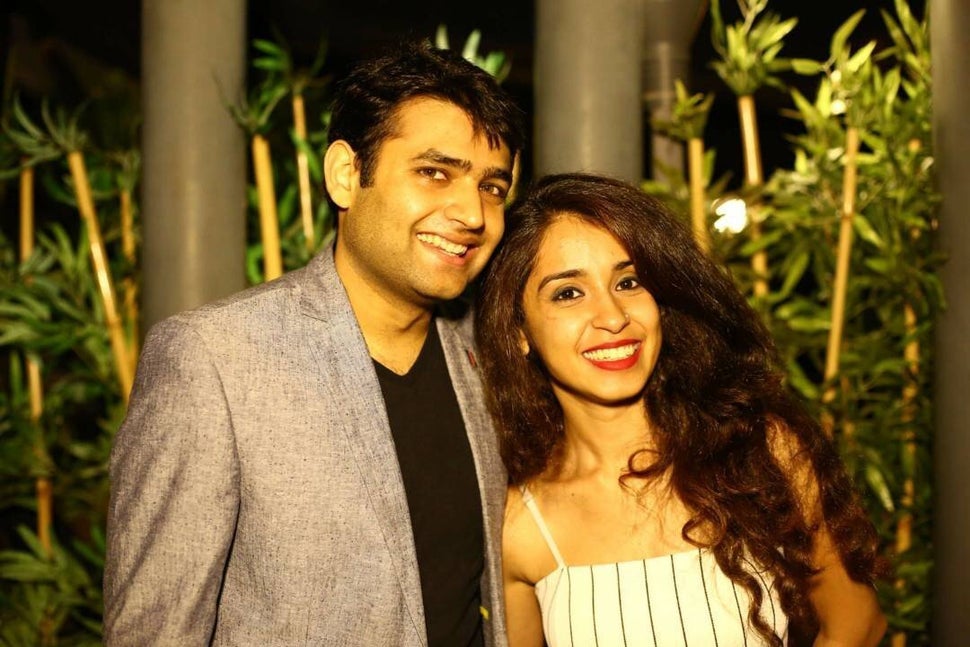 Parth Buch, Pune, 28 and Natasha Valecha, Pune, 26
Natasha Valecha technically met Parth Buch at a Twitter event organised for influencers in 2014 in Mumbai. But it was on Twitter that love blossomed. At the party, instead of exchanging numbers, but they started following each other on Twitter. Soon after Buch tagged Valecha in a post-party tweet, the two graduated to Direct Messages, chatting on Twitter for nearly a month before they decided to meet. But both Buch and Valecha were strikingly different both online and offline. "I had around 5,000 followers on Twitter, while he just had 200," Valecha, who works as a social media strategist, recalled. "We are so different. I tweet a lot, while he rarely tweets. I tell him I wouldn't have talked to you if I had gone through your profile first."
A month after talking on Twitter, Buch and Valecha finally decided to meet in person. "It was the day before Holi. When we met, it just clicked," Valecha recalled. "We met for beer and pizza, but we kept talking on Marine Drive until 4 in the morning." The next day, after Holi, they decided to meet again in the evening. The rest was history.
Valecha, who's been on Twitter since 2010, says she now has more friends from the platform than real life. In 2015, they told their families about each other, and last July, they got married. They still talk to each other on Twitter.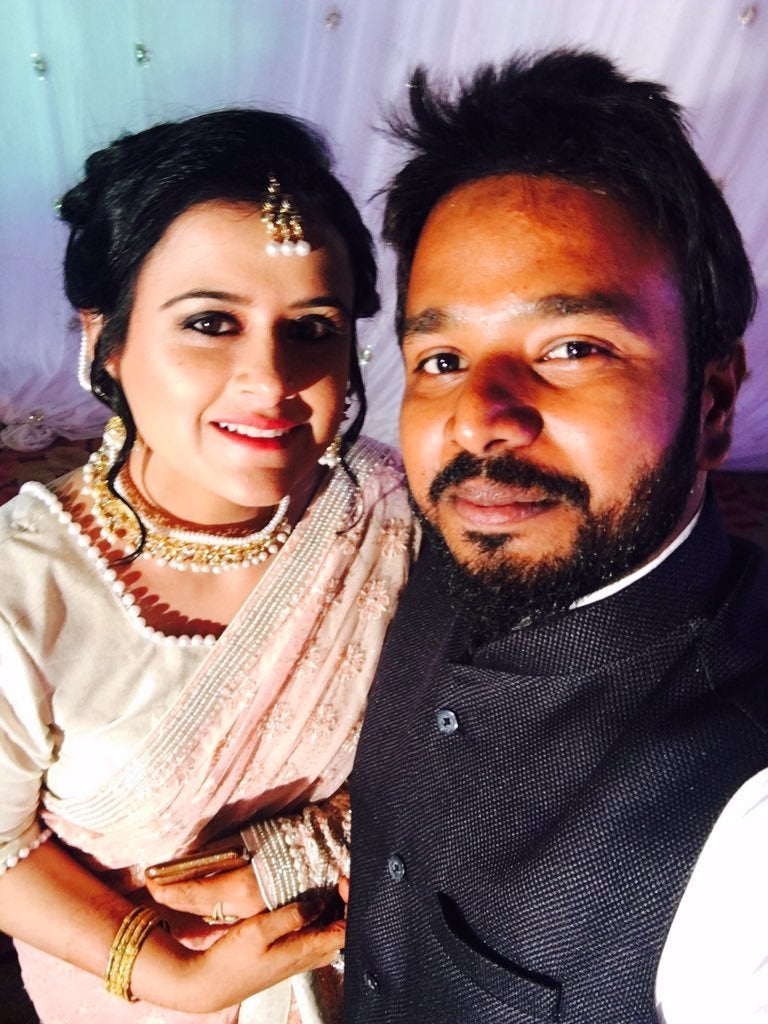 Rameez Khan, 28, and Parvir Pathan, 24, Mumbai
Childhood sweethearts Rameez and Parvir met when they were still teengers -- he was 18 and she was 14. He was studying in Mumbai, while she was still in school in Ahmedabad. Facebook still hadn't become as omnipresent as it would in the years to come, and for many, Orkut was still a popular platform.
They met on Orkut in the middle of 2007, when Khan randomly added her from a common friend's list. "It was that phase when you added random people and just started talking," Khan said. "She was the last one I added then."
A few months later, they started chatting on Yahoo Messenger, and then SMSes and phone calls. Khan recalls spending a princely sum of 3 rupees for every national SMS. A year later, Khan visited Ahmedabad to meet Parveen. Their met in a mall, and Khan remembers it being quiet. "She looked like a tough one to talk and initially she was, but with the passing of time, it was more comfortable and easy," Khan recalled.
It was the first relationship for both Khan and Pathan, and it involved plenty of secret meetings. "We would meet once or twice a year initially, since we were both studying and because of the distance," Khan said. "I would fly there for just a day, so that no one even knew I was out of town." Once, Khan even visited Hyderabad with hi sister to attend Pathan's elder sister's wedding, telling their families that she was friends with her sister. "That time I met her dad, and years later, when she told him about us, he was like he's that who had come to Hyderabad," Khan said.
Khan and Pathan finally married in 2015. "It was a little difficult in the beginning but I just told my mother to meet her family once, because they were similar," he said. "It wasn't difficult after that." Orkut had shut down in 2014. "It was like a cafe where you first meet and it is shut now," Khan said. "It will always have a special place in my heart."