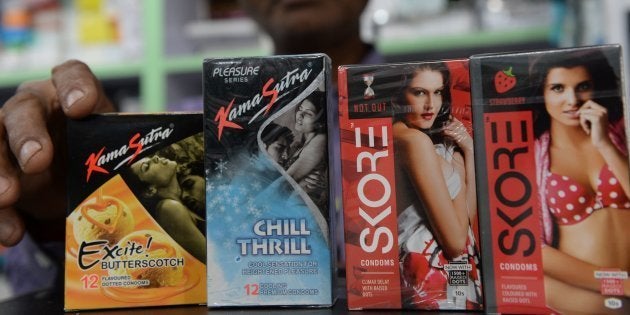 It still isn't easy to buy condoms in India. Now, a bold new initiative is trying to find a way around the social stigma and lack of privacy in chemist shops by offering to deliver condoms at your doorstep absolutely free of cost.
The global charity AIDS Healthcare Foundation (AHF) has launched India's first free condom store, with the aim of reducing cases of HIV/AIDS in the country. According to the United Nations, there are 2.1 million people infected with HIV in India, the third highest number among the countries of the world.
AHF says that its new initiative is the first of its kind anywhere in the world. Anyone can place an order over phone or email to get condoms delivered to their doorstep. Not only are the condoms free, the foundation will bear the cost of shipping them too. However, it is expected to take 5 to 7 working days to ship the condoms.
Called 'Love Condoms,' the lubricated condoms being distributed have been manufactured by Hindustan Lever Limited especially for AHF. The minimum order is for a box containing 144 pieces, while larger cartons contain 7,200 pieces. The offer can be availed by NGOs, government and private institutes, community health and reproductive health organisations, or anyone who wants to add condom distribution to their programme.
"We are saying that everyone, regardless of their sexual identity, should have access to a condom," Dr V Sam Prasad, Country Program Director at the AHF India said.
"We are saying that everyone, regardless of their sexual identity, should have access to a condom."
The campaign aims to meet the shortfall of condom supply in India. The Indian government already distributes free condoms under its AIDS prevention programme run by the National AIDS Control Organisation (NACO) through its health centres. However, the mid-term appraisal of the NACO programme revealed that only 17 percent of the condom distribution target was met in 2015-16.
"This kind of condom distribution is deplorable and puts vulnerable sections such as sex workers, MSMs [men who have sex with men] and truck drivers under the threat of HIV," Prasad said. "We were thinking about how we could step up and complement the government."
In just 24 hours, the Love Condom helpline has received 200 emails and 300 calls from organisations from every part of the country, including Tripura, Kashmir and Kanyakumari. These include NGOs, youth clubs, companies and even call centres who want to put condom kiosks in their officers, as well as some individuals who don't want to go to a chemist shop.
To meet the demand, AHF has stocked 1.3 million condoms and plans add 5 million more this year. While AHF guarantees privacy for those who use the service, they require every person to send their name, number and email in order to courier the condoms. The foundation will also cross-check the veracity of bulk orders from organisations to ensure that the service is not being misused.
In the long run, AHF hopes to use the service as an advocacy tool to highlight the need for condom distribution to the government. "Our experience of having such a store will be an eye opener to the government. it is high time we take things seriously. When you say India has done exemplary work in AIDS, it is not time for complacency of cutting funding, because it will bite us back. There is a need for condoms in the country, because it is the best tool to protect you from sexually transmitted infections (STIs) and HIV."
To order from the Free Condom Store, call the toll-free number 1800-102-8102 or email freecondomstoreahf@gmail.com.