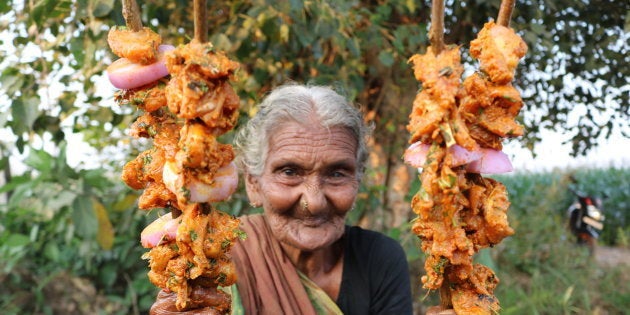 With a cotton sari as her uniform and an open paddy field as her kitchen, Mastanamma isn't your usual celebrity chef. Yet, the grey-haired great-grandmother from Andhra Pradesh has become an unlikely YouTube sensation thanks to her traditional cooking techniques.
Mastanamma is the star of a nine-month-old YouTube cooking channel called Country Foods, with over 2.5 lakh subscribers from within and outside India. Though she has no birth certificate to prove her age, Mastanamma says she is 106, which makes her possibly the oldest YouTube star in the world.
Mastanamma, who lives in the remote Gudivada village in Andhra Pradesh's Guntur district, was introduced to the world by her Hyderabad-based grandson K Laxman and his friend Srinath Reddy last year. The two, who have been friends for several years, had initially started a YouTube channel on bachelors making their own food.
"After a few months, we went to Laxman's village, and visited his grandmother," Reddy told HuffPost India. "She cooks so well and has a very different, traditional style of cooking. That's when we decided to shoot her. The response was great — everyone liked her style."
It isn't difficult to discern the homely, down-to-earth appeal of Mastanamma's videos. She cooks on an open wooden stove in the middle of paddy fields, assisted by her great-granddaughter Ragini. Many comments left by fans on her YouTube videos are full of affection for her, or talk about how she reminds people of their own grandmothers.
Besides the food, the videos are peppered with humour and anecdotes from her life. In one video, she talks about ­being teased by two brothers in her village in her youth. "One guy touched my hand and I threw him into the river. His brother asked me to save him, I said how dare he touch me! Finally, I saved him," Mastanamma says with a toothless smile. "From then, nobody teased me again."
Country Foods isn't the only channel focusing on traditional cooking techniques. Another YouTube channel, Village Food Factory, stars a 59-year-old Tamil man called R Mugham, who cooks in the open. There are videos of him pickling a local cactus fruit and cooking a stingray in banana leaves, but his most popular video is of a curry made with 300 eggs.
Mastanamma's repertoire includes emu egg fry, chicken with sorrel leaves, chicken biryani cooked in smoked bamboo, curries made with lamb intestines, quail eggs, goat legs, lamb head and even beef paya. Most of the videos show traditional recipes, but Reddy and Laxman K. have even asked her to make her version of a chicken burger and KFC chicken. Her most popular video, "Watermelon chicken," has had close to 66 lakh views, and shows her roasting chicken in a watermelon shell. At the end of each video, she lovingly serves the food to her children, grandchildren and others working in the paddy fields.
Before she found fame online, Mastanamma had a long and difficult life. She never attended school and was married at the age of 11. After losing lost her husband at the age of 22, she worked in paddy fields to bring up her five children. Reddy attributes Mastanamma's longevity to her being hard working and physically active -- she in the paddy fields as late as last year. Even today, she lives alone in the village, next to her son's house.
The channel's fan following has grown by leaps and bounds in the last two to three months. The videos are shot by Laxman, a graphic designer, and edited by Reddy, who is a video editor. Meanwhile, Mastanamma is happy to showcase her recipes to the world. "The first time, she thought we were taking pictures rather than shooting a video," Reddy said. "Later, when we uploaded it on YouTube, she was really happy. Even her relatives from the US and UK have called her."
Thanks to YouTube, Mastanamma now has a fan following across the world. Each video gets thousands of comments, many of them from people who're trying out her recipes at home and ask for English subtitles. She also gets messages from fans in the US, UK, UAE and even Pakistan. This month, they even sent money and gifts for a small birthday celebration for Mastanamma's 106th birthday. Among them was a sari and a greeting card sent by a fan from Islamabad, Pakistan.